Mike McQueary: Is Penn State Afraid of What He'll Say If He's Fired?
November 10, 2011
The Penn State mess is headed toward becoming one of the biggest scandals in sports history, and as the Nittany Lions start cleaning house, they must fire Mike McQueary. 
As long as he is on the coaching staff, he will be a constant reminder of Penn State's failures. 
Late Wednesday night, the Penn State Board of Trustees called Joe Paterno and told him he was fired. Penn State president Graham Spanier is also out, leaving the the Nittany Lions in a very bad place. 
But McQueary had a very big part in this scandal, and the fact that he is still employed has raised a lot of questions and irritated a number of people. 
McQueary is a former Penn State quarterback, and in 2002, then a graduate assistant at the time, he witnessed a retired Jerry Sandusky molesting a young boy in the locker room showers.
Former defensive coordinator Sandusky was arrested last weekend for allegedly using his charity, Second Mile, to molest young boys on Penn State grounds. 
You might be asking yourself why Sandusky wasn't arrested in 2002 when McQueary saw him. Unfortunately, that incident was never reported to the police, as McQueary told Paterno, who then told his superiors. 
Just like Paterno, his superiors are no longer employed with Penn State. So why then does McQueary still have a job? 
Penn State interim head coach Tom Bradley answered questions about McQueary in a press conference today, and CBS Sports' Bruce Feldman tweeted the news.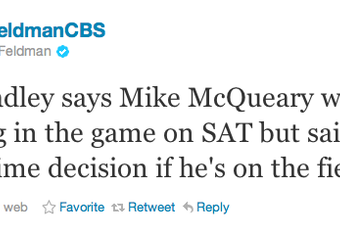 Penn State trustees have banned him from the sideline for Saturday's game against Nebraska, but that's not enough. If the school is going to oust a legendary coach, then a no name assistant who had a first hand account to Sandusky and his alleged wrong doings must go. 
What good is McQueary's presence at Penn State? The Nittany Lions need to repair their image, but with him on the staff none of their problems will go away. 
Twitter had a huge reaction to the news last night, and CNBC's Darren Rovell is one of the many correct voices on this situation.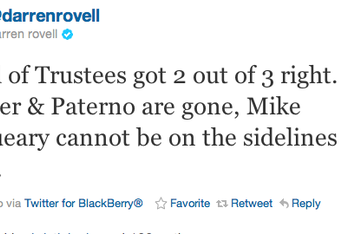 Do they want to fire him in person? If so, why didn't they do that for Paterno? He has bigger legacy at Penn State, and the right thing to do would have been to fire him face to face. 
That didn't happen, but it definitely should for McQueary. 
What exactly does McQueary know? Is he covering up something even bigger, and not firing him will keep his mouth shut? 
These are questions everyone's mind right now, and a lot of people are fuming over this situation. 
It wouldn't be much of a shock if McQueary were persuaded, bribed, forced or had his coaching career threatened just to keep quiet about what he saw. 
After all, why else would he still have his job after allegedly witnessing a man sodomize a child and then never telling the police? 
It's no secret college football as been corrupt for many years, but this far worse than any other scandals. If McQueary was told mum's the word on what he saw, then Penn State has much bigger problems. 
That would devastate the university even more and offend a lot of people. 
Mike Golic of ESPN's Mike and Mike was quoted in a tweet, stating exactly why McQueary needs to be out.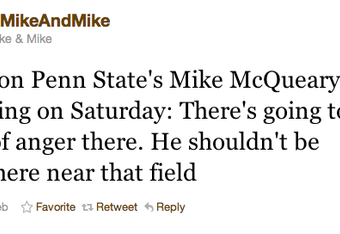 Students were rioting in the streets last night, which made things worse for Penn State. 
These are difficult times at Penn State, and with so many people having such strong opinions on the matter, keeping McQueary around doesn't help the program. 
It certainly makes you wonder why the Penn State Board of Trustees believes McQueary should still be on the staff. 
One fan has an idea, and he isn't alone in his thought.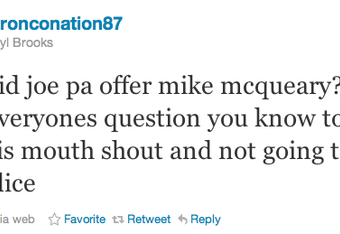 He saw a grown man molesting an innocent child, and let him go free. I don't know how he lives with himself for allowing this to happen.
Who knows how many more kids could have been saved if Sandusky were arrested back in 2002?
This is why Mcqueary needs to speak up, and why Penn State needs to fire him.
Paterno is bashed for being morally wrong and not doing enough about Sandusky. While he had a greater responsibility as a head coach, McQueary let him get off scot-free for many years, yet he still has his job.  
It shouldn't be long before McQueary is gone, and maybe then more heartbreaking news will come to light, if in fact the former Penn State quarterback was told to keep quiet. 
I know I'm not the only one who hopes that isn't the case.