Week 10 Start Em Sit Em: Falcons Julio Jones to Outscore Roddy White
November 10, 2011
Al Messerschmidt/Getty Images
Julio Jones of the Atlanta Falcons made most fantasy coaches hesitant going into Week 9. Here was a rookie receiver coming off a hamstring injury after several weeks off of the field and with little more than four regular season NFL games under his belt.
Well if you're like me, the 30 points he netted you quickly got rid of any hesitation. Let's look at his match up against New Orleans and other starts and sits in Week 10.
Start Em: Julio Jones, WR, Atlanta Falcons
If you're unsure about the match-up against the Saints, remember the Saints are top ten in fantasy points given up to WR's this season.
Jones has explosive speed, can catch anything he can see, and showed us in Week 9 that he isn't shy around the end-zone.
In all but one game Jones has finished, he's gotten more yards than Roddy White as well as more touchdowns.
With the explosive New Orleans offense putting points up, don't be surprised if Matt Ryan looks to Jones to turn the game around with long passes.
Call me crazy, but I would put Julio Jones at WR1 in most leagues.
Sit Em: Torrey Smith, WR, Baltimore Ravens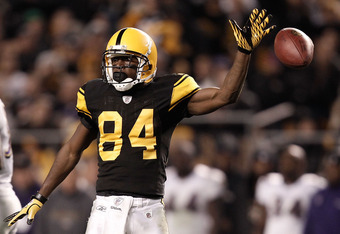 Jared Wickerham/Getty Images
With the exception of Week 9, this kid hasn't broken 100-yards, three receptions, or scored a touchdown since Week 3. Don't get wide-eyed over one game.
In my 7 Keys To Ravens Victory over Seattle, I note that less than half of Flacco's passes are to his WR's. I also note that this needs to change in Seattle, but my eyes are on Boldin.
Look at the easy passes Smith dropped in Week 9 and consider that Flacco won't be forced to throw deep to Smith because Seattle will almost certainly not be leading.
Start Em: Antonio Brown, WR, Pittsburgh Steelers
In PPR leagues, Brown's points in the last three games were 17.2, 21.7 and 15.9.
The last of those games should have been 25.4, but Wallace dived in front of Brown for a catch in the end-zone, which was hilarious or horrifying depending on your roster.
After a huge upset against Baltimore, Pittsburgh travels to Cincinnati where they will play like it's the Super Bowl and you can bet that Brown will see the ball.
If he's unowned in your league, get him and start him as a WR2 this week.
Sit Em: Ben Tate, RB, Houston Texans
I've said it before and I'll say it again, Ben Tate is incredibly talented. Two of his last three games he's had over 100 yards with Arian Foster starting.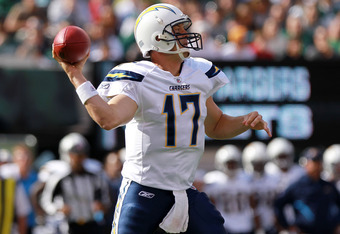 Nick Laham/Getty Images
What Tate doesn't have is reliability. Look back a bit further. You've got 41 yards at Baltimore, 104 at Tennessee, 42 against Jacksonville, and 115 against Cleveland.
You can get a big game out of Tate, but you can never expect to unless Foster is absent. If you're so far behind in your match-up that you need to throw a Hail Mary, then starting Tate might not be terrible. Otherwise, find a safer play.
Start Em: Laurent Robinson, WR, Dallas Cowboys
Anyone who can pull down five for 103 in Philly is worth a look. Robinson did just that with a touchdown to boot.
Against Seattle he only wound up with 32 yards, but the touchdown helped and in PPR leagues he still posted 14.2 points, which is nothing to scoff at, especially in deeper leagues.
If I haven't changed your mind yet, consider that Miles Austin is out for two to four weeks and Robinson will get the start against a Buffalo defense that gives up a ton of fantasy points to wide-receivers.
Look for Bryant and Witten to be heavily covered and start Robinson at WR3 or Flex with confidence.
Sit Em: Baltimore Ravens TE's
Dickson and Pitta are both strong at tight-end and do a lot for the Ravens. The problem is that in the last couple weeks, Flacco has has seemed to shift towards Pitta above Dickson.
The other issue is that after Flacco got sacked three times Sunday night and once for a fumble, it's likely that Baltimore is going to step up their blocking, which could mean less opportunity for the tight-ends.
If you're really stuck at TE and feel like you need to start one of these two, don't. Go pick up Celek or Shiancoe.
Start Em: Philip Rivers, QB, San Diego Chargers

Usually if you have someone of Rivers' caliber, you start them every week and take the good with the bad. But after enough mediocre weeks, Rivers owners had to be discouraged.
Just when you're ready to drop Rivers though, he posts nearly 400 yards and four touchdowns and leaves owners even more unsure what to do with him.
Rivers has been bad about interceptions as well, but he'll face Oakland, who is 19th in the NFL for interceptions and 20th for passing yards given up.
Further, if Carson Palmer actually puts up points, Rivers will have to air it out.
Finally, remember that Rivers was without Antonio Gates for much of the season and only threw below 250 yards once, against the Jets.
With Gates looking good and Mathews back this week, keep the faith in Rivers.
Sit Em: Cedric Benson, RB, Cincinnati Bengals
Benson is a key player like Rivers that you tend not to sit regardless of the match-up. But if Pittsburgh can hold Ray rice to 2.4 yards-per-carry, I can't imagine what they'll do to Benson.
Another factor is that Ray Rice is a big end-zone threat, who can also catch passes. Benson simply is not.
He's had one touchdown since week one, so if you thought that might save his fantasy day, think again.
If you're absolutely stuck at Flex, you could play Benson, but even then I'd rather grab Marion Barber for the week, who will have a similar game in terms of yards, but will likely vulture a touchdown from Forte.