USC Football: Once Again, D-Line Will Be Critical for Trojans Win vs. Huskies
November 10, 2011
Stephen Dunn/Getty Images
As the Trojans welcome back their old buddy Steve Sarkisian and his Washington Huskies, they will focus on handing their former co-offensive coordinator a bit of payback for bitter losses in the last couple of years.
And while revenge may be the first order of business for USC this Saturday, it won't be easy.
Sarksian's Dawgs are sporting a 6-3 record, and though they were thoroughly handled last week by the Oregon Ducks, this is a very talented offense and one that has the ability to give the Trojans fits.
Quarterback Keith Price has had an excellent sophomore year for Washington and he is surrounded by an excellent cadre of skill players as well.
For his efforts, Price has flashed some nice numbers with over 2100 yards passing at a 67 percent completion rate to go along with 25 touchdowns.
While Price is certainly no slouch, he is not the only guy capable of big things for the Huskies.
Running back Chris Polk is as good as any Pac-12 running back not named LaMichael James, and his 1,065 yards rushing this year only speaks to the incredible consistency this guy has offered over the last three years.
Meanwhile, the Trojans will also have their hands full with wide receiver Jermaine Kearse who is part of a receiving corps that features six different players with 20 or more catches including true freshman tight end Austin Sefarian-Jenkins.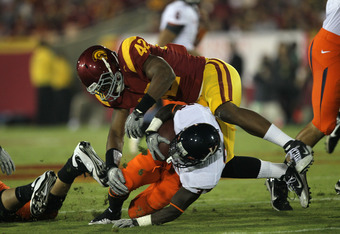 Stephen Dunn/Getty Images
Well-coached, talented and hungry to extend their winning streak, Washington will lean on this portion of the game to rescue an inconsistent Huskies defense that has betrayed them in giving up an average of 49 points in their three losses.
So, what are the Trojans to do?
Well, as the well worn adage goes, defensively, it all starts up front.
The Trojans defensive line will have to dominate for USC to hope to slow down Price and company.
This is not a new concept, and for the most part in 2011, it has been a notion that has found the Trojans left wanting in the pass defense department.
While solid against the run, the line has struggled to deliver pressure against some of the better quarterbacks they have faced this season.
That will have to change Saturday.
Given the Trojans abysmal pass defense—ranked 70th in the country—allowing Price time to comfortably setup to find receivers against a young and depleted secondary could be disastrous.
The good news is that USC is talented across that line.
The not so good news is that the talent that led to so much hope at the beginning of the year has not performed well in the sack department.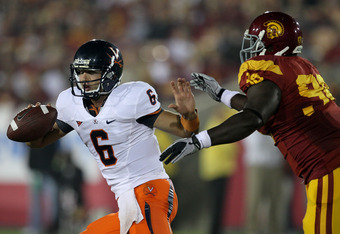 Stephen Dunn/Getty Images
Despite assurances by defensive end Nick Perry who promised 15 sacks (he has five so far), the Trojans have not been strong in terms of striking fear in opposing gunslingers.
With a date with Oregon's speedy offense on the horizon, the Trojans will need to fine tune their act this week against a Huskies offense that can present problems for them.
But if sacks can't be attained, at a minimum the D-line will have to apply unyielding pressure on Price, who will only be making his 10th start this week.
And all the while, they will have to do it while containing the aforementioned Polk, who can beat teams all by himself.
A daunting challenge to be certain, but one that must be realized for the Trojans to finish up the season with the same positive feelings for the future that embrace USC right now.
Of course, there are mitigating circumstances that surround this group's effectiveness, such as the return of Dion Bailey to lead a young linebacker corps that must play well themselves to help out the line.
But whether or not Bailey returns, it will be up to the line to assert their will on the Huskies if they want to win this game.
Because for the Trojans, it all starts up front for the defense.
Well-worn cliche or not.