Post McCourt-Em: A Letter to the Los Angeles Dodgers' New Owner
November 10, 2011
Dear Mr. Money Bags New Owner,
In this letter you'll find everything you need to know.
Frank McCourt was to Dodgers fans what Al Capone was to the FBI. It would have been foolish and dangerous of the FBI to assume that the apprehension of Capone would mean the end of organized crime. The Dodgers should look at the exiling of McCourt in the same light. That is to say, Frank McCourt was the big fish in a large excrement-polluted pond.
It's clear that change is imminent. However, that clarity reveals a daunting backdrop, like a camera rack focusing from a man robbing a bank (apt, I know) to a lobby floor full of dead bodies. Now that the robber's gone, it's time to mop up the blood.
The phrase "once proud franchise" has spent too much of 2011 orbiting Chavez Ravine. Getting rid of that first word will be the ultimate task for the man who replaces Mr. McCourt.
Among the many, many travesties the McCourts committed, the most gruesome of all may be what they did to Dodger Stadium. They made a mockery out of a tabernacle (more on this in the last three paragraphs). So Mr. Moneybags New Owner, let's start there, shall we?
McCourt raised ticket and parking prices so high that it seemed he was trying to gentrify the stadium. I'm not sure if he deemed this appropriate before or after neglecting to hire a head of security (for four months.) Regardless, I am sure this needs to be reformed ASAP.
You're probably aware that Frank wasn't big on filtering profits back into the team, but check out where he really cut costs. The Dodgers were the lowest-spending team in the MLB in the following areas:
-       Draft Picks
-       International Prospects
Perhaps it would have been easier to lure all the scouts in the organization to one of his four LA homes (valued in total at $89M) and set it on fire. It's no wonder the Dodgers' farm system is the weakest it's been in decades. Once a perpetual strength of the franchise, Baseball America ranked their minor league system 23rd in the majors before the start of last season.
As bad as it seemed during parts of 2011, the Dodgers still managed to finish with an 82-79 record. Not too shabby considering the following people actually played games for them. *Note: Each player's most redeeming quality can be found in parentheses.
Casey Blake (Dodgers already declined his '12 option.)
Rod Barajas (Practicing the art of flying out as we speak.)
Russ Mitchell (Once hit a game-winning home run.)
Marcus Thames (Seemed like a fairly jovial clubhouse guy.)
Trent Oeltjen (He's Australian.)
A.J. Ellis (Works harder than Dioner Navarro.)
Dioner Navarro (Has a chameleon named Jeffrey, according to Wikipedia.)
April-through-July James Loney (Nearly drove me to homicide.)
Jerry Sands (Hit .342 in September.)
Eugenio Velez (Broke two records by not getting a hit the entire season. Seriously.)
Jay Gibbons (Kind of looks like Rorschach from Watchmen.)
Juan Uribe (Is the inspiration for this BRILLIANT site.)
Jonathan Broxton (I'd rather have Eugenio Velez.)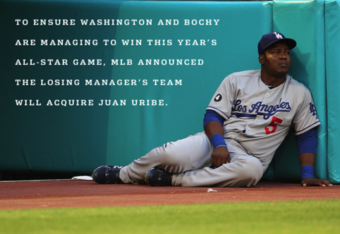 At the request of your senses, dozens have been left off this list.
Let's be honest—the chances of fielding a significantly different (better) lineup in 2012 are slim. While they will have the opportunity to sign their two stars, Matt Kemp and Clayton Kershaw, to long-term deals, they will not be allowed to bid on any big name free agents before the team is officially sold. Estimates on the time frame range between four and six months.
Luckily, I've purchased a few one-way tickets to Venezuela for Albert Pujols, Prince Fielder and Jose Reyes. If we can't have 'em, nobody can.
The problem with this year's crop of free agents is that there aren't a lot of medium-name guys. That could be a blessing in disguise, however, because last year they used their medium-guy contracts on the likes of Juan Uribe, Ted Lilly and Matt Guerrier.
We'd like to believe that the ousting of McCourt would mean instant on-field success, but it just isn't logical to go out and make the same mistakes again. With no immediate help coming from the minor leagues, it makes more sense to try and lock up the guys we need (Kemp, Ethier, Kershaw), develop the young talent (Tim Federowicz, Dee Gordon, Kenley Jensen, Javy Guerra) and hope for the best from the mediocre veterans (rest of team).
I'm no happier than you are about it. If you'd told me back in July that the Dodgers should offer James Loney arbitration, I would have literally ended you. Right then and there. No due process. Just—The End. Now, I'm thinking I would have regretted ending you. Now, he's the personification of a cheap stopgap. (Yes, that passes as a compliment from me to Loney.)
After convincing me that Hee Seop Choi had Space Jam monstar-ed his body, Loney spent the last two months tearing up the league (.359/.424/.545). It was a message to Dodgers management. A message that translates roughly to: [grabbing crotch] "Non-tender this!"
Point is this, Mr. Money Bags New Owner—spend some money in June's draft, go scout some Dominicans and spend some big money on next year's free agents. And maybe, if the team overachieves, there will be a player or two available at the trading deadline.
One last thought, Mr. Money Bags New Owner. And I think it's safe to say that this one is sarcasm free. Please acknowledge the responsibility you have as the Dodgers' owner. I don't need to tell you that you will be running a team with six World Series titles in the second biggest market in the country. But you should know that your fan base was betrayed.
I've been coming to Dodger Stadium for close to 20 years and last season was, without question, the worst of my life. It wasn't about the mediocre play or the off-the-field stuff. There just wasn't any energy. It hurt to look around and see the place one-eighth filled. It hurt because I know what it's like to be there while Vin Scully's on air exclaiming, "This place is rocking!"
I was there when Jose Lima threw a five-hit shutout to give the Dodgers their first playoff win in 16 years. I remember 2006, the day before my birthday, when the Dodgers hit four consecutive home runs to tie the game in the bottom of the ninth, only to lose the lead in the top of the 10th, only to have Nomar homer to win it in the bottom of the tenth.
I'll tell you something, Mr. Money Bags New Owner. I don't cry much, but I cried that night. I was there when Matt Stairs homered off Broxton in Game 5 of the NLCS. I cried that night, too.
I'm not asking you to come in and give us a World Series title tomorrow, Mr. Money Bags New Owner. I just want more nights like the ones I remember. I hope that's not too much to ask.