Fear the Claw: Detroit Tigers May Dominate American League Central in 2012
November 9, 2011
Word is spreading around the Midwest.
American League Central fans may need to prepare for more Detroit Tigers dominance next year.
Consider that the Chicago White Sox recently locked into several long, ugly contracts. The Cleveland Indians and Kansas City Royals are engrossed in perpetual youth movements. And the pitching-starved Minnesota Twins, well, can't seem to prevent the opposition from scoring.
Detroit provides stability within the division.
Manager Jim Leyland's club returns a steady offensive attack, led by MVP-candidate Miguel Cabrera. The rotation retains its front four, including ace and Cy Young-favorite Justin Verlander.
Oh, and there's one more variable to consider.
82-year-old owner Mike Ilitch openly stated to The Detroit News that he wants to win a World Series sooner than later: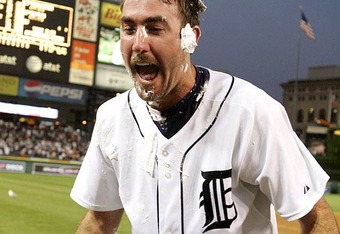 "If I don't get it, I'll feel something was a little empty in my life ... I'm very, very conscious of my age. I cherish every day. I figure, I don't know if I'll get another shot next year."
Ilitch may not be able to spend like the East Coast powerhouses, but he has sported a $100 million-plus payroll each of the past four seasons.
"I'm challenged to keep it there like the Yankees and the Red Sox ... What I'm still trying to figure out is what we need for next year. I want to be in a position to make one or two additions, and generally, they're pretty big additions."
Considering Detroit may already have the most feared offensive weapon and rotation ace in the Central, this is a scary proposition for contenders. Though "superstar" investments do not always guarantee success, the Tigers have mixed together a winning formula under General Manager Dave Dombrowski.
Only a couple pieces appear to be missing from this team.
This postseason the Texas Rangers exposed Detroit's lack of bullpen depth. Adding an experienced arm or two in the back end is not negotiable.
Dombrowski must also search for a quality backup for catcher Alex Avila if Victor Martinez can no longer spell him behind the plate. Forced to catch nearly every game down the stretch and in the playoffs, Avila's knees had nothing left when called upon in the playoffs.
Equally important, the last spot in the rotation needs touching up.
Nearly $30-million will fall off the payroll between Carlos Guillen, Magglio Ordonez and Brad Penny—used-up stars who hardly contributed to the success of 2011. With Dombrowski steering the ship, Detroit will remain a predator in the grass in the free agent and trade markets.
Ilitch put baseball back on the radar in Detroit five years ago and he knows the time is now to reward the Tigers long-suffering fans.