Findlay Prep Basketball: Size, Athleticism on Display in Opening-Night Win
November 9, 2011
When the final horn sounded on the 2010-2011 season for the Findlay Prep Pilots, the feeling was that, for the first time in their illustrious history, the Pilots had been outsized and outmuscled in their season-ending defeat to Dwyer High (FL) in the prestigious ESPN Rise National High School Invitational.
Apparently, Pilots coach Michael Peck and his staff got the message, as they unveiled a new-look roster for the 2011-2012 season that would make most college teams envious.  It's not often that a high school basketball team has eight of its 12 players standing at 6'8" or taller.
Visiting Impact Academy was Findlay's first victim, as the Pilots raced to a 107-63 victory in front of a sellout crowd at The Henderson International Fieldhouse. 
The Pilots were led by 6'8" newcomer Brandon Ashley, who dominated the paint with a 30-point, 11-rebound performance.  Ashley, the ESPN RISE fourth-ranked player in the country, threw down dunk after dunk, showed a nice little jump hook on the block and even stepped out on the perimeter to nail a three-pointer. 
His performance spoke for itself, alerting the entire gymnasium that he could be the latest great one to come out of Findlay Prep.
If Findlay is going to reach its annual goal of a national championship, obviously it's going to take a total team effort.  However, Findlay presents a one-two punch inside that will be hard to contain.  Complementing Ashley is the ESPN RISE seventh-ranked player in the country, 6'8" Anthony Bennett. Bennett, in his second year with the Pilots, is looking to become more of a leader after injuries slowed his progress last year.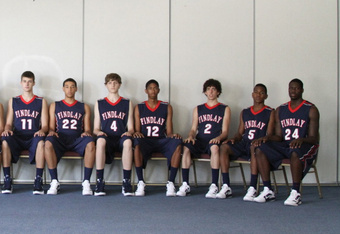 While Findlay jumped out to a 53-36 halftime lead over Impact Academy, Bennett was quiet for much of the first half.  But he came alive immediately in the second half.  One of Impact's guards drove baseline for what appeared to be an easy bucket, but Bennett unselfishly rotated on defense and took the charge.  Not only did the play give energy to the entire Findlay bench, but it seemed to energize Bennett as well. 
He proceeded to go on a spurt, making four rim-rattling dunks in a row and effectively deflating Impact Academy's hopes of an upset.  Bennett finished with 13 points and six rebounds.
Also contributing to the total team effort was the veteran of the squad, 6'8" forward/guard Winston Shepard.  Shepard, who at times last year had to play out of position for the benefit of the team, remains Findlay's glue.  He contributed his usual double-double, pouring in 11 points and 12 rebounds.
Making individual sacrifices is in Shepard's DNA.  Even during the summer for his prestigious AAU team Dream Vision, Shepard didn't mind deferring to the nation's No. 1 player, Shabazz Muhammad.  This kid is all about winning and that's a special trait to find in young men in today's "it's all about me" era.

The night also marked the debut of a newcomer to the Pilots program, point guard Dominic Artis.  Findlay has certainly featured amazing guards over the years. There was Avery Bradley, Mr. Mid Range and a lockdown defender.  There was Cory Joseph, a floor general with a high basketball IQ.  There was Nick Johnson, who had jump-out-of-the-gym leaping ability. 
But Artis may be one of a kind.
Artis is a flashy, but under-control guard with a deadly three-point shot.  Artis put in a spectacular debut for the Pilots, filling up the stat sheet with 20 points, eight assists, seven rebounds and three steals. 
Artis and a bevy of other newcomers, compose what could be one of Findlay Prep's most loaded rosters since the 2008-2009 season, when Findlay went 33-0 en route to a high school basketball national championship.
The Pilots will surely need to be up to par this season, as Findlay has continued a tradition of scheduling the nation's toughest teams.  Opponents include pre-season ESPN RISE No. 1 Simeon (IL), No. 5 Flower Mound Marcus (TX) and No. 7 Bishop Gorman (NV).  
Against Simeon, Findlay will have its hands full against the top-ranked junior in the country, 6'7" do-it-all small forward Jabari Parker.  Against Flower Mound Marcus (TX) the Pilots will face 11th-ranked senior in the country in 6'4" guard Marcus Smart. 
Smart, who is built like an NBA guard, led his summer AAU team Texas Assault to the championship in the highly acclaimed Adidas 64 tournament, besting Dream Vision in the finals. 
And finally, Findlay will face Bishop Gorman in a rematch of last season's thrilling contest, which the Pilots won in overtime.  Once again, Findlay will have to deal with the top-ranked senior in the country, Shabazz Muhammad.
A full slate of physical challenges and mental obstacles stand in the way of a national championship for Findlay.  But I get the feeling that the Findlay coaches, players, staff and fans wouldn't have it any other way!