2012 MLB Offseason: Grading the Top 15 Second Basemen According to TPR
November 9, 2011
Ezra Shaw/Getty Images
Welcome to the third edition of the total player ratings. This time we will be taking a look at the second basemen. While we won't see any designated hitters at second base, we will see some players that can play multiple positions. Additionally, there might be some names missing from the list. Remember, each player will only be included on one list.
It will be the list where they most naturally fit or where they will likely see more time. The total player ratings are based on data from Baseball Prospectus, Fangraphs and Baseball Reference. Each of those sources have statistics that measure how many runs above average (or below) they are in fielding, hitting and base running. While there are good sources (like Fielding Bible) for some of those categories, we include only these three because they are common to all three categories.
15. Sean Rodriguez, Tampa Bay Rays
Fielding: 12.4
Hitting: -5.9
Base running: 2.9
Total Player Rating: 9.4
One of the characteristics that is remarkable about the Rays is that they have so many moving parts. Rodriguez can play second and short equally well. At first glance, short would appear to be the better position, but Ben Zobrist can also play in the outfield. If they trade B.J. Upton, then Zobrist will likely shift back to right field and so forth. It must be nice to be able to slot people wherever you want.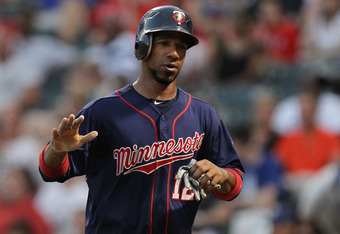 Ronald Martinez/Getty Images
14. Alexi Casilla, Minnesota Twins
Fielding: 12.3
Hitting: -4.9
Base Running: 3.7
Total Player Rating: 11.1
Casilla is proof positive that there is a silver lining in every dark cloud. Second base was a huge concern for the Twins, but Casilla filled that gap ably. Everything else around him seemed to fall apart, but at least the Twins got one question answered.
13. Jason Kipnis, Cleveland Indians
Fielding: -9.1
Hitting: 18.7
Base Running: 2.1
Total Player Rating: 11.7
Obviously, Jason Kipnis only played a portion of the season, so you could theoretically multiply his numbers by two and a half and get a more representative total. That would make him one of the top five offensive second basemen, but one of the worst fielding ones.
12. Jemile Weeks, Oakland Athletics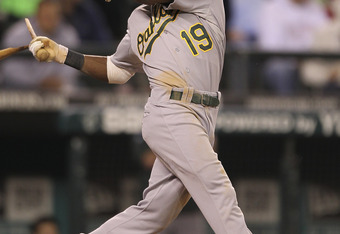 Otto Greule Jr/Getty Images
Fielding: -7.9
Hitting: 25.8
Base Running: 0.9
Total Player Rating: 18.8
Weeks is not the Billy Beane sort of player, but even Beane had to recognize the production. He was an obvious improvement over Mark Ellis offensively even if the defense didn't look so hot. He might not look this good in 2012, but it should still be better than what Ellis was bringing to the table.
11. Omar Infante, Florida Marlins
Fielding: 44.9
Hitting: -17.6
Base Running: -0.9
Total Player Rating: 26.4
Infante is an example of the golden rule of sabermetrics. It doesn't matter where the value comes from as long as it's there. Infante was a better player than Dan Uggla in 2011, even if Uggla had the more impressive offensive numbers. Infante saved more runs with his glove than any second baseman in baseball last season. It may not continue, but give him his due for 2011.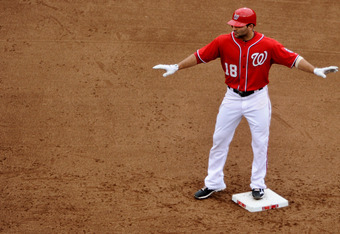 Patrick Smith/Getty Images
10. Danny Espinosa, Washington Nationals
Fielding: 17.0
Hitting: 7.4
Base Running: 4.6
Total Player Rating: 29.0
Watch out for those Washington Nationals. They have a ton of good young talent and Espinosa is just one of them. A freakishly low BABIP kept him from producing good offensive numbers, but he brought enough power and patience to the table to be passable. Meanwhile, he demonstrated that he is one of the better defensive second-sackers around.
9. Dustin Ackley, Seattle Mariners
Fielding: 4.3
Hitting: 33.1
Base Running: 0.4
Total Player Rating: 38.1
Imagine that these numbers came in a partial season. Things look bleak in Seattle, but the fans will still have a few fun guys to root for. Ackley is their best position player and he is likely to get better before it's all said and done.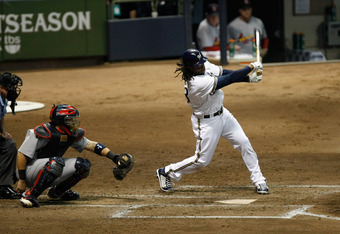 Scott Boehm/Getty Images
8. Rickie Weeks, Milwaukee Brewers
Fielding: -0.8
Hitting: 42.7
Base Running: 0.6
Total Player Rating: 42.5
Some will write off the Brewers if Prince Fielder signs elsewhere. That would be a mistake given the number of good position players they have in the fold. Weeks may not have the sizzle that Fielder and Ryan Braun have, but he is a very productive player.
7. Chase Utley, Philadelphia Phillies
Fielding: 31.1
Hitting: 22.6
Base Running: 8.1
Total Player Rating: 61.8
Last year was a down year for Utley and he still ends up here. Imagine what he could do if he is 100 percent for a whole season. That should be 2012, and the Phillies will need every bit of it without Ryan Howard.
6. Brandon Phillips, Cincinnati Reds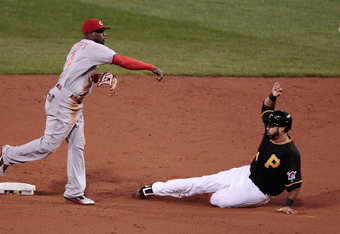 Jared Wickerham/Getty Images
Fielding: 5.8
Hitting: 47.2
Base Running: 13.6
Total Player Rating: 66.6
There are often balance issues among particular positions. Phillips registers as the best second basemen in the National League despite being sixth overall. He shouldn't have won the Gold Glove, but he is still quite good. He sneaks up on you because he can do everything well. The Reds need to bring him back.
5. Howie Kendrick, Los Angeles Angels
Fielding: 23.4
Hitting: 48.9
Base Running: 6.1
Total Player Rating: 78.4
Kendrick would likely register as the American League version of Phillips. No one really thinks of him as a great player and yet here he is near the top. It comes from being merely good at every facet of the game instead of being great at one or another. Moreover, he fits on the Angels because of his good defense.
4. Ben Zobrist, Tampa Bay Rays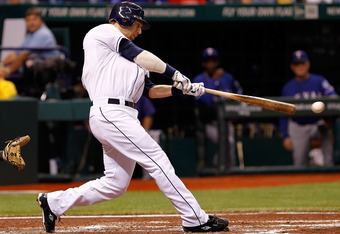 J. Meric/Getty Images
Fielding: 0.2
Hitting: 85.1
Base Running: 9.9
Total Player Rating: 95.2
When you divide these totals by three you see that the gap between Zobrist and Robinson Cano is virtually negligible. Zobrist could move to the outfield if B.J. Upton is dealt, so it might be a moot point anyway. Still, I think Zobrist doesn't get enough credit for the value he brings to the table.
3. Robinson Cano, New York Yankees
Fielding: 1.1
Hitting: 89.5
Base Running: 6.3
Total Player Rating: 96.9
I've gotten the business from Yankees fans for how low Cano has been placed among second basemen. Whether 2011 was a down season or if he is overrated is open for debate. Simply put, the numbers put him here. I say they speak for themselves, but you can interpret numbers any way you want I suppose.
2. Dustin Pedroia, Boston Red Sox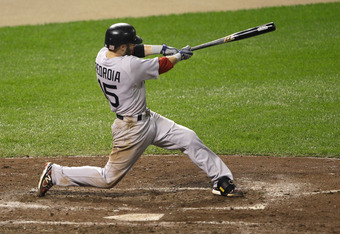 Rob Carr/Getty Images
Fielding: 20.4
Hitting: 94.9
Base Running: 5.5
Total Player Rating: 120.8
The "little engine that could" kept going in 2011 after what may have been a down 2010 season. In terms of player development, Pedroia may be Theo Epstein's crowning jewel in Boston. He doesn't look like much, but he has been more productive than any second baseman in the AL over the past several seasons.
Fielding: 34.9
Hitting: 67.1
Base Running: 25.4
Total Player Rating: 127.4
Kinsler is a shining example of what happens when you do everything well. Imagine that he produced all of these numbers with a BABIP under .250. If his BABIP goes to career norms in 2012, it could be a repeat season for him here. This marks the second Ranger to be No. 1 at his position. No wonder they were so good.
Bottom Feeders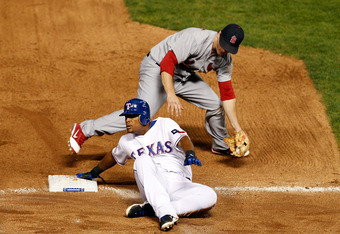 Tom Pennington/Getty Images
Ryan Theriot, St. Louis Cardinals
Fielding: -15.9
Hitting: -26.5
Base Running: -4.5
Total Player Rating: -46.5
Theriot played more shortstop last year, but with the addition of Rafael Furcal (who should be back) he would fit better at second base. These numbers would indicate he would fit better either on the bench or the street. The Cardinals got measurably better simply be removing him from the lineup in late July.
Aaron Hill, Arizona Diamondbacks
Fielding: 6.2
Hitting: -42.4
Base Running: -1.0  
Total Player Rating: -37.2
Aaron Hill had a great six weeks for the Diamondbacks. So, imagine how bad he was when he was in Toronto. Of course, Kelly Johnson was almost as bad in Arizona, so that trade registered as pneumonia for intestinal flu. Give the Dbacks credit for acquiring a guy that turned it around. Sometimes you can catch lightening in a bottle.
Justin Turner, New York Mets
Fielding: -30.1
Hitting: -6.1
Base Running: 1.0
Total Player Rating: -35.2
Sandy Alderson was determined to rid himself of bad contracts and dead weight. He saw it as a cancer on the Mets, so he released Luis Castillo (among others). Well, sometimes the cure is worse than the disease. Turner finished last among second sackers in fielding runs. It's time to change doctors.