Kyrie Irving: Coach K Told Me I Was a Pro Right Out of High School
November 9, 2011
Streeter Lecka/Getty Images
ESPN spoke to numerous players that left college after only one season for the NBA.
The players were asked about what they thought of the one and done rule (currently, players must be 19 years old and one year removed from high school to be eligible for the NBA draft) and if they generally had any regrets about leaving.
All said they were basically following their dreams. Play with the best players and take care of their families financially. That's the American dream right?
Even if it meant that the jilted college team goes into rebuilding mode, one really cannot fault a player for being ambitious.
Kyrie Irving would have made a great backcourt duo with Austin Rivers this season, but he had a chance to realize his dreams early and went for it.
"My father's advice to me was to make the best decision for me, "Kyrie told ESPN, "He also knows that I was considering him and my little sister at the time, but make the best decision for me and when I do make the decision don't have any regrets."
"I'm only 19 years old and I was fortunate and blessed enough to be the No. 1 pick. It's not going to stop recruiters from recruiting. It didn't stop Coach K from recruiting me. Coach K told me I was a pro right out of high school -- hearing that from a great coach, it still didn't keep him away from recruiting me."
"He knew that I wanted to go to college and be a part of a great program. It all depends on the kid."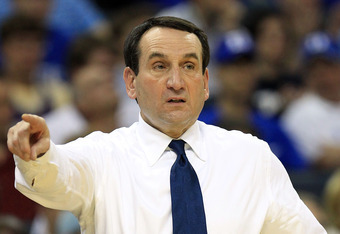 Streeter Lecka/Getty Images
A coach cannot avoid a recruit because he may be a one-year player. They are aware of the rule and even though it may not be ideal, everyone has to live with it.
It was unfortunate that Irving got injured early at Duke and only played 11 games, but his talent was enough to have the Cleveland Cavaliers take him No.1 in the last NBA draft.
The NBA is currently working out the major issues of the collective bargaining agreement but as soon as they get over that hurdle (admittedly, a very steep one) a new decision is eminent according to Chad Ford.
Now the NBA is pushing for a minimum age limit of 20 and a two-year waiting period after a prospect's high school class graduates. And parties on both the NBA and NCAA sides view such a change as an entirely positive development.
It's rules like these that some consider will one day derail the NCAA and the whole college system. It works out great for the fans (yours truly included) and their respective college teams as they get great players for an additional year.
However the players interviewed seem to have a lot of disdain for the current rule much less another that will force future players to realize their dreams in an additional year.
B.J. Mullens, currently with the Oklahoma City Thunder, left Ohio State after one season and had this to say:
"The rule, it's taking kids' years away from playing in the NBA. If a kid is good enough to play in the NBA at age 17, let him play. You know, the ball isn't going to bounce forever. Guys think they have 15, maybe 10 years of being a superstar player, but the average NBA career is about 4.5 years."
"You're not getting any younger. Myself, growing up in homeless shelters and 15 different houses, 15 elementary/middle schools, if I see a kid that has a talent like that, I'll tell him to go. If I see a rich, suburb kid, why does he have to go straight to the NBA if he already has money? Get your education, enjoy life."
Can't fault that argument, though this rule was put in place to protect the kids that really think they are talented enough for the NBA and get a nasty surprise on draft day when they go undrafted and cannot go to college as they are then considered professionals.
It would have been nice to hear from a few guys that had this happen to them instead of the more successful one and done players.
However players such as Tiny Gallon declined to be interviewed. Gallon spent one year at Oklahoma then got drafted No. 47 by the Milwaukee Bucks, but was eventually released before the season opener.