Big East Expansion: Pros and Cons of Possible BYU Move to the Big East
November 9, 2011
Erich Schlegel/Getty Images
It's no secret that the Big East conference and BYU are currently in talks with one another about possibly adding BYU to the conference as a football-only member. BYU coach Bronco Mendenhall has even said as much publicly; a surprising turn of events for a program that is possibly the most secretive in the nation when in comes to realignment speculation and news. 
So let's take a look at the pros and cons of a possible move to the Big East by BYU, from the perspective of both the Big East Conference and BYU. 

Big East Conference Perspective

Pros
It's well-known that the Big East's auto-bid is in trouble, and adding Boise State could go a long ways in helping the conference to keep their AQ-Status. Problem is, Boise State appears a little reluctant to take the risk if they are the only major program involved. 
While Navy, UCF, SMU, Houston and Air Force are all quality programs, none of them are on Boise's level when it comes to program prestige and influence. Adding BYU would give Boise State a more natural rival who has a similar level of prestige and influence. BYU and Boise State also currently have a contract to play each other through 2023, so it's obvious that Boise State and BYU enjoy a healthy relationship.
Speaking of auto-bids, the criteria for evaluating AQ status is based on performance from the 2008 through 2011 seasons. During that time period, BYU has an overall record of 36-14, with four more games to be played. The Cougars twice finished in the top 25 during that time, and were also in the top 20 of the final BCS rankings twice. 
The team had a winning record at the end of all of the first three seasons of that period, and are on the path to do that in this fourth year of the evaluation period as well. Those stats would be greatly beneficial in helping the Big East's case for retaining its AQ bid.
Part of what any major conference needs in order to be relevant is fan support, and BYU has more to offer the Big East in that category than pretty much any other candidate (unless Notre Dame is actually a possibility to join the conference).
Last season, the team averaged over 60,000 fans per game at home, and ranked 27th in the nation in attendance. No other team currently in the Big East or in expansion talks with the conference had anywhere near that level of attendance.
If BYU joined, they would be first in the Big East in attendance. Attendance equals fan support, so BYU would arguably also be the Big East's largest fan base (although figuring out the actual size of Boise State's fan base is difficult, because their epic Fiesta Bowl win over Oklahoma and subsequent success has won them fans from across the nation). Adding more fans would be a huge plus for the conference, as it gives them more leverage in media contracts.
In case anyone has forgotten, the Big East has a large number of members who don't field FBS football programs. So, several of the new members of the Big East would need to join as football-only members, or the other sports would have way too many teams in the conference, and the travel expenses for non-revenue sports would get expensive. 
BYU already has a conference for its other sports besides football, so there would be no need to give BYU an all-sports membership in the conference. BYU could help the conference in football without causing problems for it as far as the other sports are concerned.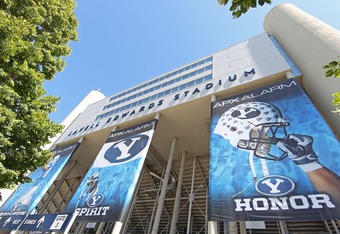 George Frey/Getty Images
Cons
BYU has its own television contract with ESPN, as well as its own television station, BYUtv.  Texas also has these things, although they differ from BYU's in value and purpose. However, Texas' Longhorn Network and contract with ESPN caused quite a bit of resentment in their own conference, and led to instability in the Big 12.
Although BYU only wants rebroadcast rights and rights to un-aired games for BYUtv, the perception of it by other conference members could lead to comparisons to the Longhorn Network. That would lead to resentment, and possible instability in the conference.
Adding BYU could also lead to the conference swelling to an unsustainable size. If all six schools that have been offered Big East membership accept as well as another school such as San Diego State or Army (both of which have been rumored to be in talks with the conference) and BYU also joins the conference, that puts the number of teams in the conference at 13. That number doesn't lend itself very well to scheduling or stability, so the conference would most likely have to add another team. Fourteen teams may be more than the Big East can support financially.
BYU Perspective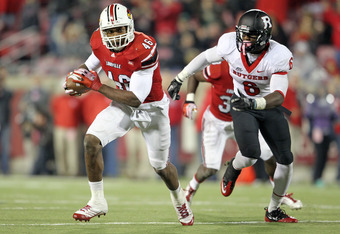 Andy Lyons/Getty Images
Pros
The Cougars currently pretty much have to go undefeated in order to make a BCS bowl. Joining the Big East would give them much easier access to the lucrative bowls, as well as more national exposure during bowl season. As much as BYU despises the BCS system for its injustices, BYU Athletic Director Tom Holmoe has stated that the program has no intention of being left behind in a rapidly changing college football landscape. If you can't beat 'em, join 'em.
Scheduling would also be easier in the Big East.  The currently independent BYU program has difficulty scheduling during the heart of conference season, when many conferences won't allow their teams to play out-of-conference (OOC) games. Being a member of the Big East eliminates those scheduling difficulties, and would allow BYU to keep the quality early-season games currently on the future schedule as their OOC games.
The level of competition in the new Big East would also be a step up for the Cougars. While the conference would have few elite teams outside of Boise State, the rest of the teams are solid. The hypothetical post-expansion Big East would be lacking cupcakes. Annually playing UNLV, New Mexico, and San Diego State hurt the Cougars in the polls when they were in the Mountain West Conference.  The new Big East wouldn't have that problem.
Recruiting as a member of an AQ conference could also be an improvement for BYU. While BYU's recruiting situation differs greatly from most programs' due to the school's strong religious nature and Honor Code, being a member of the Big East could still help the Cougars to land some elite prospects. 
Not all elite LDS players go to BYU, such as Bednarik Award semifinalist Manti Te'o at Notre Dame or true freshman Harvey Langi at Utah. Having an AQ bid could help BYU land such LDS prospects, as well as a few non-LDS prospects that could help the team out quite a bit, especially in the secondary.

Cons
National perception of BYU could possibly take a hit if the Cougars were to join the Big East.  Although the conference would most likely have to change its name if BYU, Boise State, and the other western schools joined, the fact remains that BYU would be joining a conference currently called the Big East and headquartered in Rhode Island.
That level of geographic separation could lead some to label BYU as "desperate," especially after the school was unable to cash in on its reported front-runner status during Big 12 expansion. With arch rival Utah already receiving membership in the geographically-prudent Pac-12, some may wonder why BYU had to join a conference whose headquarters are practically touching the Atlantic Ocean.
Trust and respect in BYU's new conference could also be an issue. One of the main reasons that BYU left the Mountain West Conference was due to a complete lack of trust with Commissioner Craig Thompson. 
The school was promised certain things regarding media rights and BYUtv, and the commissioner repeatedly ignored those promises and rejected BYU's appeals to fulfill them. Having been constantly mistreated and lied to by their previous conference could make BYU hesitant to trust the Big East Conference.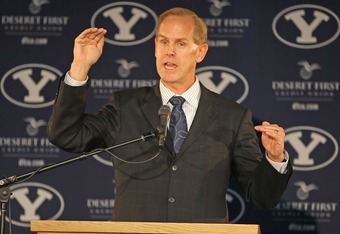 George Frey/Getty Images
The Big East also faces an uncertain future. The conference's current AQ status could be taken away after 2013.  If the conference loses its auto-bid, the Cougars are stuck in a conference that may have a higher level of play than the MWC, but which is much more geographically spread out and which still leaves the program on the outside of the BCS system looking in.
Is it worth it to join a conference that leaves the program in the same spot it is now, except without the freedom of being an Independent and without the school's hefty contract with ESPN?
Part of the announced reason for BYU's move to independence was their desire for national exposure and media visibility, as well as the freedom to use their BYUtv station to promote their program. The team has almost all of its game nationally televised this season, and has replay rights for BYUtv.  Joining the Big East could lead to the Cougars having far fewer televised games than they currently enjoy, as well as losing rights for broadcasting un-aired games and replays on BYUtv. 
Plus, if membership in the Big East Conference doesn't work out, a return to Independent status may not be as simple as supposed.  Who knows if ESPN would be willing to give the Cougars a comparable contract again and aid them in scheduling?
In the end, there are plenty of both pros and cons for both the Big East Conference and BYU when it comes to possible membership in the conference for the Cougars. It's up to the two parties to weigh those pros and cons and decide which points they value most.