MLB Free Agents 2012: Should the Yankees Ask the Dodgers About Chad Billingsley?
November 8, 2011
Stephen Dunn/Getty Images
For the second offseason in a row, the Yankees' biggest need is pitching. There is no Cliff Lee on the market, so that bona-fide, can't-miss pitcher isn't there for the taking.
There is, however, C.J. Wilson, Mark Buehrle, Roy Oswalt and Edwin Jackson. But all of them are at best a number two-or-three pitcher in New York.
Buehrle is the best of that group, but ESPN's Buster Olney said the Yankees will likely not pursue the White Sox lefty this winter.
In all honestly, I think the Yankees will be making a trade for a starter instead of signing a free agent. I've thrown out a few ideas as to whom the Yankees can trade for.
Johan Santana of the Mets. Matt Cain of the Giants. Tim Lincecum of the Giants. Matt Garza of the Cubs.
Now I'm going to throw another name into the suggestion pool of pitchers the Yankees could look into for the rotation: Chad Billingsley of the Los Angeles Dodgers.
The 27-year-old right-hander is the number-two pitcher for the Dodgers. According to Ken Rosenthal of FOX Sports, Billingsley could be on the block this coming winter.
It would make sense for the Dodgers to trade Billingsley this winter. The Dodgers are in the middle of a financial mess, forcing Frank McCourt to sell the team.
There's a good chance that you could see a fire sale of Dodgers players before April.
If there is in fact a fire sale, I expect only two names to survive. Clayton Kershaw and Matt Kemp are the only two untouchable Dodgers; Billingsly isn't.
He is still owed another three years and $32 million guaranteed with a $14 million option for 2015.
If the Dodgers are going to shed payroll before new ownership takes over, I could see Billingsley being one of the first contracts the Dodgers and GM Ned Coletti tries to shed.
This is where the Yankees could get involved.
Some people have said the Yankees should pursue Kershaw. While he would be a great fit for the Yankees, there is no way the Dodgers are moving their ace anytime soon when he is extremely affordable through arbitration.
Billingsley is extremely durable, is good for at least 200 innings and is still relatively young at 27. He could be that second or third pitcher in the Yankees rotation with CC Sabathia and Ivan Nova.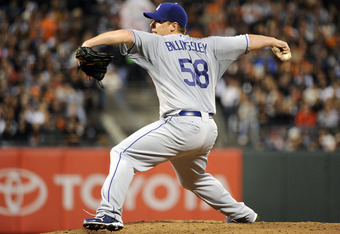 Thearon W. Henderson/Getty Images
If the Dodgers ask for Jesus Montero, I'm not sure if Yankees GM Brian Cashman would be interested in dealing his top bat for Billingsley.
If Coletti asked for Manny Banuelos or Dellin Betances, Cashman might pass up on Billingsley.
But there are other options for the Dodgers like pitchers Adam Warren, David Phelps, Hector Noesi, infielders Brandon Laird and Eduardo Nunez and outfielder Slade Heathcott.
If it was for Kershaw, I'd trade Montero and Banuelos easily. But it's not, so this is a different deal. If the Dodgers put Billingsley on the market for a trade, I think Cashman should inquire to see what the Dodgers are asking for him.
Considering they would have to take on the remaining three years of his deal, that would be a better investment than spending it on Wilson and Jackson in free agency.