Texas A&M Basketball: 2011-2012 Men's Basketball Preview
November 8, 2011
The Texas A&M men's basketball team kicks off their season with a game against Liberty University as part of the Coaches vs. Cancer 2K Sports Classic. There have been a lot of changes in the program since the 2011 season ended in a loss to Florida State.
Mark Turgeon left the A&M program to take the job at Maryland when Gary Williams unexpectedly retired. Bill Byrne went out and hired Billy Kennedy from Murray State to replace Turgeon. Kennedy was recently diagnosed with Parkinson's disease and is on a temporary leave of absence to deal with his medical issues. Assistant coach Glynn Cyprien has taken over the head coaching duties during Kennedy's leave of absence.
The Aggies return three starters from a 2011 squad that went 24-9 overall and 11-5 in conference play. The Aggies lost to Florida State in the NCAA tournament and for the first time in six years did not win an NCAA tournament game.
The Aggies were young in the low post last year and really overachieved by simply making the tournament. The return more experience this year and more should be expected from them despite a much tougher schedule. A&M will play 18 conference games this year. They will face every Big 12 team at home and on the road. With the addition of Lon Kruger at Oklahoma and Billy Gillespie at Texas Tech, the conference will feature some of the best coaches in the country.
The A&M men are ranked as high as No. 19 in the preseason polls. They were picked by the conference coaches as the favorite to win the Big 12 along with Kansas. This team has a chance to be special but they will need to see continued improvement on the offensive end if they want to meet the preseason expectations.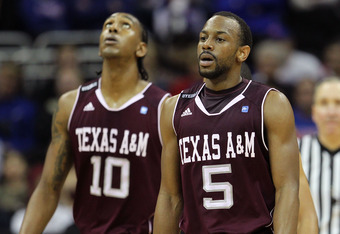 Jamie Squire/Getty Images
Point Guard
Dash Harris returns for his senior year as the starter at point guard. He is the unquestioned leader of the team off the court. He is a team captain and does a good job of representing the team in the media. The issues with Harris are on the court. Harris struggled mightily during his junior year to shoot the ball. He does not break down teams off the dribble and at times can play out of control. He is an excellent defender, but was so poor on offense last year that opposing teams sometimes refused to guard him.
The Aggies need Harris to play like a senior. They just need him to play smart basketball. A successful season for Harris would be making all of his open layups and 70 percent of his free throws. If he can keep his assist to turnover ratio to two to one, then that will be a successful season for Harris. That should mean he will be scoring around six points per game and dishing out four assists. That is about all you can ask for from him.
Jamal Branch was ranked as one of the top 50 recruits in the nation. He is a 6'3" freshman point guard who will team with Harris to quarterback the Aggie offense. Branch will dribble penetrate and dish off to his teammates. He will break down teams off the dribble. Branch is also a better shooter than Harris. Do not be surprised to see Branch take some minutes from Harris as the season wears on. Aggies fans will have to be patient with Branch in the early going as he adjusts to the college game.
Shooting Guard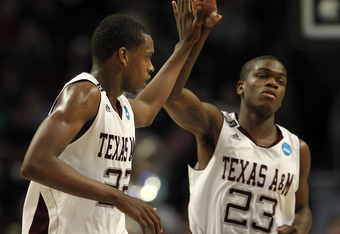 Jamie Squire/Getty Images
Elston Turner will get the start at the two. Turner is a 6'5", 220-pound junior who transferred from the University of Washington. He will replace the departed B.J. Holmes as the Aggies' biggest threat from behind the arc. Turner led all Aggies in scoring during the summer tour of Europe. Turner will keep teams from doubling Khris Middleton so much when the Aggies are on offense. Look for him to average eight to ten points per game.
Naji Hibbert returns for his junior season. Hibbert has a lot of potential, but at some point you just have to recognize that he is what he is. Hibbert does not consistently play the game with confidence. He has the ability to slash to the basket and break down defensive players off the dribble. Instead he appears hesitant out there all too often. Expect Hibbert's minutes to decrease as the season wears on.
Jordan Green is a 6'4" freshman from Flower Mound High School. He is a great athlete and should earn more minutes as the year goes on. Like most freshmen you should expect flashes of brilliance interspersed with silly mistakes. If his defense improves, expect Green to take minutes away from Hibbert.
Small Forward
Khris Middleton is the best basketball player on the A&M team and a potential lottery pick if they ever have another NBA draft. The 6'7" junior exploded onto the scene last year while leading the Aggies with 14 points per game. He can score inside and outside.
Jamie Squire/Getty Images
Middleton's one weakness is that he is not aggressive enough and does not demand the ball in crunch time. He has the ability to take over games, and needs to be more willing to do that as a junior. The Aggies need Middleton to be a consistent 16- to 18-point scorer this year.
Daniel Alexander is an interesting player. He redshirted last year and really does not have a true position. He was a tall win player in high school. Expect the 6'9" freshman from Dripping Springs to see time at the 3, 4 and 5 spot for the Aggies.
If he can play good defense and offer solid minutes off the bench in the post then his season will be a success. He is also someone that the Aggies can use in the high low game if the coaches desire. He has three point range which will make him a tough matchup for most opposing bigs.
Power Forward
This will be an interesting position for the Aggies. Chris Walker graduated and took a ton of toughness and clutch play with him. Walker got the maximum out of his ability and was the Aggies' most consistent player last season.
Senior David Loubeau will move back to his natural spot at the 4 and will start for the Aggies. Loubeau struggled last year playing the center position, especially on defense. He should be one of the best power forwards in the league for the Aggies. Look for Loubeau to average 12 to 14 points and to lead the Aggies in rebounding with around eight per game.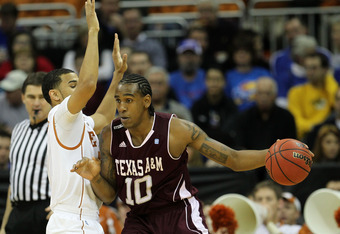 Jamie Squire/Getty Images
Expect a number of players to spell Loubeau at the 4. Alexander, Ray Turner and Kourtney Roberson will all see time as power forward.
Center
Junior Ray Turner started at center in the Aggies exhibition game. If his play has improved enough where he has earned a starting spot, then that will be an unexpected addition for the Aggies. Turner is an explosive athlete who struggled with injuries as a sophomore. If he can give the Aggies starters' minutes in the post, that would open up a lot of options. If Turner can give the Aggies six points and eight rebounds per game, that would have to be considered a huge success.
Kourtney Roberson was the backup center as a freshman. He or Turner will start in the post for the Aggies this year. Roberson averaged five points and four rebounds per game as a freshman. Expect to see a large jump in those numbers this year. Roberson should get close to a double-double every game. Expect him to score eight to 10 points and grab eight to 10 rebounds every game.
Keith Davis is the tallest player on the basketball team at 6'10." He is a true center and is the best natural shot blocker on the A&M team. Davis needs to develop his offensive game more and work on his footwork on defense. If Davis can give the Aggies a defensive presence in the post off the bench, and collect a couple of garbage baskets per game then that would be a plus for the Aggies.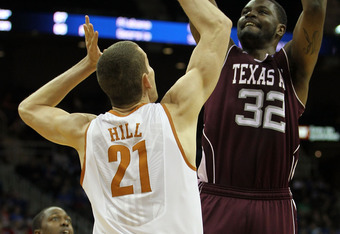 Jamie Squire/Getty Images
Expectations
The Aggies should make the NCAA Tournament for the seventh year in a row. Where they are seeded in the tournament will be determined by how they manage a very tough conference schedule. In non-conference play the Aggies face Mississippi State, Arizona or St. Johns and Florida. If you take the conservative approach and assume the Aggies will win one of those three games then that should leave them at 10-2 in non-conference play.
The Aggies will play 18 conference games. If you assume losses at Kansas, Texas, Tech, Oklahoma State and a couple of home games you did not expect, that would leave the team at 12-6 in conference play, which may end up good enough to win the regular season conference title.
You have to assume that Billy Gillespie will have Tech playing well above their heads at home and Iowa State will be tougher with their multiple transfers becoming eligible. One of the biggest unknowns is how Kansas State will respond after the graduation of Jacob Pullen.
If Khris Middleton accepts his role as a team leader and plays like he is one of the top players in the country, then this team could win 25 or 26 games in the regular season and challenge for a No. 2 or 3 seed in the NCAA tournament. If not, then expect the Aggies to be a No. 7 or 8 seed and fight it out to advance to the Round of 16. Both Middleton and Loubeau should compete for First-Team All-Conference honors.
Even with a new coaching staff and with the head coach out for an undetermined period of time, anything less than an NCAA Tournament birth and an upper division finish in the Big 12 should be viewed as a disappointment.