San Francisco 49ers: The Anti-Packers
November 9, 2011
After Week 9, the 8-0 Green Bay Packers and the 7 -1 San Francisco 49ers sit dominant on top of the NFL.
While both teams are similar in their success, they are absolutely different in their approach and talent; the stats tell the narrative.
Passing Yards: +1 Packers
Packers: 2,496 (third)
49ers: 1,388 (30th)
Passing TDs: +1 Packers  
Packers: 24 (first) 
49ers: 10 (19th) 
Points Scored: +1 Packers
Packers: 34.4 points per game (first) 
49ers: 25.8 points per game (eighth)

Rushing Yards  +1 49ers 
Packers: 835 (21st)
49ers: 1,101 (seventh) 
Defense Points Allowed: +1 49ers
Packers: 179 (17th)
49ers: 118 (first)

Defense Rushing Yards Allowed:  +1 49ers
Packers: 800 (sixth)
49ers: 566 (first)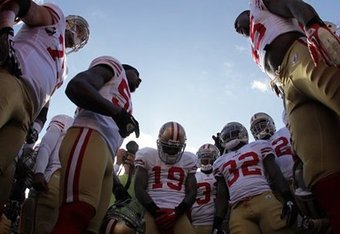 With the Packers, you get one of the best quarterbacks to ever play the game and a passing game that reflects that.
With the 49ers, you get one of the most solid teams throughout, and one of the best rushing defenses in history.
So, who's better?
If both teams continue on their respectable paths, you are going to hear this question a lot more moving forward.
Sure, the reigning Super Bowl champs deserve an exclusive respect. Their record also dictates a slight advantage, but to be fair, not all the stats concur.
We have all heard that "defenses win championships," but is it true?
If things go right, come the NFC championship game, we may find out.
The 49ers have three challenging games ahead. This week they meet the red-hot New York Giants, and they also have games against the Baltimore Ravens and the Pittsburgh Steelers in the upcoming weeks. 
Aside from those three games, not much more is standing in the 49ers way this year. It is safe to assume the 49ers will make the playoffs for the first time since 2002, and they will most likely have a bye week and home-field advantage as well. 
The same goes for the Packers.
You can't predict anything in the NFL with 100 percent accuracy, but it is very possible these two teams will meet in the NFC championship game. It may not be until then that we can actually determine who the better team is or test the validity of the old saying that "defenses win championships."
This article was originally published in the Benicia Herald.
Thank you for reading. Please join me on Twitter @ryanthebroker.