Euro 2012 Playoffs: Why Bosnia Will Put Portugal to the Sword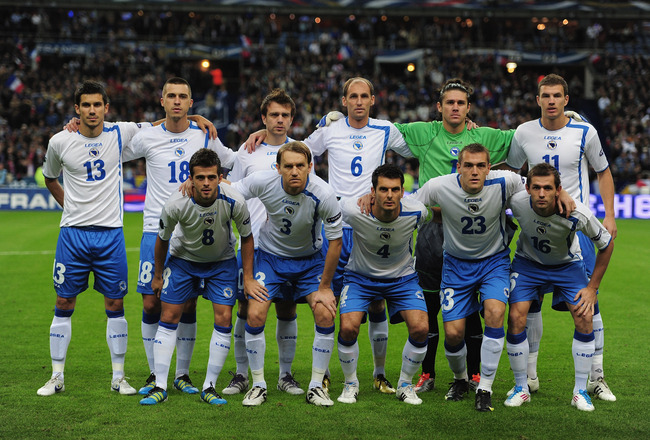 Jamie McDonald/Getty Images
The Euro 2012 playoff matches are less than four days away and Bosnia faces the same situation they faced in the World Cup 2010 playoffs: a date with destiny against Portugal.
The last two-legged tie in 2009 saw Portugal defeat Bosnia by a score of 2-0, 1-0 in each game.
Portugal are a strong side with great names like Ronaldo, Nani and others, but Bosnia is up for the challenge, as they don't want to watch Euro 2012 from their homes.
The following slides will show you why Bosnia will make their first major tournament since becoming a country by getting revenge on Portugal.
1. The Form of Edin Dzeko, Vedad Ibisevic, and Miralem Pjanic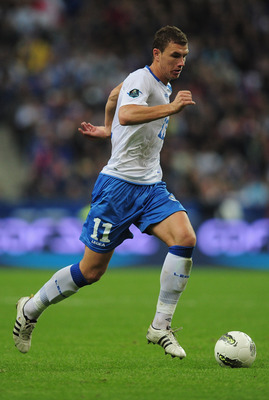 Jamie McDonald/Getty Images
The Bosnians are in great form for their club sides.
Take Edin Dzeko: He scored a wonderful goal against France, he scored two goals after coming on as a substitute against Manchester United in Old Trafford when Manchester City won by an astounding 6-1 and he scored against Wolves and QPR in his last two Premier League games. He's the go-to guy for Bosnia. He's in great form.
Vedad Ibisevic has a case of his own: before the last three games for his club, Hoffenheim, Ibisevic didn't score a goal. In the last three games, Ibisevic has scored three goals. That says a lot about his resilience—he's always working hard and he's back in form.
Miralem Pjanic: he's played every single game for Roma, and in the last game against Novara, he had two assists to lead Roma to a 2-0 victory. He'll lead the midfield with his experience (even though he's not even 22 yet!) in a victory for Bosnia.
2. Ronaldo Is Playing This Time
Paul Gilham/Getty Images
In the 2009 playoff against Portugal, Bosnia didn't have to face CR7 in the two-legged tie. I saw Ronaldo's absence as an advantage for Portugal, because they would play more of a team game without him.
This time, Ronaldo will play for the Portuguese, which I see as an advantage for Bosnia. If Ronaldo doesn't play up to his standards, Bosnia have a good, if not great, chance of going through.
Sure, Ronaldo has scored a lot of goals for Real recently but he's carrying the burden in the Portugal side, as opposed to having the likes of Mesut Ozil and others helping him greatly in Madrid.
We'll see how Captain Ronaldo handles the two games against Bosnia. Hopefully he plays like a first-timer.
3. Misimovic Is Playing This Time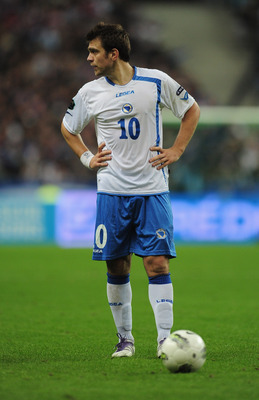 Jamie McDonald/Getty Images
The last time these two sides played, Zvjezdan Misimovic only played one leg after having a spat with former Bosnia coach Miroslav "Ciro" Blazevic. He was widely criticized for playing poorly in the first leg in Lisbon.
This is his chance to redeem himself and play like the Misimovic that helped Wolfsburg to the German Bundesliga title a couple of years ago.
4. The Bosnia Home Tie Is in Zenica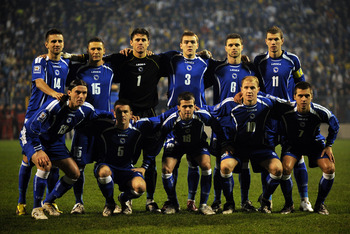 Shaun Botterill/Getty Images
The fact that the game is in Zenica instead of Sarajevo is huge.
Bosnia hates playing big teams in Sarajevo (remember France 0-2). Zenica is almost like a fortress to Bosnians. The last time we lost in Zenica, you ask?
Against Portugal in the 2009 playoff.
We won't let that happen again.
5. We Want to Play in a Major Tournament. Period.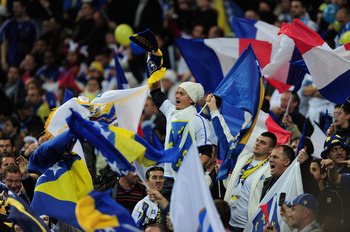 Jamie McDonald/Getty Images
Bosnia is hungry to play in a major tournament—which hasn't happened since independence. We had a chance against France to seal our fate and get to Euro 2012, but tied 1-1.
This is the second chance of a lifetime. Two games against Portugal, home and away, to make it to our first major tournament ever. Boy, would that lift the country into high, high spirits.
Our time is now, boys. Let's show Ronaldo how to get to Euro 2012! Zenica and Lisbon, here we go!
Keep Reading