Rubens Barrichello's Unfulfilled Career Looking To Come to a Close in Brazil
November 8, 2011
Paul Gilham/Getty Images
It seems that Rubens Barrichello's time in Formula One is coming to an end and that the Brazilian champion could say farewell to the sport at his home grand prix—the season-ender at Interlagos.
Williams F1 have confirmed that they are in serious negotiations with the 2007 world champion, Kimi Raikkonen. With Barrichello's star on the wane, the laconic Finn could prove to be a risk-free replacement and the tonic that Williams GP desperately need.
If he is replaced, it will bring down the curtain on one of F1's most remarkable and enduring careers. Barrichello has achieved everything the sport has to offer, with the glaring exception of a world championship.
It was a career that was almost ended inside two years.
At the infamous 1994 San Marino Grand Prix, Barrichello was involved in a sickening crash that saw his car become airborne at 225km/h before slamming into the safety fence.
Barrichello was knocked unconscious and had swallowed his tongue. Were it not for the timely intervention of the medical team, he would have certainly not survived.
F1's blackest weekend was almost darker still.
In a career spanning 19 years, Barrichello—or Rubinho as he is known to his fans—amassed 658 points, with 11 wins and a very respectable 68 podium finishes.
Had it not been for the fact that he was saddled with Michael Schumacher as his teammate at Ferrari, he could well have secured two championships.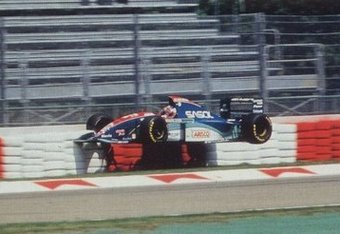 But that was in 2002 and 2004, however, and it was with Ferrari.
Since then, with the exception of the surprise 2009 season with Brawn, the decline has been inexorable.
For the last two years, Barrichello has been languishing at an underperforming and increasingly sad Williams outfit. The team has slipped from sixth in the constructors' championship in 2010 to ninth this year, barely outperforming the new kids, Lotus-Renault, HRT and Virgin.
Whether Barrichello is a victim of circumstance or part of the problem is not exactly clear.
What is clear is that Rubinho doesn't think that his time has come, but at least has the good sense to realise that the decision is out of his hands.
I do not believe it [Brazil] will be my last race. On the weekend of the Indian GP, I had a better understanding of the situation. I understand a little why it is taking so long, and unfortunately we will have to wait.
If it does come to pass that Brazil is Barrichello's swan song, he can leave the sport with his head held high.
He is the first driver to have competed in 300 grands prix. That's a remarkable feat and a record that can never be broken.
On the flip side, however, he has been the No. 2 driver to a world champion on six occasions. That may also be a record as well, but one that he's less likely to look back fondly upon.
He seems content to leave the sport, if that proves to be his fate, telling the F1 Times:
I really want to race, 100%. But if not, I also have options on the other side. Many people tell me—Luciano Burti himself and Olivier Panis—that life post-F1 is even better.

I will do a party to say goodbye to people. I think my relationship with the people is too good to finish one hour to another. It will be the way it has to be, but God willing we will be on the grid next year.
It's looking increasingly likely that Barrichello will not get his wish and, like so many before him, will even miss the opportunity to choose his own time to leave.
He still has the chance to read the writing on the wall. The question is, will he?