In Case You Missed It: WWE Raw Supershow Review 11/7/11
November 8, 2011
Tonight's Raw is live across the pond in Liverpool, England.
First Segment: John Cena enters and gets booed unsurprisingly. He makes references to The Rock. Awesome Truth enter and go back and forth with Cena. Cena hints at a future Hall of Famer being his partner tonight, but Miz and Truth attempt to stop his promo and outnumber him. Zack Ryder makes a run in and helps get some heat off Cena, as Ryder is extremely over with the Liverpool crowd. I still think the future HOF reference might be to "someone else" that was in Ireland for an official comeback with WWE this week, but I won't spoil it for anyone that hasn't heard in case I'm right. But for now, the match is billed as Awesome Truth vs. Cena and Ryder.
Match 1: John Morrison vs. Dolph Ziggler with Vickie Guerrero. A good match, pretty back and forth for the most part. Vickie tries to distract the ref when Morrison has the match seemingly won. Still, Morrison gets the rollup and the upset. Cole and JR kept mentioning the losing streak Morrison has had for three months. It seems as though WWE is testing his loyalty after his girlfriend, Melina, was released. The crowd seemed to be at least 65/35 in favor of Ziggler. One of the better crowds of a PG Era Raw for sure.
Winner: John Morrison
Survivor Series Match Announcement: Team Orton (Randy Orton, Sheamus, Sin Cara, Kofi Kingston, and Mason Ryan) vs. Team Barrett (Wade Barrett, Cody Rhodes, Christian, Jack Swagger and Hunico —formerly Sin Cara Negro).
Match 2: Mason Ryan vs. JTG. JTG is definitely getting the jobber treatment. Mason Ryan receives a full entrance, followed by a promo while JTG is barely given a nameplate. The match goes as expected, as JTG puts over the boring monster Batistwo...I mean Ryan. For a Wales wrestler in Great Britain, he didn't seem to be too over with the crowd, most likely because they feel similar to me, as Ryan is getting pushed far too quickly despite lacking any entertainment value or technical wrestling ability. As mentioned, the crowd is very good tonight.
Winner: Mason Ryan
Ryder in a promo with the Bella Twins. WOO WOO WOO...YOU KNOW IT...Mentions the twitter petition to get a U.S. Title rematch
Promo: Michael Cole announces that his "Michael Cole Challenge" is canceled once again due to JR carrying too much BBQ sauce on his flight from New York to England. He vows if JR shows up next week, Raw will get COLED!!!
Match 3: Alberto Del Rio vs. Kofi Kingston
Del Rio enters to his usual entrance with Ricardo Rodriguez announcing. They run a promo of CM Punk putting the Anaconda Vise on Del Rio and getting him to grant him a match. With a lot of Punk merchandise and signs in the crowd, I have a feeling his pop will be huge tonight. Kofi enters to a big applause from the crowd. Del Rio took an early advantage. Kofi takes advantage after a big cross body. Del Rio quickly takes back the advantage and locks in the armbar.
Winner: Alberto Del Rio (By Submission)
Del Rio continues to lock in the armbar on Kofi. Punk enters, and as expected, the crowd goes nuts. Finally, everyone's favorite (or at least it should be) CM Punk enters. As always, however, Raw goes to a commercial at the worst possible time.
Punk-Del Rio Promo: The show cuts back in with Del Rio speaking as if we missed the last five minutes of everything. Del Rio calls Punk a coward for preying upon him following a Big Show match. Punk makes faces at the crowd and has them eating out of the palm of his hand. Del Rio takes cheap shots at the English crowd, who as always, respond with, "Who Are Ya?" Del Rio says he's going to force Punk to take away the match as ordered by John Laurinaitis. Punk calls Del Rio's bluff of taking advantage on a defenseless superstar by bringing up Summerslam and Hell In A Cell.
Punk, once again, carries the promo as the crowd chants his name and varies from "CM Punk" or "Who Are Ya?" every time Del Rio finishes his half. Punk calls Del Rio 1 dimensional. "Destiny, destiny destiny." Pretty accurate, as he came out and cut the same promo he always does. Punk calls Del Rio irrelevant while Del Rio, as champion, claims to be the best in the world. Del Rio asks if Punk will cancel the Survivor Series match. Punk responds that he will not, as Del Rio cheap shots Punk. Punk fights his way out of an Armbar and retaliates with an Anaconda Vise. Rodriguez interferes as Del Rio runs up the ramp. Punk hits Ricardo with the GTS.
Promo: Once again Cena-Ryder vs. Awesome Truth scheduled for the Main Event...for now at least. We saw Miz and Truth attack Zack before the match last week, so I wouldn't be surprised if somehow Cena is throwing a curveball with the Future HOFer tease.
Before the match: A wrap up with the Muppets from last week. Predictably, every muppets favorite superstar was, you guessed it, John Cena.
Match 4: Jack Swagger with Vickie Guerrero vs. Santino Marella
Jack Swagger cuts a promo. The muppet tie is the focus of this rematch as Swagger blames his loss on The Muppet Beaker. I'm shocked I'm still awake. He does this awkward twitch thing which only makes him even less likeable. Santino enters with that stupid cobra sock on his arm. The only thing I truly can't stand about Santino is that move. The crowd is heavily in favor of Santino. Cole and Lawler go back in forth focusing on everything but the match, but then again, I don't really blame them. A very typical non-entertaining Swagger match. The entire match was basically a squash in which Swagger was put over and Santino jobbed. Swagger makes Santino tap via the anklelock.
Winner: (By Submission) Jack Swagger
Tease: Kelly Kelly coming up next. That awful theme song poor AJ uses plays in the background. It reminds me of Legally Blonde. Most likely, it will be a big ad for her Maxim shoot. King says, "We're going to see her like never before." Apparently, King forgets her debut in ECW. I remember when they used to do this with Playboy when I was too young. Damn PG rating...
Jerry Lawler announces Kelly Kelly and mentions her Maxim shoot. Kelly Kelly smiles and thanks everyone as always. Before she can unveil her giant cover, Beth Phoenix and Natalya imitate her entire promo. They make a lot of Barbie references. Beth Phoenix wants to set an impression that Kelly Kelly is a false impression of a diva. Eve and Rihanna, I mean Alicia Fox, run in before Beth and Natalya can outnumber Kelly. They unveil the cover and Kelly Kelly is sitting on a car. I'm not sure a bucket would be big enough to hold all of King's drool, but it is Kelly Kelly, so I don't blame him too much.
Promo: John "Marty Funkhauser" Laurinaitis announces his newest acquisition, Kevin Nash. Nash continues to use the nWo theme. Kevin Nash takes everyone through his history with Triple H. Nash claims he let HHH into the Kliq despite wanting to bury him while he was shadowing Killer Kowalski. He admits to having a true friendship with HHH. Nash claims he had the biggest pop of the night at the Royal Rumble and tried to, "Get the band back together" with HHH, and got no response. Nash complains about a "has been legends contract." Nash is definitely cutting the best promo he's cut since returning to WWE, although it may be because he actually has a storyline other than going toe-to-toe with Punk. Nash claims he booked himself into a Main Event by attacking HHH. Nash claims he showed everyone, "That's how you play The Game." Very good heel promo by Oz.
Promo: John Laurinaitis and David Otunga talk about Brotus Clay being too good to debut in Liverpool. Punk interrupts and blames Funkman for his plan with Del Rio. Otunga claims Punk lacks the look of a champion, and looks like someone who, "Works at a gas station." Punk makes a joke and attacks Otunga. Del Rio attacks Punk from behind and the referees break it up. WWE is definitely building up this rivalry.
Main Event: John Cena and Zack Ryder vs. Awesome Truth. Truth and Miz enter as serious as ever. Zack Ryder enters to a good ovation. As a mark for Ryder, I'm definitely enjoying this. Cena's music hits and every male fan over 12 boos him. King still claims that Cena's popularity is unmatched even though it's clear the crowd is anti-Cena. Personally, I would like a heel turn to Cena, as I think it would be a healthy change to his character, but it will be unlikely. As Cena takes advantage, the crowd chants, "We Want Ryder", and Cena immediately tries to tag Zack, before R-Truth tries to hit him with a cheap shot. You can tell Zack is loving every second of it. Ryder gets tagged in and throws Truth out of the ring. WWE takes another unnecessary commercial break.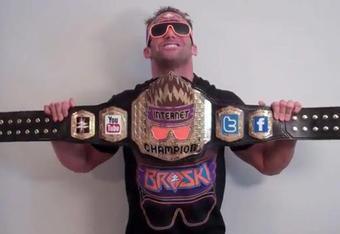 Post commercial break: Now Ryder has the advantage against Miz, who must have tagged in during the break. Cena is back in. It seems like its the point of the match where Cena gets dominated for a while. Miz and Truth take turns tagging in and out and manhandling Cena. After getting dominated for some time, Cena makes the "hot tag" to Ryder. Ryder takes over. Both Ryder and Cena hit Awesome Truth with a Broski boot. After missing the Rough Ryder, Ryder loses momentum and it seems as though Cena needs to make a tag. Despite the crowd being mostly against him, Cena is working with the huge fan support of Ryder and is doing a great job of trying to put him over. Miz and R-Truth have done an excellent job at heel taunting Cena while he's in the corner every time they dominate Ryder with a series of moves. Double clothesline by Ryder and Truth. Both Cena and MiZ get tagged in. Five moves of doom on both Miz. Ryder joins Cena for a double five-knuckle shuffle. Cena goes for the F-U...I mean, Attitude Adjustment, Miz refurses and kicks Cena in the face. Truth holds Cena's leg down as Miz gets the three-count.
Winners: Awesome Truth.
More or less a pretty good episode of Raw. Some of the positives were multiple segments using Punk and Ryder. The Ziggler-Morrison match was one of the better worked matches of the show. Also, as much as I wanted WWE to allow Ryder to win in the main event, putting Awesome Truth over in a match with two of the biggest drawing superstars in WWE history is definitely the smarter option.
Some of the negatives were WWE's insistent push of Mason Ryan. I still don't get Vince McMahon's weird infatuation with bodybuilders who can't wrestle. Plus, as someone who has grown up watching wrestling and has seen the misuse of so many more deserving superstars, I find it appalling that Ryan is getting such a push with little appeal and a lack of skills. Also, the Jack Swagger vs. Santino match was very boring and very predictable as well. However, the rest of the card did a good job at building the storylines for Survivor Series as best as possible.