Seattle Mariners 2012: Predicting the Opening Day Lineup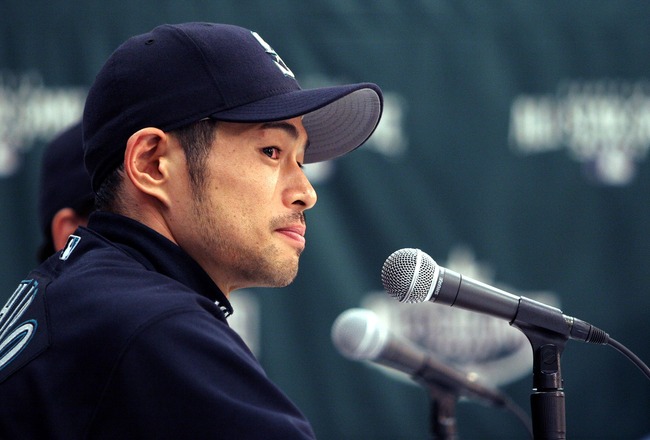 Otto Greule Jr/Getty Images
After another series of roster moves and changes in the free-agent market, the Seattle Mariners 2012 Opening Day lineup will look a little different. The core players have remained constant, but there is still a decent amount of variability in the Mariners lineup, so be ready for some surprises.
Next year is the year that all of general manager Jack Zduriencik's projects kick into action. Next year is the year that we'll see the first of many winning seasons to come. There's a lot of hope for next year, but there's also a potential for mediocrity.
Here's what the 2012 Opening Day lineup could look like, organized by batting order.
2B Dustin Ackley
Brandon Wade/Getty Images
Dustin Ackley hitting leadoff?! Is it really possible?
Could Ichiro really be replaced as leadoff hitter even if he remains with the Mariners? Yes, and Dustin Ackley is the replacement.
Ackley isn't the prototypical leadoff hitter, but he's exactly the player the Mariners need. Obviously, no one can fill Ichiro's cleats, but it's time for a paradigm shift in Seattle. Ackley is the team's future leader, and he has the control, plate discipline and raw-hitting talent to hit leadoff.
Ackley has shown power potential as well as an ability to keep his average and on-base percentage up, which is important for a leadoff man.
RF Ichiro Suzuki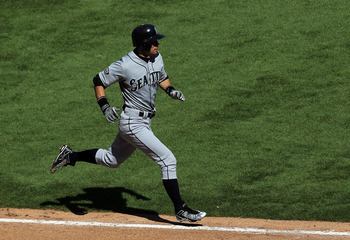 Ronald Martinez/Getty Images
There's been speculation that Ichiro won't play in the field next year or that he won't even get a start, but I'm here to put those rumors to rest.
We can't tell yet if last season was just an off year or if he has finally begun to decline, but even with that uncertainty, manager Eric Wedge would rather give the (old) franchise player another shot, because it's likely that he'll rebound and have a great .330, 220-hit season.
And if Ichiro is starting, he'll be in right field. There's been talk of putting him at designated hitter, but there's still no one on the team I'd rather have in right field than Ichiro.
As for his spot in the lineup, the Mariners need to move on to a new-style leadoff man. Ichiro is still the fastest player on the team and the best at hitting singles, but he is unparalleled in today's game, so the M's will have to move on relatively soon.
Since the rebuilding phase is in full swing, they need to find a solid leadoff man who they can stick with for at least a few years.
There has been talk about Ichiro's power swing since he got here, but never any real display apart from batting-practice slams and the occasional leadoff home run. If Ichiro is a little farther down in the order, he'll have less pressure to get on base and more freedom to swing away. The result could be a completely different Ichiro than we've ever seen.
How's that sound for the new-look Mariners?
1B Justin Smoak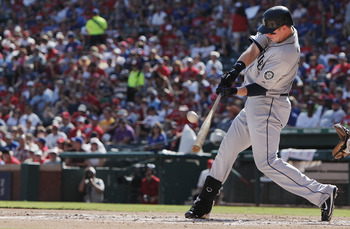 Brandon Wade/Getty Images
We're all praying for a healthy, undisturbed season for Justin Smoak, who is supposed to be the Mariners' franchise first baseman.
We all know that if Smoak can just settle into a groove, he can have a great season: .280 average with 35 home runs.
He holds down first base well enough, so expect to see him there at the beginning of next season.
CF Carlos Quentin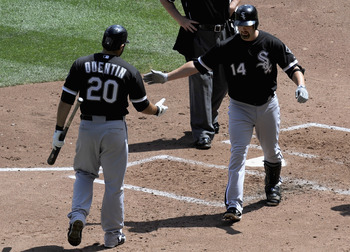 Hannah Foslien/Getty Images
Franklin Gutierrez needs to be traded this winter. Sure, he has potential to have a solid season with lots of doubles and a respectable average, but he hasn't shown us that yet, and it's time to stop waiting. We need some power from the outfield next season.
Carlos Quentin is the perfect fit. He's going into his last year of arbitration with the Chicago White Sox, but they're earlier in their rebuilding (yes, they're suffering through it, too) than the Mariners, so Quentin is "too old" for them.
He had a season-halting injury at the end of 2011 coupled with a slump, but the injury was from a diving catch, so it should be a relatively easy recovery. The slump goes hand-in-hand with the injury, so it's not a major concern. Both factors, however, depress his trade value to something easily manageable for Jack Z and the M's.
To have Quentin, a power hitter with massive potential, hitting cleanup would be a huge step in the right direction, since the Mariners' other "power" hitters don't really have the stuff to hit more than 30 home runs.
Casper Wells is another option for center, but it's unlikely that he'd be as solid as Quentin at the beginning of the season.
DH Mike Carp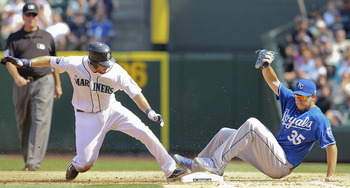 Otto Greule Jr/Getty Images
Mike Carp was a great add for the M's last year. He contributed nicely on offense and was able to plug up holes in the defense whenever needed.
For 2012, we'll continue to see that offensive upside, but Carp will be pretty set in the DH spot. Carp can play first base, but there's no reason not to leave Smoak there. Carp can play outfield, but there's hardly room there, and most of the guys the M's have out there are pretty strong defensively.
The only reason Carp would be displaced from DH is if Jack Z found a way to snag Prince Fielder, but Jack Z will probably pass since Fielder's shaping up to be way too expensive in this free-agent market, among other reasons.
3B Alex Liddi
Jeff Gross/Getty Images
The Italian Job is ready to embark on his rookie season. In Alex Liddi's brief major-league stint at the end of 2011, a significant proportion of his hits were for extra bases. He can hit, and he's improving in the field.
It may take a few weeks for him to settle in, but he'll soon be able to man the hot corner with veteran ease.
Liddi is a gem that the Mariners' premier international scouting staff rustled up, and he won't fade out anytime soon.
LF Trayvon Robinson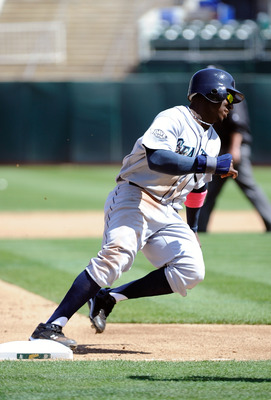 Thearon W. Henderson/Getty Images
Robinson got the most attention in left field at the end of last season after he came over from the Los Angeles Dodgers/Boston Red Sox in the midseason Erik Bedard trade. He's a little more developed than some of the other young hopefuls in the Mariners' system, so he should get the start on Opening Day 2012.
He isn't necessarily a top-of-the-order hitter right now, but that's okay since that area is pretty full at the moment. Robinson will serve as a potent force in the lower half of the order—something the Mariners have lacked in recent years.
C Miguel Olivo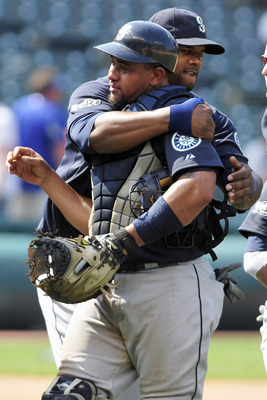 Jason Miller/Getty Images
I truly hope we see Olivo stick around for next year. He's a veteran catcher who's become very integrated into the Mariners clubhouse. He meshes well with the pitching staff, which is considerably important since there are a lot of younger pitchers coming up.
The Felix Hernandez-Miguel Olivo battery is not one that will be talked about for ages, but it's one that can last into the postseason, which is more than a lot of teams can say.
Adam Moore is waiting in the ranks, but he's been on-again off-again with injuries and inconsistency at the plate, so he'll likely spend some more time in the minors.
Olivo is getting old, especially for a catcher, so Moore will be called upon soon, but for now, bring back the guy who actually accounted for a decent percentage of the Mariners' 2011 offense.
SS Nick Franklin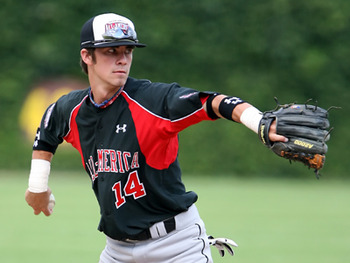 Well, it looks like no Jose Reyes for the Mariners. Fox News reports that the Florida—excuse me, Miami—Marlins are in hot pursuit of Jose Reyes to play alongside Hanley Ramirez, who would move over to third.
It was a stretch anyway, but luckily, the Mariners have Nick Franklin coming up right now. He's playing in the Arizona Fall League with some of the Mariners' other top prospects, so after a month of Spring Training with the full team, he should be ready to go at short.
He won't be the strongest hitter on the team next year, but some Major League development would advance him nicely in becoming a dangerous offensive threat. Maybe the nine spot isn't a great place for a hitter to develop, but if he performs well in the first few weeks, he could easily ascend the order.
SP Felix Hernandez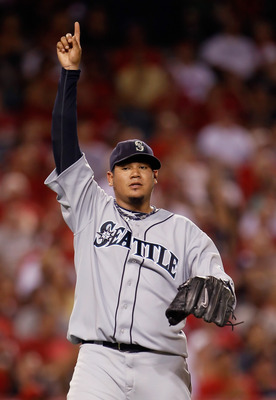 Jeff Gross/Getty Images
Keep Reading

Seattle Mariners: Like this team?