USA Soccer: Landon Donovan's Withdrawal Against France Helps National Team
November 8, 2011
Kevork Djansezian/Getty Images
Yesterday, U.S. Soccer announced that Landon Donovan will not play for the United States national team during their upcoming match against France.
Donovan, who is going to play in the MLS Cup with the Galaxy in less than two weeks, said that preparation for the final is his reason for not playing against France.
Right now, the United States has recorded only one win during Jurgen Klinsmann's time in charge of the squad, scoring only two goals in the process.
Of course, some people will think that this is bad news for a struggling national team that has not looked formidable since the World Cup. This friendly against France could go a long way in determining how the national team will perform in the next several months.
However, this decision by Donovan is the right decision for everyone involved.
For Donovan, this move will be extremely beneficial because he will now be able to fully focus on winning the MLS Cup in what is probably David Beckham's last year in the league.
Of course, it would be pointless for Donovan to travel nine timezones to play against France before heading back to Los Angeles to play in the final.
But the biggest beneficiary from this decision is the national team.
Since Klinsmann has taken over national team duties, Donovan has had a much smaller role than usual.
The last time that Donovan played was on September 2 in a friendly against Costa Rica. Since then, he has not played for the USA in their last three matches.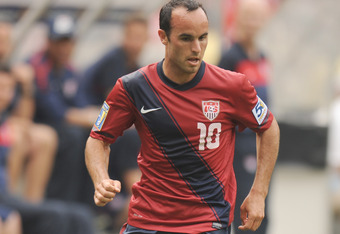 Mitchell Layton/Getty Images
The last two of those matches that Donovan didn't participate in was due to a quad injury, but the US was able to record their first victory under Klinsmann without Donovan present.
During the Gold Cup quarterfinal against Jamaica, Donovan was benched by then-manager Bob Bradley due to Donovan's cross-country flight to attend his sister's wedding, though Donovan did appear in the match and helped to create the final goal for the US. He also found himself benched for the first half against Panama in the semifinals.
The fact that Donovan was benched for the first time since June 9, 2007 certainly was newsworthy.
Donovan has found himself with less playing time this year than any season in memory. He found himself substituted off of four MLS matches this season—the same amount of matches that he was subbed off of during the last three seasons in the league.
Donovan will turn 30 next March, and for most players this is a period where they will see their time slowly become more limited.
In 2010, Donovan played for 11 months in the Premier League, the World Cup and in MLS. It would only make sense that his body is starting to tire, and it would be best for him to get more rest.
This friendly allows Klinsmann to give another player the chance to play up top to replace Donovan.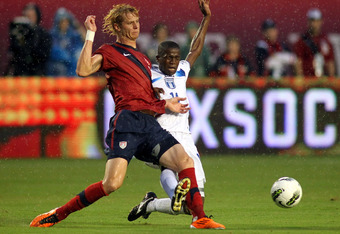 Marc Serota/Getty Images
Since Klinsmann has taken over, 34 different players have featured in the United States squad. Many of these players have had little or no experience with the national team under Bradley, but they have gotten their chance under Klinsmann.
Without Donovan, a new player that has gotten little national team action can come in and make a big impact.
After all, the national team has until next June before World Cup qualifying begins. If there ever has been a time to tinker and perfect the squad, this is it.
Who knows, a new player might arise and have as huge an impact as Landon Donovan to strengthen the national team.
For more opinions on US Soccer, follow me on Twitter @Andrew_Jordan