Montreal Canadiens: Where Will Scott Gomez Fit in the Habs' Lineup?
November 8, 2011
Richard Wolowicz/Getty Images
Scott Gomez should be returning to the Montreal Canadiens lineup at some point this week.
While many people have some very creative suggestions on what to do with the overpaid forward, I really think that, for better or for worse, he is going to assume his former role as a centreman on the second (or third, depending how you look at it) line.
As bad as Gomez might have been playing, he was not really given a chance to jell on any line.
Sure, it looks like David Desharnais has found a good hookup with Erik Cole and Michael Cammalleri, but who is to say that Gomez wouldn't experience the same amount of success if he was centering the line?
Erik Cole has been the Habs' best forward as of late—he could make any linemate look good right now.
That said, it would be a mistake to break that line up. Whatever the reason may be, Desharnais looks like he fits and shouldn't be punished with a demotion.
Lars Eller is centering a line with Andrei Kostitsyn and Travis Moen. Eller and Kostitsyn have worked well with each other since last season. Moen, in my opinion, has been playing way over his head. I would much rather see Gomez complementing the line with some pretty passes than Moen and his grit and bottom-six talent.
As wizardly as Eller has been as a centreman, I can see coach Jacques Martin moving him to the wing upon Gomez's return, at least for a game or two.
Martin has always favored his veterans over his younger players, some times to a fault.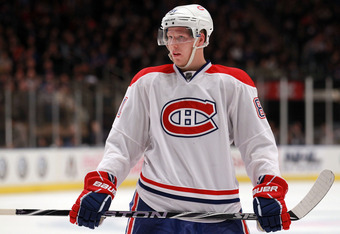 Nick Laham/Getty Images
Just for that reason alone, Scotty will probably get the nod as the line's pivot.
So all of you screaming for Gomez to be sent to the minors, don't hold your breath because it's not going to happen.
Prepare to be either infuriated or pleasantly surprised. Maybe Gomez's injury has done him some good.
If it hasn't, we may see him playing on the wing—a position he hasn't been put in in about 10 years.
Whatever the case, you have to assume that Gomez is an upgrade over Moen—at least for the time being.
Jason is on Twitter: Follow @jhytel.