Chicago Blackhawks: Is It Time to Trade Bryan Bickell and Viktor Stalberg?
November 8, 2011
Jonathan Daniel/Getty Images
On Sunday night the Chicago Blackhawks looked to be an inferior opponent. They were outplayed and outworked by a hungry Vancouver Canucks team that went five-for-six on the powerplay.
Sure, Duncan Keith is out, and that was never more glaring than in Sunday's loss. The Hawks took bad penalties, looked frustrated and they ultimately combusted. The game that so many were eagerly awaiting, ended in a disaster.
Hope is not lost in the least, and the Hawks will continue to get better this season. Without question, changes are on the horizon and do not be surprised if the Hawks make a move before the new year.
The power play is a joke, but what may be a bigger problem is the inconsistencies of two Blackhawks that I am hoping will be shipped elsewhere.
During Monday's practice Joel Quenneville shuffled his lines, and you will see some new looks for Tuesday night's game against the St. Louis Blues. It looks as if Rostislav Olesz will get another crack in the lineup.
Quenneville did not include Bryan Bickell on any of the Hawks' top four lines. Bickell was ineffective on Sunday, unless your colors are blue, green and white. His second period boarding penalty was costly and selfish.  For a player that needs to muck it up and be more effective physically, that is not the way to get it done.
Bickell has had moments of brilliance this season, and when the Hawks have won games, he has been a big factor. But that's the problem. When Bickell has been off his game, it's not that he isn't noticeable, it's that he is noticeably bad. When not engaged, he takes short cuts, does not take the body and hopes the puck will bounce his way, as opposed to generating opportunities.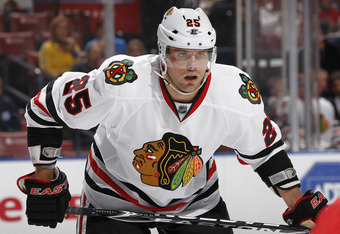 Joel Auerbach/Getty Images
While Coach Q may be trying to send him a message with a healthy scratch or two, I would like to see a different approach. Keep playing him. Pat him on the back, and then cut him loose for better personnel.
The third line of Dave Bolland, Michael Frolik and Bickell, was great for a time. When Bickell goes AWOL, as he has in the last few games, it is detrimental to the team.
The numbers don't lie. He has tallied one goal in his last five games and has been minus-three. He is also minus-six on the year. While plus/minus can often be a deceiving stat for forwards, for a third line player like Bickell, your job is to not get scored on. Currently, he has the worst plus/minus rating on the roster.
The other player who comes to mind is Viktor Stalberg. Give him credit for having a decent stretch recently, but he still is the one player that nobody is sure what to do with.
Stalberg has played in a few different combinations this season and nothing has been sticking. He played on the first line for a couple of games and that was abandoned midway through Sunday's game. He will most likely see fourth line action for Tuesday night with Jamal Mayers and Marcus Kruger. Perhaps that is the best spot for him now, but there is something about Viktor Stalberg that is unnerving.
He is decent and that's all you can say about him. Every aspect of his game is decent. Decent shot, decent at moving the puck and a decent skater (although it takes him a year to get going). He is also very soft, is not good along the walls and does not get to the net with any sort of efficiency or purpose.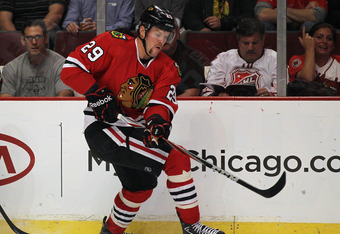 Jonathan Daniel/Getty Images
He is not enough as an offensive weapon to fit with the top two lines, nor does he have the necessary mix to be a third or fourth line player. It's hard to see Stalberg having a defined role with this squad.
He will not be benched, nor should be. There will be someone that will take notice of Stalberg and he could be a good bargaining chip with another club for better forward.
Two players that are inconsistent and cheap, do not belong on a Cup contending team. They can and will belong on other clubs that will have the patience to work with them and help them develop. They also will not pose a legitimate cap problem for any team which helps.
If I were Coach Q, I would keep these two lads in the lineup for the next few weeks, while Stan Bowman pounds the phone lines.
If you want to win, you have to make changes. These two are as expendable as they come on the Hawks roster, and they should be showcased.  
Thanks for reading.