Bruce Bennett/Getty Images
November 7, 2011
The start of the 2011-2012 season for the New York Rangers did not go according to plan. Though the team lost in the first round of the 2011 playoffs, the development of some of the organization's young, core players, combined with critical offseason acquisitions, created realistic expectations that this might be a year in which the team made significant strides.
Though the topic has been thrown around endlessly, the reality is that the team logged roughly 12,000 miles over the first 20 days or so of the season. The decision by Rangers' management and the league to allow this, in addition to the absence of No. 1 defenseman Marc Staal due to injury, have to be considered factors in the sluggish play the team produced through the majority of its first 10 games or so.
When April rolls around, however, there will not be one tear shed for this Rangers team regarding their season-opening adventure or the loss of their top defenseman. If they make the playoffs and do not perform well, or if they miss the playoffs entirely, the hockey world will move on quite happily without a second thought as to why or how the team failed.
---
To their credit, none of the players have referenced the early season schedule when asked for reasons why the team did not display that frenetic, in-your-face style that was their calling card from a season ago.
They've toed the company line quite well, as has head coach John Tortorella, despite being consistently peppered with questions on the topic.
Following Saturday night's win over Montreal, however, and the follow-up shutout victory over Winnipeg on Sunday, it is clear that this Rangers team is beginning to establish its identity. While it may not be the same identity that last season's team possessed, it certainly appears as if the team is learning who they are as a group, what their roles are, and what they are capable of night in and night out.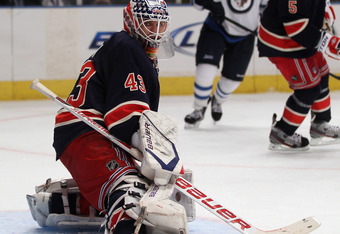 Rangers' G Marty Biron Turns Aside Shot in November 6th Shutout
Bruce Bennett/Getty Images
Much of the credit for the recent run of success—which includes four consecutive home victories—must go to the head coach, John Tortorella. Though notoriously finicky when it comes to line combinations, it appears Tortorella has settled on two top lines that could prove to be very effective for the long haul.
This is good news for these specific players, of course, and good news for the team as a whole as they continue to find a rhythm to their season.
Brad Richards, brought in specifically to provide explosive winger Marian Gaborik with a play-making center equal to his talents, has ironically begun to thrive on a line that does not include Gaborik.
Centering a line flanked by grinding, speedy wingers Ryan Callahan and Brandon Dubinsky, Richards seems to have rediscovered his strengths as a down low play maker, specifically because he now has two wingers who thrive in the trenches and who can use their speed to separate.
The trio creates momentum for the remainder of the team with its cycling, hitting, and puck pressure, and this momentum has rubbed off on the second unit perhaps most dramatically.
This unit, which includes second-year center Derek Stepan between Gaborik and newly-minted winger Artem Anisimov, is becoming the coast to coast alternative to the lunch-pail approach taken by the Richards line.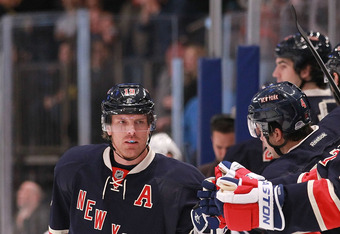 Rangers' C Brad Richards
Nick Laham/Getty Images
All three players possess plus speed, all three can create with or without the puck, and all three have the ability to produce off the rush.
The third and fourth lines for the team, now dispossessed of the requirement to produce consistently on offense, can focus on bringing a high energy, physically punishing game to the opposition. This approach can and does result in goals produced, and there is enough talent on these two lines to convert the opportunities created by the relentless puck pressure they create.
Not to be outdone, the defensive corps has begun to right itself over this recent stretch. Michael Sauer's return from an early season shoulder injury has brought a level of calmness to the top two pairings that didn't exist in his absence.
Though the loss of Staal is still felt to a significant degree, it is no longer the insurmountable challenge it seemed to be when Sauer was sidelined.
Defenseman Michael Del Zotto, the rookie sensation from two seasons ago and the forgotten man during the 2010-2011 campaign, has earned significant minutes with his play and consistently demonstrates that his upside remains high.
As he matures mentally and physically—especially physically—his contributions will increase.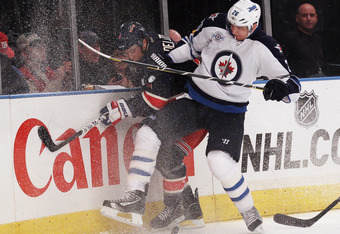 Rangers' D Michael Del Zotto
Bruce Bennett/Getty Images
It's a long season, and it remains to be seen how this team will perform if faced with more injuries to key players.
Regardless of whether they face such challenges, though, it appears that they have regained a bit of the swagger they possessed a year ago, the kind of swagger that propels a team through adversity.
At the absolute very least, the team is now fun to watch again. The controlled recklessness that so defined last year's group, and which Captain Ryan Callahan so perfectly embodies, has seemingly returned.
It is the hallmark of this organization now, and without question the one ingredient they cannot succeed without. It's a long season alright, but, as they say, time flies when you're having fun punishing the opposition.
Or something like that.
follow me on Twitter @jbrownesportsNY
Like the new article format? Send us feedback!