Trouble in Buffalo: Could Goaltender Controversy Derail the Sabres' 2011 Season?
November 7, 2011
Rick Stewart/Getty Images
With new owner Terry Pegula changing the face of the organization and a spending spree this summer that ended with Buffalo becoming one of the league's highest spending teams, hopes could not have been higher for Buffalo Sabre fans going into the 2011-2012 season.
However, just a few weeks into the season and Buffalo's revamped management team have a big issue on their hands: who is going to be the team's starting goalie?
Goaltending, an area thought to be more secure than any other for the Sabres, has now become such a big problem that it could divide the team and end Buffal's playoff run before it even begins.
Ryan Miller, the 2010 Vezina Trophy winner and American Icon who helped lead team USA to a silver medal in the 2010 Olympics, has been the unquestioned starter and leader for the Sabres since he took over the starting spot in 2005, winning 30 or more games in each of his first six seasons.
Ever since Martin Biron was traded to Philadelphia in 2007, Buffalo has lacked a competent backup to help Miller shoulder the load. That changed last year with the emergence of 2008 second-round pick Jhonas Enroth.
After Miller went down with an "upper-body injury" (later revealed to be a concussion) late last season, Enroth performed admirably, posting a 9-2-2 record, and was instrumental in securing a playoff spot for the Sabres.
Going into the 2011-2012 season, Enroth was firmly entrenched as Buffalo's No. 2 goalie and was slated to start 20-25 games to help give Miller a break over the long grind of an 82 game season. Miller got off to a good start this season, posting a 4-1 record and one shutout in his first five games, but the wheels began to fall off in back-to-back games against the Tampa Bay Lightning, where Miller gave up six goals on less than 50 total shots, losing both games.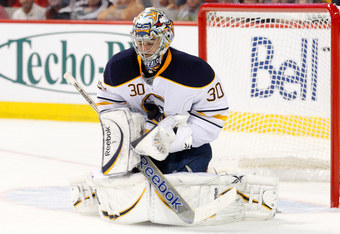 Richard Wolowicz/Getty Images
Things only got worse as Miller gave up two late goals to blow the lead and lose against the Panthers—the team he had previously shutout—before allowing three goals on 11 shots and ultimately getting pulled against Philadelphia.
This may just be a bad stretch and if there was no other competition for Miller then this situation would probably just go away, but Enroth has been playing out of his mind so far in 2011. In five appearances, including four starts, Enroth is 4-0 with a 1.43 GAA and .952 save percentage.
Fans have begun to clamor for Enroth to get more playing time, and Sabres Head Coach Lindy Ruff seemingly agreed this past weekend. The two netminders were supposed to split the teams' two weekend games, but Ruff decided to start Enroth in both games, winning each of them.
There isn't much question as to who is the better goaltender in terms of raw talent, but Miller has seemed to have lost his confidence of late and sometimes raw talent is not enough to win games when you don't have confidence (see: Luongo, Roberto).
Hopefully this is just a bad string of games for Miller, a preseason favorite of many experts to win the 2012 Vezina, and hopefully he begins his turn around in his next start. But if his play continues to decline, don't be surprised to see more and more of Jhonas Enroth as the calls for him to start will get louder and louder.