2011-12 Men's College Basketball Preview: Pac-12 Looks to Climb Back to Top
November 7, 2011
Stephen Dunn/Getty Images
The 2011-2012 college basketball season officially gets underway tonight! Haven't we all waited for this day to come around.
One of the games being played tonight involves last year's surprise Elite Eight performer, the Arizona Wildcats.
It's the first game for any team as part of the new Pac-12 Conference. This year, the Pac is expanding from 10 teams to 12 with the additions of Colorado and Utah to the league.
Much to-do has been made about the Pac-12 over the past three seasons or so. And, it usually hasn't been great.
During those three years, the Pac-10 (not 12 of course) was by far the worst of the so called BCS conferences. Only one team made it to the Elite Eight (Arizona last year), and no team was a real threat to even make a Final Four appearance.
Arizona was way down after the departure of Lute Olson from the program, Washington was solid but underachieved at times, UCLA lost everyone from their three straight Final Four appearance squads, Oregon had fallen off, California and Washington State were improving, and the rest of the league was just really bad.
This year, the Pac-12 will look to bounce back after some down years.
Three teams are ranked in the preseason polls, with Arizona leading the way at No.16. UCLA is right behind them at No. 17, and Cal is at No. 24.
Arizona loses their man-child Derrick Williams, the second overall pick in this year's NBA Draft. He probably had more of a presence on a team than anyone in college basketball last year, and replacing him will be really tough.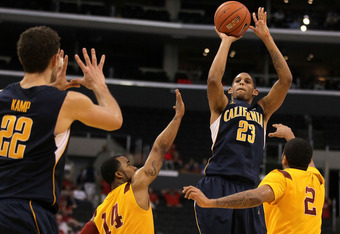 Jeff Gross/Getty Images
Another big loss for the Cats is that of starting point guard Lamont "MoMo" Jones, who transferred to Iona to be closer to family. He was the heart and soul of the team and will be missed.
A top ranked recruiting class, led by point guard Josiah Turner, comes in, however, and they are joined by some solid returnees who put Arizona near the top of the Pac-12.
UCLA is the preseason favorite for the Pac-12 title, and they should be. There may not be another team in the country with a better front-court than the Bruins. Reeves Nelson leads the group but has plenty of help with big man Joshua Smith and the twin transfers from North Carolina, David and Travis Wear.
The back-court will be the weak spot for the Bruins, as both Malcolm Lee and Tyler Honeycutt left early for the NBA. Lazeric Jones will be relied on to play better at the point guard spot, as he was shaky at times last year.
Cal returns all five starters from a team that overachieved last year. They'll be led by the tough-minded Jorge Gutierrez at guard, sharp-shooter Allen Crabbe and rugged forward Harper Kamp on the inside.
This team's main question will be depth, but their starters can match up with anyone in the Pac-12. 
These three teams are the clear favorites in the Pac-12, but also look out for Washington, as they are always solid, and Oregon, who is a dark horse in the conference this year.
Washington loses Isaiah Thomas, Matthew Bryan-Amaning and Justin Holiday from last year's team, but brings in a solid recruiting class, led by Tony Wroten Jr. at the point, to go along with a good group of returning players, including the talented Terrence Ross.
Oregon had a great year in Dana Altman's first season by winning the CBI Tournament. They will be led by E.J. Singler, but expect freshman Jabari Brown to play a huge role immediately for the Ducks.
Oregon State, USC and Stanford all have a chance to have good seasons as well.
Oregon State has underachieved the past few years, and Craig Robinson's seat is getting hot. They should be better this season led by Jared Cunningham, but need Roberto Nelson to play up to his caliber to really succeed.
Stanford loses their best player from last year in Jeremy Green, but sophomore Anthony Brown returns to go along with stud incoming freshman Chasson Randle. This team is still a year away, but Johnny Dawkins is turning things around quickly.
USC would have been up with Washington and Oregon had guard Jio Fontan not torn his ACL in the offseason. Still, the Trojans play good aggressive defense and will need an immediate impact from transfer DeWayne Dedmon.
Arizona State, Washington State and newcomers Utah and Colorado will all struggle in the first season of the Pac-12. All of these rosters are just not good enough due to poor recruiting, coaching changes or loss of players.
Expect six bids to the NCAA Tournament from the conference this season, with seven highly possible (Arizona, UCLA, Cal, Washington, Oregon and one or two from USC, Stanford and Oregon State).
They may not get all the way back to the top of college basketball this season, but the Pac-12 is on the right track. 
Predictions
UCLA
Arizona
California
Oregon
Washington
Stanford
Oregon State
USC
Washington State
Colorado
Arizona State
Utah