Utah Utes Football: John White Reaches 1,000 Yards Rushing, Utes Beat Wildcats
November 7, 2011
Christian Petersen/Getty Images
If we learned anything about how to defend against Utah from their previous match ups, it's stop John White and force Jon Hayes to throw. The recipe for success seemed to be eight in the box, pressure Hayes into bad decisions, and jump the route on those short "safe" passes.
Utah's approach to their matchup with the Arizona Wildcats was go big or go home. The Utes weren't ready to go home (and who could blame them, considering the snow storm in Salt Lake City)? They defeated the Wildcats 35-21.
Much was said about the high-powered Arizona offense and the fourth ranked passing attack of Nick Foles. Equal speculation fell on Utah's defense, ranked 29th nationally, but third in the PAC-12. Who would come out on top?
Arizona has had their troubles with injuries, forcing the Wildcats to play 23 redshirt and true freshmen. Perhaps no part of their team is more affected than the secondary. Credit Norm Chow with recognizing this weakness. Hays was 12-21 for 199 yards and no interceptions. Chow mixed in some short safe passes but didn't limit Hays to only those routes. Utah's offensive line played  a big part in the passing game by opening up the run game enough to make the play-action pass effective.
Two of Hays' 12 completions were long touchdown passes, 73 yards to DeVonte Christopher and 64 yards to Reggie Dunn. Hays is improving. His accuracy is getting better, putting the ball where his receiver has a chance at it, but I'd like to see more throws like the one to Dunn, where the ball was out in front of his man, unlike the pass to Christopher who had to reach back and snag it off his hip.
Fortunately, both plays were a slant-and-go pattern. The cornerbacks bit on the first move leaving the receivers wide open down field.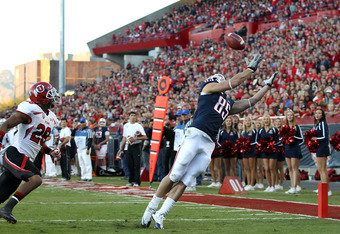 Christian Petersen/Getty Images
With Foles at quarterback and his cadre of probable NFL receivers, I got the feeling watching the game that no matter how far behind the Wildcats were, they could quickly come back. The game would have been much closer were it not for a number of dropped balls by Arizona's receivers.
According to head coach Kyle Whittingham, Utah's defense was good, but not great.
"Defensively, a little softer than usual on the run. I wasn't real pleased with the run defense. We're usually more stout up inside and a little stingier in the run game . . . the pass defense was actually pretty good until the last drive . . . the bottom line is we got the win."
Arizona's most successful rushing attack came in the second quarter when they moved into a modified pistol package, something that worked extremely well for Cal in their game against Utah two weeks ago. The successful rushing opened up the passing enough to give Arizona their first touchdown of the game, a pass from Foles to Douglas in the corner of the end zone.
However, as the Utes continued to move the ball and score, the Arizona offense, down by 20 in the third quarter, went from pistol to panic and all but abandoned the run game.
Does defense win championships? That's debatable, but Utah's defense played well enough to contain Arizona's high powered offense, combined with a great showing by Utah's offense and special teams.
Up next, Utah returns to Salt Lake City to take on the unpredictable UCLA Bruins. UCLA lost to Arizona on the road three weeks ago 48-12, then soundly defeated Cal 31-14 and went on to upset Arizona St. 29-28, both at home. There's no telling which UCLA team will show up.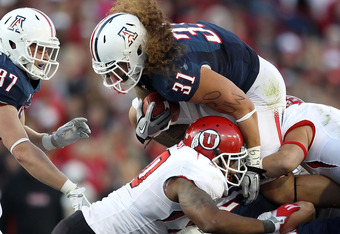 Christian Petersen/Getty Images
Notable Moments
Other notable moments in the game include John White rushing 27 times for 114 yards putting him over 1000 yards on the season.  
Special Teams: With their dismal performance against Pitt still in the back of their minds, Utah's special teams came up big with two blocked punts and a great return game by Dunn on kickoffs and Griff McNabb on punts. Both resulted in great field position for the Utes throughout the game.