Emirates Australian Open & Presidents Cup Bring Top Golfers to the Land of Oz
November 7, 2011
Lucas Dawson/Getty Images
The focus of the golf world moves to the Land Down Under where the Australian Open has been held since 1904 and will boast a star-studded field filled with the best American and International golfers.  It will be held at The Lakes Golf Club in Sidney one week before the Presidents Cup matches are held at one of the world's premier golf courses, Royal Melbourne. 
Greg Norman, all 12 members of the International team, and the American team plus Captain Fred Couples and Assistant Captains John Cook and Jay Haas will tee it up in the Emirates Australian Open.
There are some interesting story lines around the golfing world that add to the interest and excitement of a golf tournament so far from U. S. soil.
Unless you live under a rock and have no access to a television or the internet, you have undoubtedly read or heard about the Tiger Woods and ex-caddy Steve Williams drama that has played out over the 2011 season on the PGA Tour. 
The player/caddy breakup earlier this summer was somewhat less than amiable and Stevie has made some rather inflammatory comments in reference to his former boss.  He was very outspoken on national television after his new player, Adam Scott, won the WGC-Bridgestone in Akron, Ohio.  As Williams walked off of the 18th green, he was interviewed by CBS announcer, David Feherety, and called Scott's win the greatest of his career and pretty much took credit for Tiger's 14 majors and 71 PGA victories.  
More recently, at a caddy dinner and award program held in China, Stevie was caught making some rather racist remarks aimed at his former employer. 
"Caddy Rules" state that a good caddy should, Show Up, Keep Up, and (this seems to be the rule that Stevie has the most problem with) Shut Up.  Anyway it should make for good television ratings if Adam Scott and Tiger happen to square off in any of the Presidents Cup matches or get paired in the Australian Open.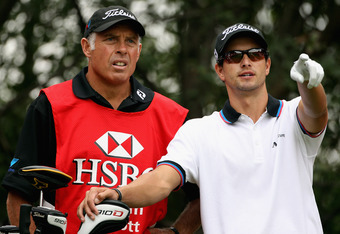 Andrew Redington/Getty Images
International Team Captain Greg Norman has been very vocal in criticizing Freddie Couples' pick of Tiger Woods as one of his two captain choices for the American team. 
Tiger has fallen to 58th in the Official World Golf Rankings and has not been a factor on tour due to injury and personal problems for nearly two years. 
The world will be watching to see if Tiger has worked out his personal problems, as well as his swing problems and can return to be a force in competitive golf at the highest levels.  These two tournaments could be very important to Woods and could be a harbinger of things to come in 2012 for the former world No. 1.
American team member Steve Stricker struggled with a neck injury at the end of the PGA season.  Stricker has been the designated partner for Tiger in team competitions and his performance in the Australian Open will be of great concern to Captain Couples.  Half of the U. S. team are Presidents Cup rookies and if Stricker is unable to play his replacement, PGA Championship winner Keegan Bradley, just graduated from the Nationwide Tour this time last year.  
The American Team has won 6 of the previous 8 Presidents Cup matches, but lost their last visit to Royal Melbourne in 1998.  Five of the 12 members of this year's International team are from Australia and give credence to that old adage about home team advantage.
With all of the distractions, untested, and relatively young players, it appears that the U. S. team could have an uphill battle if they expect to bring the 2011 Presidents Cup home with them.