BCS Rankings: Penn State and More Teams on Week 11 Upset Alert
November 7, 2011
Justin K. Aller/Getty Images
The 2011 college football season continues to surprise everyone with big-time upsets, great comebacks and outstanding individual performances, and this Saturday will be no different. 
It's hard to believe we're approaching Week 11 of the season, but we can all be thankful each and every week has featured some fantastic football. 
Nobody likes to lose, but it's even worse when a highly ranked team loses a game that it shouldn't.
Here are three teams on upset alert for Week 11. 
No. 12 Penn State 
The Nittany Lions must forget about the horrible scandal and focus on football. Penn State hosts No. 19 Nebraska this Saturday afternoon, and it's going to be a hard-fought battle. 
The Cornhuskers are coming off a devastating loss to Northwestern, and they will take their anger out on Penn State. It won't be easy, though, as the Nittany Lions are on a seven-game win streak and happen to have a top-three defense.
However, Penn State hasn't been truly challenged since September, which is why it needs to be wary about this game. Playing at home really helps the Nittany Lions, but Bo Pelini will have his team on the right track and ready to pull the upset.
Will the Nittany Lions crumble under pressure? Or, will they prove their doubters wrong and continue to climb the rankings?  
No. 10 Virginia Tech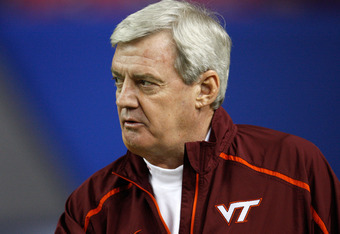 Mike Zarrilli/Getty Images
Since losing to Clemson, the Hokies have quietly started rising up the rankings. Granted, they haven't been tested, but that's about to change this Thursday night. 
The Hokies hit the road to take on the No. 21 Georgia Tech Yellow Jackets, who are fresh off a bye after upsetting Clemson. 
Virginia Tech is coming off a bye as well, but the Hokies' confidence isn't sky high like the Yellow Jackets. 
This should be a great Thursday night game, which has been a rarity this season. However, the Hokies need to be worried since the Yellow Jackets are in a must-win situation.
Georgia Tech needs to win and get some help if they want to win the ACC Coastal division.  
A "concerned fan" tweet: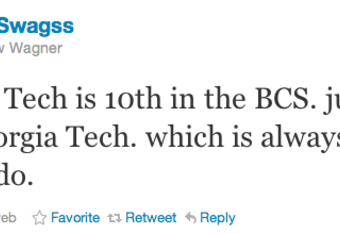 No. 15 Georgia 
The Bulldogs have done a great job bouncing back after starting the season 0-2. They control their own destiny in the SEC East now, but the No. 20 Auburn Tigers will be looking to spoil their fun. 
All Georgia has to do is win out, and it'll be in the SEC Championship game. However, beating Auburn is no simple task. 
The Deep South's Oldest Rivalry is always an intense game, but because it's in Athens, the Bulldogs have the edge. 
Still, though, Georgia isn't taking this game lightly. Despite recent success, it knows this will be a tough game, just like it has been for many years.
Yes, if Georgia loses and South Carolina falls to Florida, then the Bulldogs still have a chance. But, Georgia knows it can't put itself in that kind of situation.
Win out, and you're in. It's as simple as that. 
A "he's so right" tweet: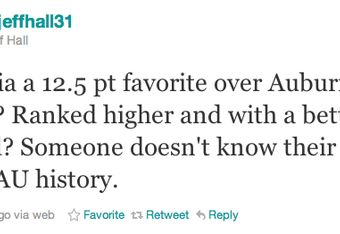 BCS Standings for Week 11
| Rank | Team | BCS Average |
| --- | --- | --- |
|  1 |  LSU |  .9931 |
|  2 |  Oklahoma State |  .9447 |
|  3 |  Alabama |  .8836 |
|  4 |  Stanford |  .8749 |
|  5 |  Boise State |  .8473 |
|  6 |  Oklahoma |  .7978 |
|  7 |  Oregon |  .7708 |
|  8 |  Arkansas |  .7452 |
|  9 |  Clemson |  .6435 |
|  10 |  Virginia Tech |  .5913 |
|  11 |  Houston |  .551 |
|  12 |  Penn State |  .484 |
|  13 |  South Carolina |  .453 |
|  14 |  Kansas State |  .381 |
|  15 |  Georgia |  .370 |
|  16 |  Texas |  .366 |
|  17 |  Michigan State |  .337 |
|  18 |  Wisconsin |  .305 |
|  19 |  Nebraska |  .279 |
|  20 |  Auburn |  .210 |
|  21 |  Georgia Tech |  .209 |
|  22 |  Southern Mississippi |  .204 |
|  23 |  Cincinnati |  .187 |
|  24 |  Michigan  |  .177 |
|  25 |  Baylor |  .071 |