Ravens vs. Steelers: Joe Flacco Will Continue to Shine After Strong Showing
November 7, 2011
Jared Wickerham/Getty Images
After three-and-a-half years, nearly 12,000 yards passing and 68 touchdowns thrown, it turns out all Joe Flacco needed to finally prove that he's more than just a competent NFL quarterback was two minutes, 92 yards and one clutch connection with Torrey Smith, one that gave the Baltimore Ravens a thrilling 23-20 victory over the Pittsburgh Steelers on Sunday night.
Make no mistake about it—that final drive at Heinz Field was a (if not the) defining moment of Flacco's heretofore-fluctuant football career.
Not that he wasn't capable of doing great things on the field before. Quite the contrary, in fact; throwing the ball downfield has never been a problem for the strong-armed Flacco.
The problem, rather, lay with offensive coordinator Cam Cameron, who only recently decided to open up the playbook, remove the shackles from Flacco's wrists and let his franchise quarterback show off his arm strength.
And it's about time he did. Flacco was well on track for the worst season of his still-young career. He came into Sunday sporting a 6.68 yards-per-attempt average, an even-more-abysmal 53.8 percent on pass completions and only eight touchdowns against six interceptions through the first seven games.
Of course, the overall decline in Flacco's game wasn't just a case of him being held back, but rather of him being stuck in a system that wasn't making the best use of not only his talents, but also those of his receivers.
The selection of Smith in the 2011 NFL Draft, along with the tandem releases of veteran targets Derrick Mason and Todd Heap at the end of the lockout, was supposed to signal a new era of football in Baltimore.
An era in which the offense would look to stretch the field with a vertical passing game and, by extension, turn the Ravens into a team whose scoring prowess could keep up with, if not at times overshadow, its hard-hitting defense.
But a poor training camp by Smith, combined with a strong start by Ray Rice, gave Cameron the proper justification to retreat back into the deep, dark recesses of his conservative playcalling, even though Flacco no longer had the benefit of throwing short passes to Mason and Heap like he once did.
Anquan Boldin did his best to fill that void, but even he must've been itching to gun it down the sideline for a bit of backyard-style football from time to time.
Even after Smith blew up in Week 3 for three spectacular touchdowns against the Rams, the Ravens offense stuck to a steady, if not altogether bland, diet of Rice and bean-bag tosses.
Then came the Jacksonville game on Monday night in Week 7, when Baltimore managed just seven points and 146 yards amidst a wholly unimaginative game plan.
And then came the first half of the Arizona game, when the offense mustered just six points on two Billy Cundiff field goals while handcuffing Flacco to handoffs to Rice and Ricky Williams and a slew of fearful short passes, with the occasional, unsuccessful deep ball mixed in.
As ugly as that cabal was for Ravens fans to watch and for the players themselves to experience, it's proven to be a blessing in disguise since. Finally, Cameron saw the light and realized (as he should have weeks ago) that his offense would forever be predictable and ineffective if he didn't finally throw out Flacco's training bike entirely and give him the keys to the Harley.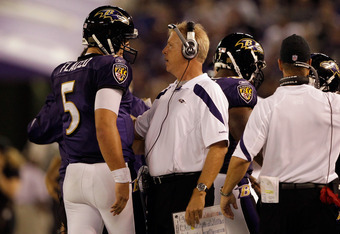 Rob Carr/Getty Images
After all, GM Ozzie Newsome didn't go out and build up his team's stock of skill players over the years for nothing. It was about time that Flacco had the opportunity to make the most of his own abilities while enabling his talented teammates to do the same for themselves.
Turns out, Flacco's doing just fine on his new set of wheels. All he's done since the end of Cameron's "Reign of Terror" is top 300 yards in consecutive games for the first time in his career while leading his team to wins each time out.
As a result, the Ravens own a share of the lead in the AFC North, a season sweep of the arch-rival Steelers and a clear path to the No. 1 seed in the conference playoffs.
And to think, all it took was the courage to allow Flacco the freedom to do what the Ravens drafted him to do in the first place.
That is, be a real franchise quarterback, a focal point of the offense, who can throw the ball all over the field without fear of restriction.