College Basketball: Iona Gaels Start Year at 5-Hour ENERGY® Puerto Rico Tip-off
November 16, 2011
College basketball excitement returned to New Rochelle, N.Y., last year with the success of the 25-12 Iona College Gaels, which won three postseason games for the first time in their history.  How many years can you say that your college basketball season ended on March 30th on your home court playing in a championship tournament final on national television? 
Hosting the CIT Championship Game may have been a once in a lifetime event last season, although a mild disappointment in losing to Santa Clara 76-69.  For longtime Gaels fans, it was a little bit of basketball heaven.
What will further please Iona fans is that the team returns four starters from last year's successful team, and a major transfer is coming aboard.  New coach Tim Cluess brought experience and stability to the basketball team after the departure of Kevin Willard to Seton Hall. 
Cluess is a veteran high school and college coach from Long Island and a former player at St. John's.  He brought in an up-tempo style that caught on with the players.  They outscored opponents last year by almost 10 points, 79.0 to 69.7.
Point guard Scott Machado had a great junior season leading the entire NCAA with 281 total assists.  The Queens, N.Y., native needs just five more assists to break Iona's all-time assists record of 558 held by Rory Grimes.  
Since last season new leadership has come to Iona with a new president and athletic director taking over.  Taking on the duties of president for Br. James Liguori, who retired, is Joseph E. Nyre. Nyre comes in from social service leadership positions in Illinois.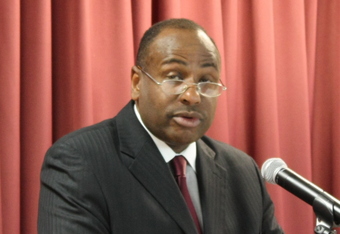 Eugene Marshall Jr., the new athletic director, came aboard in May. He took over for Pat Lyons, who took the AD position at Seton Hall.  Marshall comes in after holding senior athletic leadership positions at Ramapo College and West Point. His daughter is on the women's basketball team.
Tim Cluess now has a year of experience with the players and the rigors of Division I basketball and the Metro Atlantic Athletic Conference.  The Gaels have the the memory of the success they had together last spring, and they enter this season with goals to win the conference tournament and advance to the NCAA tournament, which alluded them last year.  The preseason poll announced in October at the MAAC preseason award show placed Iona as the favorite to win the MAAC basketball championship this year.
In addition to the play-making of point guard, the Gaels will receive leadership from senior forward Mike Glover, who's playing his second year at Iona after transferring from Eastern Utah.  Last year the Bronx native started all 37 games for Iona and averaged 18.4 points and 10.1 rebounds per game.  Taking many shots from under or over the boards, he shot 61 percent from the field on the season—sixth best in the nation. 
Glover was the first Iona player since Jeff Ruland in 1980 to average a double-double for a season.  He was named the preseason MAAC Player of the Year. 
Key returning players for the Gaels are small forward Kyle Smyth, who averaged 13.2 points a game and was known for his willingness to set picks and draw fouls.  A key factor in many games last year was senior shooting guard Jermel Jenkins, who averaged 9.2 points per game.  Sophomore guard Sean Armand had a three-point shooting percentage of over 42 percent, good for the best on the team.  Armand showed maturity in his play late in the year, which earned him increasing playing time in the seven postseason games.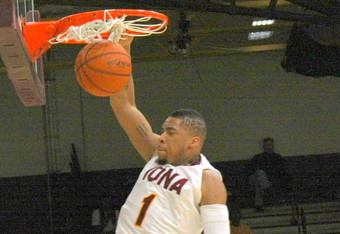 Then there is Lamont Jones, the transfer from the University of Arizona.  Known as "Momo," Jones was granted a hardship waiver so that he could go to school and play closer to his Harlem home to care for his ailing grandmother.  The 6'-even, 196-pound guard averaged 9.7 points per game starting all 38 games for the Wildcats.  He had 16 points in the NCAA tournament game last March 24th in the huge Arizona upset of top-seeded Duke.      
Iona will start the 2011-2012 campaign playing in a tournament in Puerto Rico called the 5-hour ENERGY® Puerto Rico Tip-Off.  They will play the first game at 1 p.m. EST Thursday, November 17th, against Purdue, and continue with games on Friday and Sunday.  Games will be played at the 18,000-seat Coliseo de Puerto Rico, also known as the José Miguel Agrelot Coliseum.
On Friday afternoon they will play either Temple or Western Michigan in either the winners or losers bracket.  The other bracket playing Friday night contains Maryland, Alabama, Wichita State and Colorado.
The championship and consolation games will be played on Sunday.  These third-round games are very important as they are against good teams from conferences across the country, and wins here help each team's résumé for NCAA tournament consideration.
All 12 games will be broadcast on either ESPN3, ESPNU or ESPN2.  Minnesota won the 2010 event, defeating West Virginia in the championship game.
My friend Tim Simmons, from the Armed Forces Bowl, and I spoke to coach Tim Cluess by conference call last week about preseason practice and Iona's participation in the "5-Hour ENERGY Puerto Rico Tip-Off."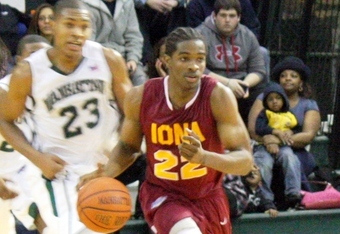 TIM SIMMONS:  Your team is listed as the top team in your conference this year in the preseason polls.  You have a pretty outstanding player.  Talk a little bit about that.            
COACH CLUESS:  I think Mike Glover had a great year for us last year.  He's somebody that has had some national recognition.  He's a 6'7" forward who can go inside, outside, plays very hard [and is] one of the leaders of our team.  I think he'll go a long way for us this year to keep us competitive.  I think our back quarter is what really puts us up in the elite area of our league.       
TIM SIMMONS:  Coach, I noticed that on your schedule your first regular game is the tournament.  Will you have any kind of competition prior to the Puerto Rico Tip‑Off?            
COACH CLUESS:  The only thing we have scheduled is a couple scrimmages—two Division I scrimmages we have planned in the next week and a half.  That will be the only live-action we'll have before Puerto Rico.            
TIM SIMMONS:  Do you think it's going to work to your advantage that you haven't played anybody or [is it a] disadvantage?            
COACH CLUESS:  Probably a little bit of a disadvantage.  [We] tried to get games early but didn't have any luck with it.           
TIM SIMMONS:  How different is your team this year compared to the one you had at the end of last year that lost to Santa Clara?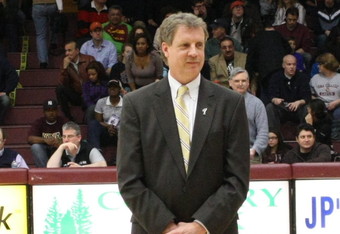 COACH CLUESS:  We're a lot healthier than we were last year for the entire season, to be honest with you.  We lost key players throughout the year—had guys hampered.  I think we're a better basketball team, a deeper basketball team.  We've added some guards and other forwards that can play more up‑tempo like we like to play.  I'm looking forward to seeing the product on the court.            
TIM SIMMONS:  The format of the tournament where you play two games back to back, then you have a day off, then play, do you think that's going to work to your favor?            
COACH CLUESS:  I think it's a great way to go.  When we have our conference tournament, we play three days in a row.  To play two quality opponents the first two days, having a day to get ready for the final game helps you to regroup, see what you need to work on, gives you a chance to scout an opponent.  I think it's really good for us.            
TIM SIMMONS:  You open up against Purdue.  Have you spent any time watching them on film?            
COACH CLUESS:  Yeah, we watched a little bit of them right now.  Honestly, this early in the year we're just trying to get our own stuff in because the season gets upon you so quick.  We'll start concentrating on them as we get a week to 10 days out of the tournament.  Right now we're trying to get in shape, get our guys to understand the system.  They're a tremendous team—we know that.  We have our hands full playing against them, but we're looking forward to the challenge.            
TIM SIMMONS:  Questions for coach.             
Ken Kraetzer: How is Mike Glover doing this summer?  How do you foresee using him going into the season?           
COACH CLUESS:  I think Mike added a lot of perimeter skills to his game.  His shot has gotten a lot better.  He's putting the ball on the floor to drive it much better than he was a year ago.  [He] put on about seven to 10 pounds of muscle as well.  I think he'll be a tougher, more durable player than he was last year.  We'll use him in the inside‑out role, not strictly on the blocks anymore because he has improved that part of his game.             
Ken Kraetzer:  How is Scott Machado doing?  Do you see him having as good a season as last year?            
COACH CLUESS:  To be honest, I think Scott is a much better player this year than he was a year ago.  We asked him to drop some weight.  He lost about 12 pounds.  [He] worked on his shot as well as some quickness.  [He's] playing at a whole 'nother level.  [I'm] very proud with the effort he put into the game.            
Ken Kraetzer:  Can you tell us about Lamont Jones and how he'll work into the lineup this year?   
COACH CLUESS:  He adds leadership to our team.  We were missing [that] last year.  [We] made a deep run into the NCAA tournament last year.  I think that will be invaluable to our team to have a player who is a natural-born leader.  He is a guard that can play the 1, the 2, even some 3 for us because he is a physically strong kid—gives us more versatility in the backcourt.  I just like his competitive nature on the offensive and defensive end.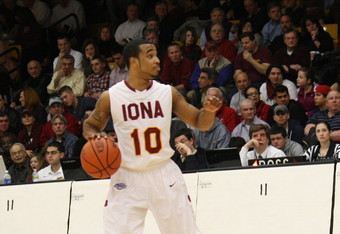 Ken Kraetzer:  Going into your preseason, have you had to work more on offense or defense at this stage?           
COACH CLUESS:  We have about five or six new guys, so we've been doing both, to be honest with you.  I think it always starts with defense.  You put a little more time into that early on.  I think that's an area you have to be solid, especially coming to Puerto Rico, against all heavy hitters there.  If we don't come out working hard on that end, it could be not so pretty.             
COACH CLUESS:  It helps build your program.  It helps you make a statement that you're a legitimate team at that level.  It also helps your recruiting.  Anytime you can play these types of teams, you can show you can go out and play against anyone.  You are going to learn your weaknesses very quickly when you play against high‑level opponents.  That's what I like about it.       
When you get through a tournament like this, look at league play, you're not going to really see teams better in the league than what you're seeing in the preseason.  If you can get your guys competing, understand what they have to do going through the rest of the year, it helps all of our teams at that level.    
Ken Kraetzer covers Iona basketball and West Point football for WVOX 1460 in New Rochelle, N.Y. Reach him on kgk914@aol.com.