'We Believe' Game Highlights: 3 Things We Learned in the San Jose Exhibition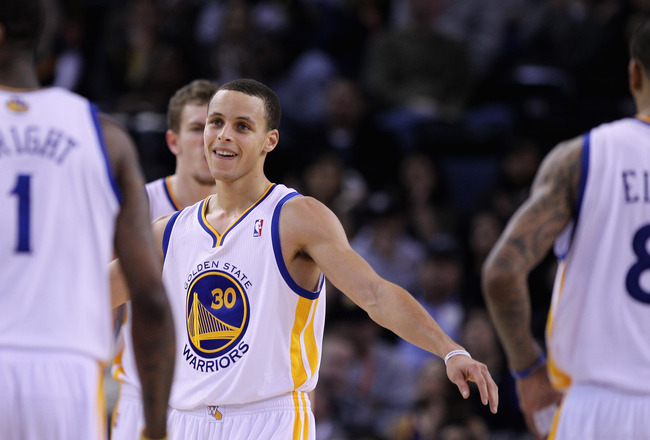 Ezra Shaw/Getty Images
With David Stern unloading a lockout ultimatum, who knows what's in store for the 2011-2012 NBA season.
Luckily for Bay Area hoops fans, we were treated to some much needed basketball lovin' last night in San Jose. Saturday's scene was a crazy one, as the 'Dubs' defeated the 'We Believe' Warriors 158-153 in a much anticipated offensive showdown.
Be sure to check out the highlights for yourself on the next slide.
Don't worry, it's filled with plenty of typical Warrior basketball.
A lot of dunks, too many deep three-pointers, and no defense to be found.
But really what else can you expect from a charity game planned to bring some basketball buzz back to the Bay?
Warriors fans definitely shouldn't read too much into last night's indoor streetball jam-fest, but here are three things we can take away from the 'We Believe' Charity Game.
Jeremy Tyler Is a Beast
The Warriors' young stud Jeremy Tyler is definitely a freak of nature.
Go rewind the highlight reel if you don't believe me.
For those of you who don't know, Tyler's road to the Warriors has been anything but traditional.
The San Diego native spent two years abroad, forgoing the opportunity to play collegiate ball. In 2011 Tyler was drafted by the Charlotte Bobcats and shortly after sent to the Dubs in exchange for cash.
Tyler is by no means a polished NBA player, but he definitely has the skill set and talent to make a huge impact with the Warriors next season.
The kid has monster potential and with the right guidance, he could be the star big man the Warriors need.
Jeremy Lin Can Actually Play
Believe it or not, Jeremy Lin can actually hoop.
Now don't get me wrong, I'm by no means saying that Lin, who averaged 2.6 points and 1.4 assists per game, will now become the next NBA superstar. But, contrary to the belief of many Warrior fans, he can definitely play.
Lin, the undrafted guard out of Harvard, worked his way into a summer league contract with the Dallas Mavericks and ultimately earned a two-year offer with Golden State.
Lin has the odds stacked against him and is a long way from becoming a viable guard, but he does carry the drive and defensive skills to progress in this league.
Plus, learning from Stephen Curry can only help him.
J-Rich Still Has Some Hops
Jason Richardson can still jam.
The 10 year NBA veteran and two time Slam Dunk champion, threw down last night in San Jose.
The former Warrior fan favorite has even dished on a possible return to the Golden State.
Matt Steinmetz reports that Richardson is open to a return to the Warriors in the future.
Now by no means is J-Rich still the high-flyer he use to be, but landing him would be a huge boost to the Dubs.
It will be interesting to see if the Warriors pursue him and I'm definitely not against it.
Keep Reading

Golden State Warriors: Like this team?