NHL Power Rankings: Top 5 Fantasy Players of the Week
November 6, 2011
Bruce Bennett/Getty Images
This week in the NHL we had a mix of everything in the top five fantasy hockey player performances. A couple of young budding stars, a veteran goalie that had been all but written off, a backup goalie and a 41-year-old star that just won't slow down all made the list.
Here are this week's top five NHL fantasy players.
5. Evander Kane, Winnipeg Jets
The Stats: Evander Kane scored three goals (one game-winner), added an assist, was a plus-5 and had seven penalty minutes and 10 hits in just three games.
The Advice: Kane was widely expected to take his game to the next level this year. After a slow start sitting in the coach's doghouse for the first month of the season, this former fourth overall pick has found his mojo. Kane will be relied upon to carry much of the offensive load for the Winnipeg Jets. This young winger has the potential to become a premier power forward in the NHL. He has a goal scorer's touch and a nasty mean streak that will help you out in the PIM and hits categories.
Kane is still available in about half of Yahoo! leagues. Snap him up now, especially if you are in a keeper league.
4. Patrick Kane, Chicago Blackhawks
The Stats: Patrick Kane scored two goals, five assists and was a plus-5 in his last three games.
The Advice: Kane is one of the most dynamic and exciting young players in the NHL today. He is most certainly NOT available in your fantasy hockey league. He won't help you much in the peripheral categories such as PIMs, hits and blocked shots, but if your league doesn't count those he is an elite level fantasy performer.
3. Nikolai Khabibulin, Edmonton Oilers
The Stats: Nikolai Khabibulin extended his win streak to five with two wins, a GAA of 1.00, save percentage of .959 and one shutout in two games.
The Advice: Don't look now but the Bulin Wall is back! Nikolai Khabibulin was likely avoided like the plague in your draft, but has not yet lost in regulation this season with a record of 6-0-2. Don't expect Khabibulin to win the Vezina, but he would make a decent number three goalie right now on most fantasy team rosters.
2. Josh Harding, Minnesota Wild
The Stats: Josh Harding put up three wins in as many games last week, recording a GAA of 0.99 and a save percentage of .968.
The Advice: Officially, Josh Harding is still the backup goalie in Minny. If he keeps these types of performances going, however, you can bet he will see a lot more starts. If you need some help in net, Harding is probably available. You might as well ride this hot streak as far as you can.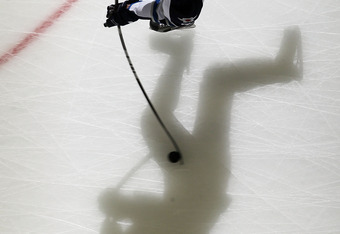 Jim McIsaac/Getty Images
1. Teemu Selanne, Anaheim Ducks
The Stats: Teemu Selanne had two goals, three assists and was a plus-4 through four games. He also had 28 penalty minutes to put him over the top on this week's list.
The Advice: Teemu was assessed 22 PIMs in one game last week. That is more than he had in each of six of his 20 seasons in the NHL! The Finnish Flash also put up four points in one game. Selanne is still available in a few leagues. Don't expect any more PIM padding extra-ciricular activities, but if you need some secondary scoring from the wing, Selanne is still a very good option.
You can follow Mark Hillier on Twitter.