Miami Dolphins: How Brandon Marshall Showed Leadership This Week
November 7, 2011
Peter Aiken/Getty Images
On Sunday, Brandon Marshall played his best game of the season against Kansas City by catching eight passes for 106 yards and a touchdown. Of course a great game will show some leadership and accountability, but it didn't show as much as earlier this week when he got into an altercation with Vontae Davis.
According to former Dolphins beat writer and current NFL.com scribe Jeff Darlington, Brandon Marshall and Vontae Davis got into a spat earlier during the week. 
The very first details I had heard was that Davis told Marshall that he would "rip his head off" and that it was Marshall who had instigated the confrontation.
Since reputation usually carries how someone is viewed in any sort of story, no one would have blamed you, me or anyone else if we thought it was just Marshall starting trouble.
But new details emerged that showed that the enigmatic wide receiver, who played his best game of the year on Sunday against Kansas City, was justified in confronting the cornerback.
According to Darlington's story on NFL.com:
Team sources said Sunday several players spent a late night out in South Florida on the eve of an important practice earlier in the week. One of those players—cornerback Vontae Davis—didn't travel with the Dolphins to Kansas City as a result of his "inability to act like a professional," a team source said. Davis showed up late to practice on the day after his late night out, according to multiple sources both inside and outside the organization.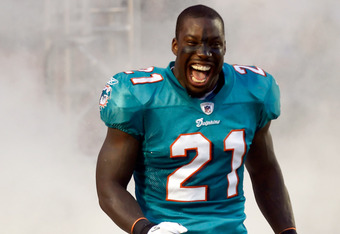 Mike Ehrmann/Getty Images
That's a great reason to suspend someone without really suspending them. Davis was essentially suspended, but will still collect a game check for the game.
Now here's where the confrontation comes into play:
After Davis reported to practice, he eventually was confronted by wide receiver Brandon Marshall, who began berating the cornerback for acting unprofessional during a time of despair for the then-winless Dolphins. A shouting match broke out, and Marshall threw a football hard from point-blank range into Davis' face, a source with knowledge of the altercation said.

At that point, Davis had to be restrained as he went after Marshall.
According to this story from thephinsider.com, Davis reportedly still smelled of alcohol when he showed up for that practice, which likely would also be the cause of the altercation. 
As for Marshall, aside from him throwing the football in Davis' face, I commend him for stepping up and taking a leadership role with this team.
In fact the more you watch Marshall's press conferences as well as his presence on the field, the more growth you see in him.
I really do see Marshall growing up and evolving into a leader, which is great news for the Dolphins going forward. Next season the Dolphins will likely draft a new quarterback and he's going to need not only a No. 1 receiver, but also someone in the locker room who he can count on.
From the looks of it, Marshall will spend this season trying to work on being both. He worked well with Chad Henne during training camp, and even when he's done something like his promise to get ejected from the Jets game, the point he was trying to make was lost in the translation.
Don't get me wrong, Marshall still has a long way to go, and throwing a football in one's face is as unprofessional as you can get, but it wasn't too long ago that Marshall would've likely been out drinking and partying with Davis prior to a key practice as opposed to confronting him about it.
The best thing these two can do right now is for Marshall to start leading more by example and take not only Davis, but some of the other younger players under his wing.
If he does that, he might be wearing the offensive captains' C next season.
And for the Miami Dolphins.