Yes You Can Meet the Team Hoyt 2012 Boston Marathon Team: Chris Samaras
November 7, 2011
For the past 116 Patriots Days, runners, running enthusiasts and millions of fans of the event have taken over the famed 26.2 miles of streets from Hopkinton, MA to Heartbreak Hill and from Wellesley College to Boylston Street during the running of the Boston Marathon. 
For exactly 25 percent of those mid-April events, perennial fan favorites, Dick and Rick Hoyt have pinned on their racing bibs, donned their "Team Hoyt" running gear and laced up their New Balance running shoes as perhaps the most well-known participants in the granddaddy of all running events.
Etched in the history books of the event along with names like Johnny Kelley, Bill Rodgers, Joan Benoit Samuelson and Uta Pippig, the Father/Son team from Holland, MA, are synonymous with the name Boston Marathon.
The Hoyts, who are known throughout the world as Team Hoyt, have captured the hearts and motivated the spirits of an infinite following of fans by injecting a huge dose of their "Yes You Can" message directly into the veins and lives of those who know their inspiring story.
This is a story of not only athletic achievement but a half-century long saga of the love between a father and a son and a virtual step-by-step manual in overcoming the challenges that life often presents us. 
Dick, age 71, and his son Rick, age 49, will be competing in their 30th Boston Marathon this April, an amazing accomplishment for any athlete of any skill level. But for those who somehow remain unaware of the amazing story of the famed racing duo, the accomplishment is made more remarkable by the fact that the elder Hoyt pushes his offspring in a wheelchair for each and every step of the 26-plus grueling miles.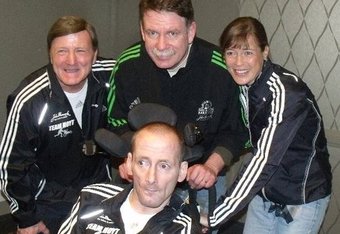 Rick was born a spastic quadriplegic with cerebral palsy, the result of having his umbilical cord wrapped around his neck at birth. The brief deprivation of oxygen to the newborn's brain left him with the life-long inability to verbally communicate, walk or care for himself. Doctors advised the Hoyts, Dick and his wife Judy, that their offspring should be institutionalized and that he would be "nothing more than a vegetable."
The Hoyt's ignored the doctors' suggestion, and over the next five decades, their "bouncing baby vegetable" has lived a life overflowing with accomplishments including his inclusion in mainstream schools, the use of a computerized speaking machine which enables him to communicate, his graduation from Boston University with a Bachelors Degree in Education, and of course, participation in over 1,000 athletic events and soon-to-be 30 Boston Marathons. 
Amongst those events are over 250 triathlons where the elder Hoyt pulls his offspring through the waters in a boat, bikes with him hitched to the front of his custom bicycle, before pushing Rick to the finish line in his running chair. The entire Team Hoyt story can be found on their website at www.teamhoyt.com or on the pages of their best-selling new book, Devoted-The Story of a Father's Love for His Son.
Like they do each year, Dick and Rick Hoyt, have assembled a team of runners from Australia, Canada and around the country who comprise The Hoyt Foundation 2012 Boston Marathon team.  The team will be running to raise money for the Hoyt Foundation, an IRS 501(c)(3) charity whose purpose is help integrate disabled people into everyday activities so they may live fruitful and productive lives.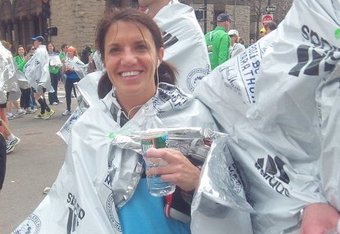 This year's team is made possible by principal sponsor of the Boston Marathon, John Hancock, and is coached by three-time Boston Marathon Champion, former No. 1-ranked marathoner in the world, New York City Marathon Champion, Berlin Marathon Champion and former world record holder Uta Pippig. 
Over the course of the next several months, I will be introducing many of the members of the 2012 Team Hoyt Boston Marathon Team and sharing their motivating stories and experience as members of this inspirational group of human beings.
_______________________________________________________________
Chris Samaras, who makes her home in Redding, CA, utilizes her running time as the rudder that helps steer her life. Samaras will be running in her 10th overall marathon, including three Boston Marathons when she crosses the finish line at the mid-April event.
"I love running and though I've left it from time to time, it has really been the only constant in my life. It is my church, my psychiatrist, my release. I simply can't imagine my life without running," explains Samaras, who began running at the tender age of 10.
The 36-year-old kindergarten teacher owns a personal best in a 26.2 mile trek of a very respectable 3:23. "My favorite part is that the only competition is myself. I am always setting new goals for myself, and the only person responsible getting me there is me. That is a tremendous feeling of accomplishment."
Samaras uses her training time to keep her head clear, to achieve mental balance and as a time for reflection. "Sometimes I don't think about anything and that is the best. I have times when I am running that I just zone out. I'll "wake up" miles down a trail with no recollection of running there. I know that sounds crazy, but my brain is almost impossible to shut off at times. I have trouble sleeping at night. I am a worrier and a thinker. Sometimes I lesson plan while I am running, or process hard things, but the best is simply when my brain shuts off and I just go.
Like many of the athletes that make up the Hoyt team, Samaras has overcome her own share of physical challenges. "I have overcome injury and run through injury, which I know isn't smart, but I just can't not run if I have legs that work. Running is my first true love. I'll do it until I die or my legs simply won't allow it anymore."
Though Samaras will be running as a member of Team Hoyt for the first time, she admits she is a long time fan of the "Dynamic Duo." "I was honored to be asked to be part of this incredible team. I've been a fan of theirs since 2006, and though I have never met the Hoyt's, I passed them last year in Boston and cheered them on. I have it on video and can't wait to meet them in April."
"I am very excited to meet them though I am worried about being able to fund-raise and meet the goal. It feels great to be running in Boston this year as a qualified runner, while raising money for an amazing organization with people that I find truly inspiring."
Samaras incorporates the Hoyt's "Yes You Can" mantra into her every day life and tries to impress the same on the impressionable five-year olds who fill her kindergarten classroom. "I believe anything is possible and this is the message I teach my child and my students and I live by. People can do just about anything if they try."
Though participating as a representative of Team Hoyt, Samaras will be running with a heavy heart and has dedicated the run to a former student of hers.
"A former student of mine recently lost his five-year battle with cancer. He was 10 years old. He died the day I decided to participate with Team Hoyt. I've been thinking a lot about him and all he will never get to do. I dedicate this run to him and all those who will never get to run a marathon. I run for Matt. I run with all of my heart and soul, because running for me is freedom and love...so I do it for those who can't."
Friends, fans and supporters of Chris Samaras can help her achieve her fundraising goal by visiting her Team Hoyt Crowdrise page by clicking on the Crowdrise link or by typing http://www.crowdrise.com/HoytFoundation2012BostonMarath/fundraiser/chrissamaras. 
Todd Civin is a Senior Writer for Bleacher Report. Unless otherwise noted, all quotes were obtained first-hand.