Anaheim Moneyball? Comparing Angels' New GM Jerry Dipoto and A's GM Billy Beane
November 6, 2011
Jim McIsaac/Getty Images
When the Angels abruptly fired Tony Reagins in October, Angels fans were left wondering who the new GM would be. From former Boston GM Theo Epstein to MLB's Kim Ng, no name was left off the table.
When the Angels announced Jerry Dipoto as their new general manager last month, many Los Angeles of Anaheim fans were left wondering, "Who?"
Rest easy, Angels fans, owner Arte Moreno and company made a fine choice. Dipoto might even be the new-school Moneyball GM.
Here's a quick side-by-side look at Oakland A's Moneyball GM Billy Beane and Angels GM Jerry Dipoto.
Beane is a former big league outfielder who played from 1984 through 1989 on the New York Mets, Minnesota Twins, Detroit Tigers and A's. He finished with a .219 batting average.
Dipoto is a former big league pitcher who played from 1993 through 2000 with the Cleveland Indians, Mets and Colorado Rockies. During that time, he amassed a 27-24 record with a 4.05 ERA and 49 saves.
Beane joined the A's front office in 1990, working as a scout through 1993. He was promoted to Assistant GM prior to the 1994 season and replaced Sandy Alderson as A's GM in 1997.
Dipoto began his foray into the front office game in 2003, joining the Boston Red Sox as a scout, helping the Sox break Bambino's Curse in 2004. With a World Series under his belt, he joined the Colorado Rockies in 2005 as the Head of Scouting. In 2006, he was pouched by Diamondbacks GM Josh Byrnes and went to work in Arizona as the Director of Scouting and Player Personnel, rising to the position of Vice President of Player Personnel in 2008.
Dipoto was named interim GM in 2010 after Byrnes and manager A.J. Hinch were let go.
Beane poached a hidden gem named Paul DePodesta from the Cleveland Indians to become Oakland's new Assistant GM in 1999.
Last week, Dipoto poached Scott Servias from the Texas Rangers to serve as the Angels' new Assistant GM. 
Beane impressed A's executives by lowering payroll expenses, using sabermetric principles and cost-benefit analysis to turn the A's into a postseason franchise within three years of taking over as GM. The A's made the postseason in 2000, losing in the ALDS to the New York Yankees, three games to two.
Dipoto impressed Arizona executives during his brief stint as interim GM by similarly reducing expenditures, foisting the salaries of veterans Dan Haren, Edwin Jackson and Chris Snyder onto big-fish teams in exchange for strong minor league prospects and pitcher Daniel Hudson.
Though Arizona named Kevin Towers their new GM in September of 2010, Dipoto's strategic planning paid off, with the D'Backs winning the NL West in 2011 over the defending MLB champion San Francisco Giants. Arizona likewise lost their 2011 NLDS to the Milwaukee Brewers, three games to two.
Now, Dipoto has a chance to shine with the Angels organization. Given his ability to unload expensive players, Angels fans should withhold judgment in regards to recent financial nightmares, like—oh, I don't know—Vernon Wells.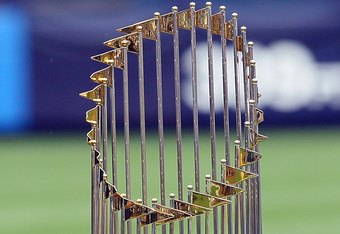 Jim McIsaac/Getty Images
In the mid-2000s, the Angels were known as the young, exciting franchise down the freeway. As the Dodgers floundered, the Angels flourished. With spark plugs David Eckstein, John Lackey and Francisco Rodriguez, the Angels won a World Series and several consecutive AL West championships.
When former GM Reagins replaced Bill Stoneman, the Angels soon fell into the familiar trap of acquiring lethargic veterans while giving up key talent. By 2010, the Angels' exuberance had transformed into a Texas-sized serving of lazy resentment.
With Dipoto stepping in, however, the Angels now have a chance to recapture that sense of excitement, which had dutifully accompanied the team's past decade of success.
Dipoto is a relatively new and inexperienced general manager, which is exactly why he is a perfect fit for the Los Angeles Angels of Anaheim.