Michigan Football: Crunching Some Stats from the Iowa Game
November 6, 2011
Joe Robbins/Getty Images
The Michigan Wolverines squad got off to a decent start against the Iowa Hawkeyes on Saturday, but everything fell apart in the second quarter.
The Wolverines found themselves down 17-6 at halftime, and a controversial last few plays in the Iowa end zone left Michigan out to dry on the scoreboard as it lost 24-16.
Michigan fans are not accustomed to seeing Michigan get smacked around at home this season, but the road has been a different story as Michigan is just 1-2 now on the road.
Here are some statistics from the Saturday's contest; perhaps before reaching the end of the list, you will understand why Michigan was doomed to fail even before the refs supposedly took away a touchdown from the Wolverines.
0—The number of points Michigan had in the second quarter against Iowa. Michigan gave up 10 points to Iowa and the Hawkeyes went into the half leading Michigan, 17-6.
1-2—Both teams were 1-2 on fourth down. Michigan's second fourth-down try was thwarted in the end zone giving Iowa the win, while Iowa converted a fourth down that kept an eventual touchdown drive alive. That drive put Iowa up 14-6, and with how badly Michigan's offense played in the first half, the lead stood up for a win.
2—Touchdowns passing for Michigan's Denard Robinson and touchdowns rushing for Iowa's Marcus Coker. Robinson looked nothing short of out of sync in the first half, turning the ball over twice on back-to-back drives to end the first half. Coker, meanwhile, carried the load for Iowa with 132 yards on 29 carries.
3—Number of punts for Michigan in the first half. Combine that with a Denard Robinson interception and a Denard Robinson fumble, and you can see why Michigan trailed 17-6 at the break.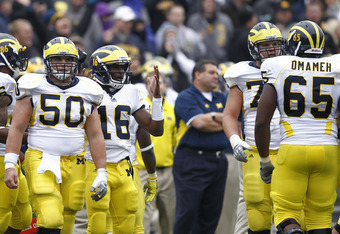 Joe Robbins/Getty Images
4—Number of tries Michigan's offense had to find the end zone for a chance to tie the game from the Iowa three-yard line. Michigan's offense needed a touchdown in the last minute to set up a potential two-point conversion, but Iowa, benefiting from some favorable calls on plays that could have gone either way, stopped Michigan four times in a row from the 3-yard line.
4-12—Michigan held Iowa's offense to only 33 percent on third-down conversions, but the third downs that Iowa managed to pick up gave it opportunities to score points.
5—Catches for 64 yards for Michigan's receiver, Junior Hemingway. Hemingway also had some drops in the first half that stalled Michigan's offense when it could have gotten going early.
15—First downs given up by Michigan's defense. Michigan wasn't bad defensively, but it gave up three red-zone touchdowns to Iowa and could not hold Iowa out of the end zone once it entered the red zone.
19—The number of second-quarter points that Michigan's defense had given up prior to the Iowa game. Iowa's 10 second-quarter points proved to be too much for Michigan to overcome.
22—First downs for Michigan's offense. This number is a little bit deceptive of how the game actually turned out. Turnovers killed Michigan's offense, and drops by receivers did not help Michigan's quarterback, Denard Robinson.
29—Rushes for Marcus Coker, who carried the load for Iowa. Coker's average of 4.6 yards per carry propelled Iowa to the win as Michigan's defense had no answer for Coker, who also scored two rushing touchdowns.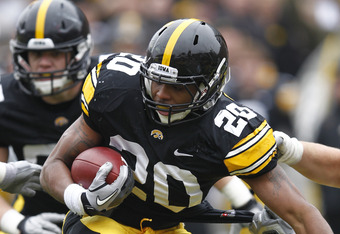 Joe Robbins/Getty Images
37—Passing attempts for Michigan's Denard Robinson. Robinson only completed 17 attempts, and he was both inaccurate and sporadic with a few of his throws. As mentioned earlier, his receivers had some big dropped passes that could have helped Michigan move the chains.
302—Yards that Michigan surrendered to Iowa's offense for the game. Michigan's defense played well in the second half, but gave up three plays of over 20 yards in the first half and a substantial amount of gains over 10 yards to Iowa.
323—Yards that Michigan's offense mustered against Iowa's defense. Iowa came in giving up about 400 yards per game, but it shut down Michigan's running game after the first quarter, and Michigan's passing game soon fizzled out as well.
Follow Isaac on Twitter for more article updates.