Ryan Broyles Lost, Other Weapons Found: Oklahoma Sooners Football Bounces Back
November 6, 2011
Brett Deering/Getty Images
Ryan Broyles' season-ending injury was gut-wrenching and heartbreaking for all Sooners fans on Saturday against Texas A&M.  It is deeply saddening to see one of the best receivers in NCAA history have his college career cut short like this. Broyles' electrifying play powered the Sooners offense for four seasons, and his presence will truly be missed. 
Despite all this, the OU offense will rebound. Sure, Broyles was a superstar. He brought so much to the offense. But the Sooners have plenty of other weapons at their disposal.
First off, Kenny Stills.
Stills would be the No. 1 receiver on almost any other team in the nation right now; the only reason he wasn't at Oklahoma prior to now is because the Sooners had one of the best receivers of all time at their disposal. Stills is a premier receiver in the making, and his promotion to the No. 1 receiver slot will prove this. He thrives in big games and certainly won't shy away from the spotlight. 
Other weapons abound at the receiver position. Jaz Reynolds, who recorded his sixth touchdown Saturday on an impressive one-handed catch, is very promising and will certainly get targeted more. He will step up and help fill the void created by Broyles' departure.
DeJuan Miller, although somewhat quiet, is also a very capable weapon. His statistics don't back this assertion up, but he is a big target (6'4," 217 pounds) and is well seasoned, considering his status as a senior. He will certainly be worked into the offense and will produce and enjoy at least some success in offense. 
Last but not least, Trey Franks will raise some eyebrows with his capabilities. The only reason he hasn't seen more playing time is because he's only a sophomore and has been sitting behind major weapons on the depth chart. Landry Jones will look to him and be rewarded for doing so—Franks is a versatile, underrated player.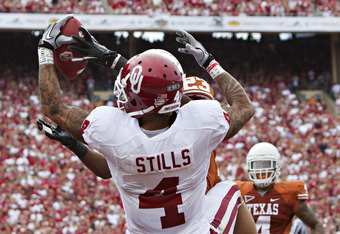 Wesley Hitt/Getty Images
On top of all this, the OU offensive system is a well-oiled machine that finds a way to thrive almost regardless of the personnel, it seems. Did anybody know who Landry Jones was when Heisman winner Sam Bradford went down against BYU? And look at where Jones is now—breaking records Bradford set and carving out his own place in the history of great OU quarterbacks.
OU has plenty of talent readily available. Players that we haven't even heard of could potentially step up and make a difference at any time.
Lastly, the addition of Blake Bell into the OU offense is a wrinkle that has continued and will continue to have a major impact. Bell's running ability and massive frame (6'6," 245 pounds) make him an almost unstoppable force in goal line situations.
Goal line situations are an area that OU struggled in before Bell debuted and a phase of the game that is crucial to capitalize on in order to win. And the running game in general is having success and is providing balance to the Sooners attack.
Without question, the injury to Ryan Broyles will have an impact on the OU offense. Broyles' skill set and intangibles are truly unique and will be missed. The sad premature ending to his career at Oklahoma makes Sooners fans realize you don't know what you have until it's gone.
Broyles was arguably the biggest playmaker in OU history and was astonishing in the consistency and extent of his success. But OU will take the loss in stride, as it has the loss to Texas Tech and the loss to Dominique Whaley, and will finish the season strong to honor the best receiver in OU history and prove it belongs in the pantheon of elite college football teams of 2011.