Boxing Fans Await Floyd Mayweather's Decision on Winner-Takes-All Proposal
November 6, 2011
Ethan Miller/Getty Images
While doing an interview with Manny Pacquiao on the top-rated TV show Jimmy Kimmel Live!, show host Jimmy Kimmel told Pacquiao he has a solution to the problematic Pacquiao vs. Mayweather fight negotiations.
Asked if he thinks Floyd is "scared" to face him in the ring, Manny told Jimmy, "I don't know what's the reason, but I'm ready to fight him."
During the show, which aired live on ABC, Kimmel proposed what he deemed was the real solution for the most-awaited fight to happen—a winner-takes-all match.
"I don't think he will [like that]," quipped Manny.
"What about you?" asked Jimmy, to which the pound-for-pound king responded, "Of course."
Since Pacquiao has agreed to the proposal, boxing fans are eager to find out if Mayweather would agree to the same proposal.
If Mayweather agrees to Pacquiao's challenge for a showdown based on Kimmel's winner-take-all proposal, the winner stands to gain around $200 million in guaranteed fight purse including other income such as their share in pay-per-view sales, gate sales, close circuit TV fees and other promotional income.
Certainly, $200 million is a life-changing amount of money for Pacquiao and Mayweather to let go even though both of them are millionaires many times over as they have been earlier listed in Forbes' richest athletes in the world.
Meanwhile, in his bid to grab the spotlight from Pacquiao who is set to face Mexican counter-puncher Juan Manuel Marquez in just a week from now, Mayweather, through his advisers, Leonard Ellerbe and Al Haymon, said he has set a May 5 ring return against the "little fella"—possibly referring to Pacquiao.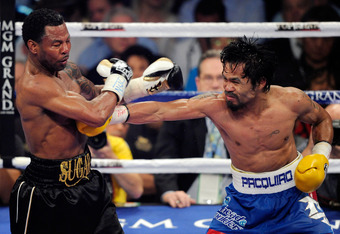 Ethan Miller/Getty Images
"We're looking to make the biggest fight possible and everyone knows what that fight is, the little fella," said Ellerbe, who was presumably talking about Pacquiao.
Richard Schaefer, CEO of Golden Boy Promotions, also said he has reserved MGM Grand as the venue for the May 5 fight.
But Pacquiao's promoter, Bob Arum, said Mayweather's announcement is a joke and he is not taking him seriously.
"Listen, we're not going to consider anything until after the Marquez fight," Arum said. "The way they are going about it seems like a bizarre way to go about it. If you want to put it together, you meet, you talk. You don't just come out and say, 'The fight is May 5 at the MGM.' What kind of negotiation is that? So I don't take what they said seriously.
"I think it's Floyd's way of trying to grab a little bit of the spotlight away from Manny. I'm not going to get upset. I take it with a grain of salt."
Mayweather has yet to react to Jimmy Kimmel's winner-takes-all proposal.