Arizona State Football: Grading the Sun Devils Game vs. UCLA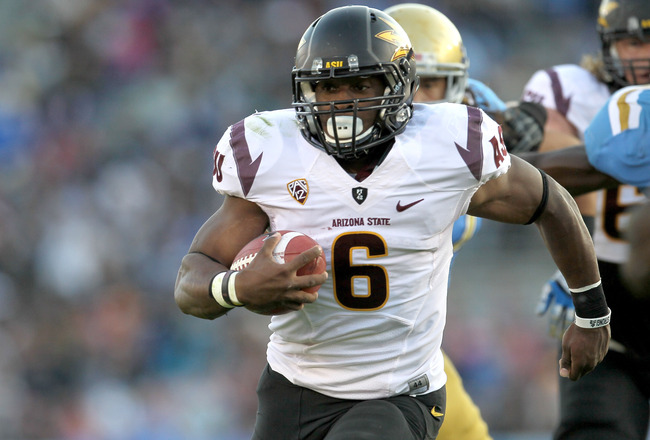 Stephen Dunn/Getty Images
After blowing out Colorado last week, it was presumed that the Pac-12 South division was all but won by Arizona State.
The Sun Devils were sitting pretty at 6-2 with impressive wins against USC, Missouri and Utah under their belts.
However, lurking in the shadows was UCLA. The Bruins had been the model of inconsistency, alternating wins and losses all season long. Yet here they were, only a single game behind ASU in the South division standings.
This made Saturday's game in Pasadena a critical affair for both teams.
As has been the case throughout the Dennis Erickson era in Tempe, the Sun Devils fell victim to their own mistakes. Three missed field goals, poor run defense and an ungodly 3rd-and-29 conversion by the Bruins on their final drive highlight, or rather lowlight, ASU's 29-28 loss.
ASU is now looking up at the Bruins in the standings and without the benefit of controlling its own destiny.
Here now are the positional grades for the Sun Devils from Saturday's game.
Quarterback: B+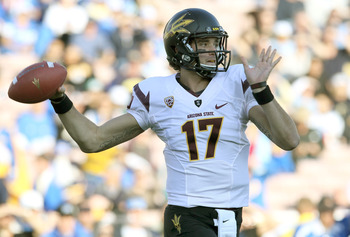 Stephen Dunn/Getty Images
Brock Osweiler has progressed significantly throughout the season, and despite the end result he again acquitted himself well in Pasadena.
He led an eight play, 81-yard scoring drive immediately following the first UCLA touchdown that was capped by a 35-yard touchdown pass to A.J. Pickens.
Osweiler also had a nine-yard score to Jamal Miles in the third quarter and was terrific on the go-ahead drive in the fourth, connecting twice with Gerell Robinson and scoring the touchdown on a one-yard sneak. That helped to offset an overall shaky second half in which he appeared rattled at times and misfired on passes he routinely completes.
On the game's final drive, he did what a good quarterback needs to do—give his team a chance to win. He marched the Devils from their own 24 to the UCLA 29 and gave Alex Garoutte a chance with a 46-yard field-goal attempt.
Osweiler finished a respectable 22-of-38 for 264 yards and two touchdowns and did not turn the ball over.
Running Back: A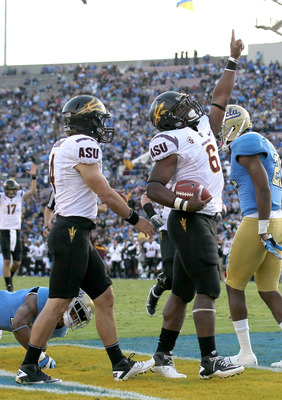 Stephen Dunn/Getty Images
One of the best-kept secrets in the nation, ASU's Cameron Marshall has been having a sensational season and continued it with a terrific performance on Saturday.
He started off strong on Saturday and kept it up all night.
Marshall was particularly effective on runs up the middle, where his cutbacks routinely found large gaps. He consistently finished his runs with authority, keeping his legs driving and falling forward for an additional yard or two.
He set a career high with 168 yards on the ground on 27 carries and had a 14-yard touchdown run.
The only downside to his night was the play-calling from the middle of the third quarter to the early second quarter in which he had just three carries over a three-drive stretch.
Wide Receiver: B-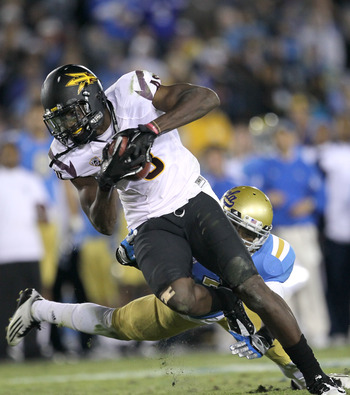 Stephen Dunn/Getty Images
Gerell Robinson's ascension to the upper echelon of Pac-12 wide receivers continued, as he registered his third 100-yard performance in the last four games.
He continues to make key catches over the middle, and on the fourth-quarter drive that ended with ASU taking a 28-23 lead, he had two big receptions for 49 yards.
Yet his outstanding game—six catches for 131 yards—will be remembered for his inexplicably stupid decision to throw a forward pass out of bounds as he was being tackled on the game's final drive. He was thankfully bailed out via replay review, as the officials he ruled down by contact prior to his toss. That negated the illegal forward pass penalty and allowed ASU to get in position for the final field-goal attempt.
The other receivers were relatively quiet.
Jamal Miles finished with five receptions for only 19 yards, but one of those was a dazzling nine-yard touchdown. A.J. Pickens only had one catch, but it was a 35-yard touchdown on a crossing route that opened the scoring for the Devils.
Even George Bell got into the action with three catches, as his issues with drops appear to be a thing of the past.
Offensive Line: A+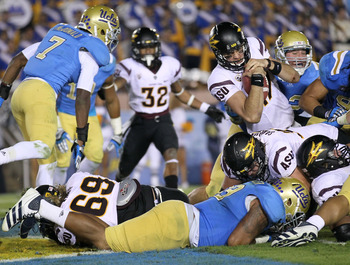 Stephen Dunn/Getty Images
After a dreadful first half of the season, the offensive line had a terrific effort last week against Colorado. It figured to have a tougher time against a Bruin team that, on paper, was more talented than the Buffaloes.
However, the line stepped up and had perhaps its finest effort of the year.
It was highlighted by terrific run-blocking. The line continually generated tremendous push at the point of attack, giving Cameron Marshall huge lanes to amass his career-best 168 yards.
Perhaps the most telling statistic, though: No run by ASU resulted in negative yardage.
They were also excellent in pass protection. Brock Osweiler had plenty of time in the pocket to go through his reads, as evidenced by eight Sun Devils catching a pass on Saturday. Osweiler was only sacked once throughout the game, a testament to the line's improved play.
Defensive Line: D-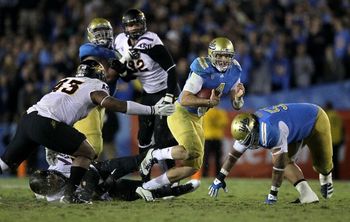 When you know exactly what the men lining up across from you on the line are going to do, yet you can't stop it, you are having a bad day.
Such was life for the Arizona State defensive line, as everyone in the state of California knew that the Bruins would grind away with the running game, yet ASU could do nothing to stop it.
It began on UCLA's first drive, in which it methodically marched down the field for a touchdown. Leading the way on that drive were two Kevin Prince runs for 48 yards.
The trio of Prince and running backs Johnathan Franklin and Derrick Coleman combined for (factoring out sack yardage) 236 yards on the ground, led by Coleman's 119, and three touchdowns.
The Sun Devil defensive linemen were routinely pushed around and manhandled, and their failure to get key stops was a critical failure in the game.
They only managed 2.5 tackles for loss, and they simply were unable to generate pressure against either the run or pass game.
Linebacker: C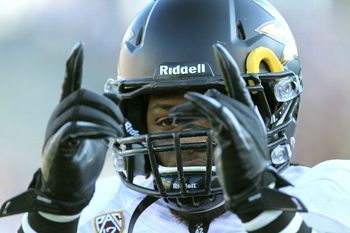 If there was one bright spot on the defense, it was at linebacker. The fact that they earned only a "C" tells you all you need to know about the overall performance of the Sun Devil defenders.
While the defensive line was getting shredded, the pressure fell to the linebackers to stop the UCLA running game. For the most part, they did not.
The linebackers often over-pursued, especially on plays in which quarterback Kevin Prince kept the ball. Many times, Bruins ball-carriers were able to run through arm tackles and gain key extra yards.
They did much better against the pass, especially in the pass rush. Defensive coordinator Craig Bray blitzed linebackers more than he has in recent games, and there was some success. Vontaze Burfict picked up his first sack since Week 2, and Colin Parker collected another.
Parker was the unit's star—again. He was the team's most consistent tackler, finishing with six, collected one sack, forced a fumble and had one fumble recovery.
Secondary: D-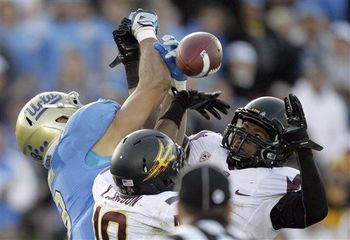 3rd-and-29.
Should the Sun Devils fail to win the South division, that phrase will live forever in infamy.
It was a terrible day for the ASU secondary, which is made all the more horrifying considering that it was facing a bad quarterback who only threw 17 times.
It was particularly awful for the cornerbacks.
Early in the third quarter, the Bruins ran a play-action pass, and cornerback Deveron Carr bit hard on a pump fake by Kevin Prince, who then threw to Nelson Rosario streaking down the left sidelines with no Sun Devil within 30 yards of him. He strolled in easily for the 76-yard touchdown.
Which brings us to 3rd-and-29.
As the Bruins were driving on the game's penultimate drive, they got a first down at the ASU 20. However, a botched run and an offensive pass interference penalty backed them up significantly, as they faced a 3rd-and-29.
No secondary should allow that to be converted, especially in such a critical situation. Yet Alden Darby blew his coverage, and Rosario was on the receiving end of a 33-yard completion to keep the eventual game-winning drive alive.
The only aspect keeping the secondary from an "F" grade is the continued solid play of safeties Keelan Johnson and Clint Floyd. Johnson registered his first career sack, and Floyd once again led the team with nine tackles.
Special Teams: F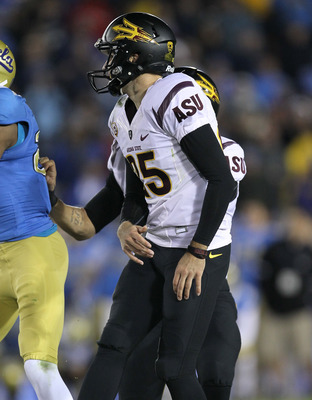 Stephen Dunn/Getty Images
Granted, 48- and 46-yard field goals are not "gimmes," especially at the college level.
However, a scholarship kicker should make at least one such attempt—and he absolutely must make a 36-yard attempt late in the fourth quarter of a hotly contested division game.
Yet Alex Garoutte did none of the above, missing on all three of his attempts, including the 46-yarder at the end of the game that sailed wide left.
As heartbreaking as that miss was, it was his 36-yarder at the 5:49 mark of the fourth quarter that was the most damning.
The Sun Devils had just recovered a UCLA fumble off the kickoff from the previous ASU touchdown, and the momentum was fully in the Sun Devils' favor.
Apart from Garoutte's disastrous night, the punting of Josh Hubner was poor, averaging 38.4 yards, and apart from a 55-yard kickoff return by Jamal Miles, the return game was ineffective.
However, this game will be remembered for the 3rd-and-29 and Garoutte's costly "O-fer."
Coaching: D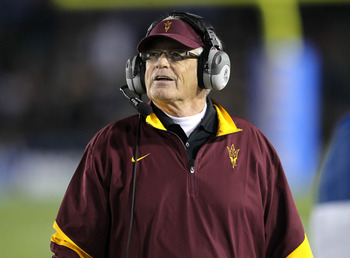 Stephen Dunn/Getty Images
Coaches don't kick field goals, cover receivers or tackle running backs.
So at least the ASU coaching staff have that going for them.
However, the fact remains that two of the Sun Devils' greatest woes—slow starts during road games and playing to the level of their competition—were out in full force, and both are the product of coaching.
It was no secret that UCLA was going to run the ball constantly. The Bruins have an inept quarterback and two talented running backs and came into the game with a 3-to-1 play-calling ratio in favor of the run. Those numbers held true on Saturday, with the Bruins running 48 times and only throwing 17 passes.
Yet the Sun Devil defense was unable to stop what it knew was coming, despite having superior talent. The defense seemed to be lacking a passion it put on display in games against USC and Missouri this season.
On offense, the play-calling was curious in the second half. With Cameron Marshall running through the Bruin defense with ease, offensive coordinator Noel Mazzone only fed Marshall the ball three times over a nearly 15-minute stretch that covered three ASU drives. Inexcusable.
Follow me on Twitter @BDenny29 and listen to the Speak of the Devils podcast on iTunes for the latest news and insight on ASU football.
Keep Reading

Arizona State Football: Like this team?