College Football
Nebraska Football: The Good, Bad and Other of the 28-25 Loss to Northwestern
Eric Francis/Getty Images
November 5, 2011
Nebraska pulled another in a disturbing series of upsets at home, losing to Northwestern 28-25. The Wildcats never relinquished their early lead, holding Nebraska's rushing attack to only 122 yards and gashing the newly-minted Blackshirts for 468 yards of total offense.
So, painful as it might be for Nebraska fans, let's take a closer at the good and the bad of the game to see how the Purples came to Lincoln and pulled off the upset.

The Good: T-Magnificent
Nebraska had 99 problems against Northwestern on Saturday, but "No. 3" (as ESPN's Rece Davis derisively called him when suggesting he shouldn't "ever" throw the ball) wasn't one of them. Taylor Martinez played arguably his best game as a Cornhusker, going 28-for-37 for 289 yards and two touchdowns. Martinez didn't turn the ball over, and extended plays both with his arm and his legs.
You want a silver lining for this stinker of a game, Nebraska fan? Maybe we've seen Martinez put it all together as a signal-caller.

The Good: A Timely Play
Down 14-10 late in the third quarter, Northwestern was driving and looking to throw a knockout punch. A Kain Coulter pass was deflected, and fell into Austin Cassidy's hands in the end zone. Cassidy brought the ball out to midfield, setting Nebraska up another incredible comeback.
Unfortunately, Nebraska couldn't pull off another miracle comeback against Northwestern. But that doesn't take away from Cassidy's great play.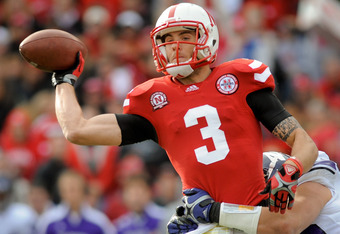 Eric Francis/Getty Images
The Good: Bringing Out the Coffin

You know you're stretching things a little when one of the "goods" in the game is the punter's performance. But Brett Maher performed admirably, sticking Northwestern with poor field position punting into the wind. He even broke out a rugby-style kick to keep the ball out of the wind and use the roll to get his field position work done.

The Bad: Another Beck Stinker
Let's see...Northwestern is one of the worst rushing defenses in the B1G Conference. Nebraska has been making a living pounding the ball and wearing teams bigger and deeper than Northwestern out in the fourth quarter. It's a windy day, making it harder to throw the ball.
So, you only call 35 rushes and have Martinez throw the ball 37 times? The play call had eerie similarities to a Shawn Watson game plan, trying to zig when a zag was expected and ultimately outsmarting yourself.

The Bad: Stop Draggin' My Heart Around
It wasn't complicated. Northwestern spread Nebraska's defense out and kept dragging its receivers across the field, finding out which defender could stay with his man. On far too many occasions, Nebraska's safeties weren't up to the task, leaving the Wildcats with easy completions again and again.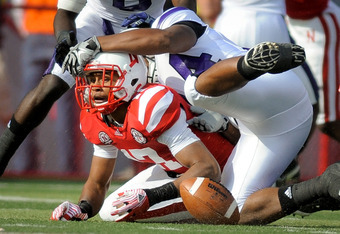 Eric Francis/Getty Images

The Bad: Early Damage:
Nebraska had two costly turnovers in the second quarter, which likely took early points off the board and helped keep momentum with the Wildcats. Normally reliable Rex Burkhead put the ball on the ground, as did Quincy Enunwa, which allowed Northwestern to take a lead into the half.

If Nebraska hangs onto the ball and converts one of those possessions into a touchdown, it's possible the context of the entire game changed.
And the Damning Quote...

"They wanted it more than we did."
Austin Cassidy had what could have been the hero. His interception could have been the catalyst for another incredible comeback for Nebraska. Instead, his postgame quote lifts the hood and gives us the best explanation as to why Northwestern beat Nebraska.
Poor offensive line play. Dropped passes. Lack of pressure on a backup quarterback. Those may have all been just symptoms of a Nebraska team that came out flat and played an uninspired game. In the final analysis, Nebraska may have not realized until far too late in the contest that it couldn't beat Northwestern with a half-hearted performance.
"They outplayed us, they outcoached us. What are you going to say?" Bo Pelini said in the postgame press conference.
Pretty much sums it up.

The Big Picture

Want something to salve the wound of an embarrassing loss, Nebraska fans? How about this: Iowa did Nebraska a huge favor by knocking off the Wolverines, leaving the door open at least a crack for NU to make a trip to Indianapolis and the B1G Championship Game.

Yes, Michigan State can still run the table and win the division regardless of what Nebraska does. But one Spartan loss, coupled with Nebraska winning out, will put the Cornhuskers into the inaugural conference title game.
Which, of course, puts those who want to make Iowa the new blood-rival for Nebraska in an awkward position. Because Iowa faces Michigan State next week, and Nebraska desperately needs the Hawkeyes to do it a favor.
Like what you read? Follow me on Twitter @patrickrunge to track my thoughts and observations about college football—and one or two other topics—throughout the year!
And if you would like to contact me directly to schedule an interview, ask a question or to get my recipe for a killer peach cobbler, you can send an e-mail to patrickrunge@gmail.com. (DISCLAIMER: Peach cobbler recipe might not be all that killer.)
Like the new article format? Send us feedback!