NFL Week 9: Why New York Giants Pass Rush Will Give Tom Brady Fits
November 5, 2011
Leon Halip/Getty Images
A funny thing happened on the way to researching this article. Apparently, when it comes to analyzing the New York Giants' pass rush, all links lead to Boston. 
Bellicose Bill may have started the frenzy when he waxed absolutely eloquent (for him) over the Giants' D-line: 
"They're a huge challenge…Most times you play a team and the team might have one player that's the caliber of rusher that you really have to game plan for…I mean, the Giants got about, like, five of them." And that is less than one-third of what he said!
The New York press may be more concerned about Eli's potential INT number, but New England is very worried about large blue men touching their quarterback. And they should be.
Even Brady showed apprehension by revealing that he had watched enough film on the Giants' pass-rushing unit to know that Justin Tuck was only in for about half of the game last Sunday. 
He's right. And therein lies the true strength of New York's D-line: there are a lot of them. Jason Pierre-Paul has 8.5 sacks in 2011 (fifth in the NFL) and Osi Umenyiora has six (10th). Bill B. even compared Jason PP to Julius Peppers. Can't believe he let that slip out of his mouth. Will he bench himself for the first quarter?
Both Umenyiora and Tuck have missed time due to injury, leaving the rest of the unit to pick up the QB-terrorizing mantle. Linval, Joseph, Tollefson and Bernard have all played exceptionally well in a rotation that also keeps this frightening pack fresh. Even Chris Canty, picked up from Dallas a while ago, is finally the strong force that New Yorkers were expecting when the trade was made.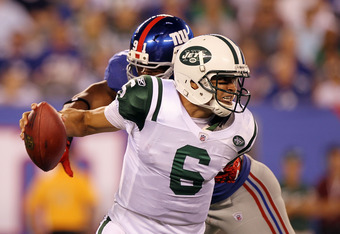 Jim McIsaac/Getty Images
Many football fans have been laboring under the assumption that Big Blue's D has never recovered from Strahan's retirement. I think it took them a while, but this defense has recorded 26 sacks thus far in the season. 
Perry Fewell may not be up to the level of the late Jimmy Johnson when it comes to blitz packages, but constant rotation (and the occasional linebacker contribution) has resulted in a nightmare of different looks for opposing offensive lines. Every one of the above players brings a unique pass-rush plan into the game.
In addition to raw power and speed, this company of QB hunters gets to their prey via multiple routes. They usually just come off the end and beat everybody to the passer. But they also employ stunt packages that include pushing the guards out and allowing DEs the room to come back around and rush from the center. Then they sometimes flow one way and leave one behind to be what is essentially a "cut back" pass-rusher. This squad has even recorded sacks rushing three linemen. Three!
Belichick wasn't exaggerating (yeah, like that's ever happened) when he talked about the need for his O-line to recognize not just formations, but also personnel. His same five linemen have to respond to the specific rushing scheme tied to each different lineman. Even assuming that the Giants only utilize the above-listed seven rushers, you see the challenge.
So, is the New England O-line up to it? I don't think anyone knows. Matt Light remains one of the unsung heroes (outside of the Northeast) at LT, while Guard Mankins certainly proved his worth by holding out recently. The jump in pass protection that occurred when he returned was amazing.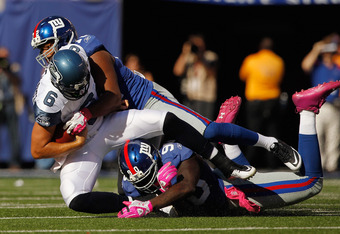 Mike Stobe/Getty Images
Rookie LG Nate Solder seems to be fitting right into The Patriot Way. Right Guard Brian Waters has segued seamlessly into the line this year and Center Dan Connolly is impressing me at this all-important position. Not to mention his awesome prowess as a return specialist.
Connolly has a pivotal and extremely difficult role Sunday. He has to be ready to pick up the loose or "hidden" pass-rusher on any given snap. It will be Connolly versus any one of the four New York "horsemen" or, heaven forbid, LB Kiwanuka who has 3.5 sacks and 36 tackles.
The Pats' line is a talented group, although they are a bit old on the left side. However, as a unit, their pass protection has eroded as 2011 has unfolded. Allowing only two sacks in the first four games, they've now given up 11 QB dumps in the past three weeks. That's not good for No. 12.
People joke about non-mobile quarterbacks being "statues." Have you seen Tom Brady on a good O-line day? The man literally stands there. His feet are motionless and his arm is only half-cocked and he…just…stands…there. I've never seen anything like it. He truly is the general on the hill, surveying the field and waiting for someone to get open. Then he zips it out there for another strike.
Followers of my website and any of my friends who will listen know that I have been a broken record for years: "The only way to beat the Patriots is to put Tom Brady on his butt."
The Giants are virtually the only team that has ever succeeded. I know that they are very good at their QB-eliminating craft, but I also think that they are the only team that has been consistently committed to this strategy. Say what you want about Tom Coughlin, he built a Super Bowl-winning team by re-building both lines. It took him a few years, but that is exactly how he did it.
So, what are the flaws in this philosophy?
1) The Patriots are playing at home and the O-line will be able to communicate pre-snap. Presumably, this means that all five of them can work together to figure out which Giants are coming from which direction. We'll see.
2) The Giants have given up almost 150 yards per game on the ground in the past month.
3) Kevin Faulk is back in the New England huddle. This guy has been Bryan Westbrook-lite for years and most fans probably think he is Marshall's cousin. His return speaks directly to point No. 2 above.
4) New York must succeed in getting to Brady with the line only, because the rest of the offense will kill them if Brady can get a ball off. Big Blue is weak in the middle defensively, and the linebackers and safeties are not good enough to shut down Welker or those TEs. Welker alone has 57 receptions for 824 yards and six touchdowns.
5) The Patriots' lack of a deep-threat offense works against New York. New England is designed for a quick-release, short-gain (over the middle) offensive attack.
6) Jason Pierre-Paul suffered a head injury on Thursday, did not practice Friday and is questionable. Without No. 90, operation "Terrorize Tom" will be in serious trouble.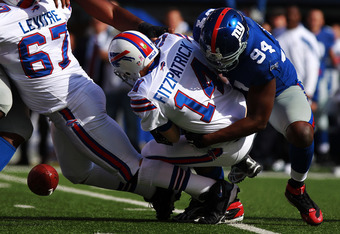 Nick Laham/Getty Images
What factors work against the Patriots' pass protectors?
1) They must not only keep Brady clean, they must also keep him un-harassed. Brady is not nearly as accurate outside of the pocket. Last weekend, Tom only hit the turf three times, but he was pressured anywhere from 10 to 20 times (depending upon what you consider a hurry). Result? Just 198 passing yards and a loss.
2) The same five offensive linemen have to stay in the game and defend a revolving door of pass rushers.
3) Nate Solder may be good—but he's a rookie. 
4) Not only do the New York Giants excel at QB annoyance, they also give up less than 200 yards passing every week. 
Bottom Line: New York needs four sacks to win. And they need at least 15 hurries. If Brady stands back there motionless even once in the first quarter, forget it. Brady's entire mindset and personal game plan must be re-routed into a dark and unhappy place.
As LB Kiwanuka points out:
"I don't care who you are, if you get hit in the face by a 300-something pound lineman, it's going to change your day."
That quote is from a Boston source, by the way.