MLB Offseason: Tim Lincecum and 10 Stars Who Could Sign Extensions This Winter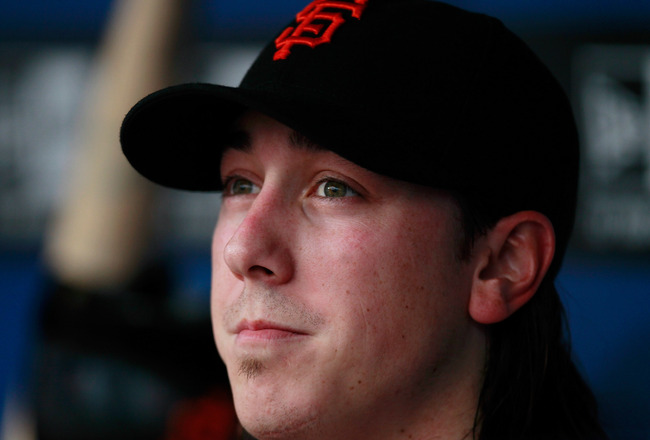 Kevin C. Cox/Getty Images
Tim Lincecum is going to get paid this winter. Whether or not the San Francisco Giants let arbitration determine Lincecum's 2012 salary, the two-time Cy Young winner will make almost $20 million next season. The only question is whether or not he can break even that lofty barrier.
Well, not the only question. One other looms large as the Giants and Lincecum prepare to attempt to return to the World Series after winning it in 2010: Will Lincecum sign a long-term extension, or will he be on his way to free agency by Opening Day?
The new vogue in baseball involves locking up superstar players before they reach free agency, avoiding the risk of losing that guy to some other club. Some players are amenable to long-term commitments, as long as they hit the jackpot in the process. Some, such as Lincecum thus far, resist the urge and embrace the risky but rich journey through arbitration on a year-to-year basis.
And Lincecum is not alone in this odd sort of secondary free-agent market. These players are not truly free; they are tied to their teams, at least through next year, and cannot auction themselves to the highest bidder. Yet, the mere specter of losing them is sufficient motivation for some teams to pull the trigger on mega-deals normally reserved for those free agents.
Here are 10 elite players who could make huge money that way this winter.
10. Starlin Castro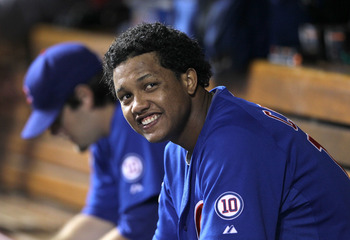 Andy Lyons/Getty Images
Why it's on the table
When Justin Upton signed a six-year extension with the Arizona Diamondbacks in March 2010, he set a precedent for star youngsters signing up long-term before they even reached arbitration eligibility.
Castro is perhaps the best parallel for the combination of achievement and upside Upton had when he inked his deal.
What it would take
Arizona gave Upton $51.25 million for six seasons. Upton was 22 at the time and had 1,157 plate appearances and 5.2 WAR to his name at the time, according to FanGraphs.
Castro will be 22 shortly before Opening Day. He has 1,221 plate appearances in the big leagues, and in that time, he has piled up 5.6 WAR, according to the same system. He is entering his final pre-arbitration season, as was Upton when he signed his deal.
Add two seasons' inflation and a Chicago uptick, and a good target would be seven years for $63 million.
Will it happen?
Theo Epstein and Jed Hoyer will not sign Castro this early unless they feel it gives them a substantial advantage, and that probably means going seven seasons (two of which would be free-agent years for Castro).
It's hard to see Castro deciding to make such a commitment.
Verdict: Not yet
9. Asdrubal Cabrera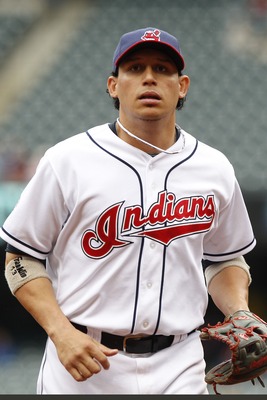 David Maxwell/Getty Images
Why it's on the table
Cabrera broke out in a huge way in his first season after reaching arbitration. He stands to see his $2.025-million, 2011 salary rise by some 150 percent this winter, and if the Indians can find a way to buy him out of the last two trips through arbitration, they will pounce.
Cabrera, meanwhile, has a chance to score a shortstop-sized payday for a few years, even as he inevitably slides to second base.
What it would take
The Indians drafted Cabrera's replacement, or at least the man who will displace him from shortstop, when they took Francisco Lindor in the first round of the draft this season. Lindor is a few long years of development from big-league readiness, though.
A four-year deal totaling $38 million would be palatable for both sides, keeping Cabrera's bat in the fold even as Lindor arrives, and paying him well for his final years of arbitration eligibility, plus a pair of free-agent years.
Will it happen?
The Indians have money to spend this winter. They see 2012 as their great chance to compete, with both Ubaldo Jimenez and Shin-Soo Choo figuring to bounce back and play central roles.
Cabrera's signing would be a good way to signal the team's seriousness about spending what's necessary to succeed over the next few years.
Verdict: Yes
8. Robinson Cano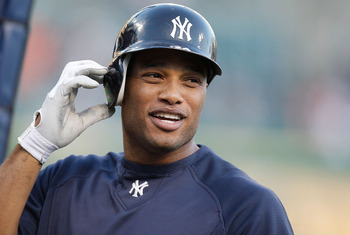 Gregory Shamus/Getty Images
Why it's on the table
Scott Boras was probably being facetious when he talked about lobbying Yankees GM Brian Cashman to drop the 2012 and 2013 club options on Cano. Those total $29 million, a thieving bargain.
The Yankees scooped those up, but to keep Cano around longer than that, they would love to do something long-term.
What it would take
Scott Boras is no lover of long-term extensions.
He presses his clients to reach free agency at every opportunity. It would take a free-agent deal to keep Cano without actually allowing him to hit the open market. Normally, Cano and Boras would not even have interest.
Cashman and company could bring them to the table, though, by dangling the possibility of voiding Cano's 2013 option and giving him a hefty raise a year early.
Once they get there, New York would need to push a seven-year deal with an average annual value north of $20 million across that table in order to strike a deal.
Will it happen?
Both sides have good reason to talk.
The Yankees can pay Cano more than anyone else, and Cano—who is not as young or quite as good as people think he is right now—would love to lock in for an extra $100 million without risking another two years.
Boras, though, is a gambler, and Cano is a pretty safe bet.
Verdict: Not happening
7. Alex Gordon
Ed Zurga/Getty Images
Why it's on the table
Two years into his arbitration-eligible tenure, Gordon is still two years from free agency. Still, he had such an excellent season in 2011 that the Royals are ready to celebrate by paying up to lock down their 2005 top pick.
What it would take
Gordon has little leverage here. He could take a strong platform season into arbitration, but the Royals are on the side of the angels there: Gordon's inconsistency will hurt him in that process.
The Royals will put something like a four-year, $37-million commitment with a club option in front of Gordon, and the 2011 Gold Glove winner might just accept.
Will it happen?
Kansas City needs to build on the excitement and optimism they (finally) generated in 2011. Overspending on a starting pitcher would be one way to do it, but signing Gordon would be a better one.
Verdict: Yes
6. Andrew McCutchen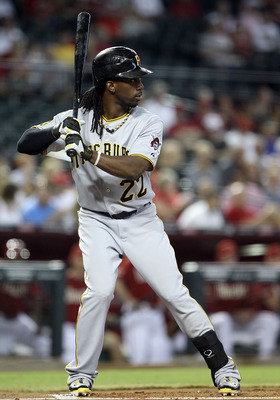 Christian Petersen/Getty Images
Why it's on the table
Few players have had this kind of success before reaching arbitration in the history of the free-agent era. McCutchen will not even be eligible this winter, so according to service time, he is in the same boat as Castro, the same as Justin Upton circa 2009-10.
But he's also different. McCutchen has played much more than either player, and much better, too.
What it would take
McCutchen would have to see more than Upton got in order to get really interested. He could easily demand a six-year commitment right in the range of the one Hanley Ramirez got from the Florida Marlins in 2009.
Ramirez got $70 million to surrender three arbitration-eligible years and three free-agent ones. McCutchen could feasibly get seven years and $78 million, giving him a small raise on this last pre-arb season and still buying out three years of free agency.
Will it happen?
The Pirates need to find traction and start moving meaningfully forward at some point, and until they have cost certainty for their lone superstar, it will be hard to do so. McCutchen, for his part, has a chance to become the face of a franchise, instead of a face in the crowd. GM Neal Huntington will pay up.
McCutchen will push him, but ultimately, take the cash.
Verdict: Yes
5. Cole Hamels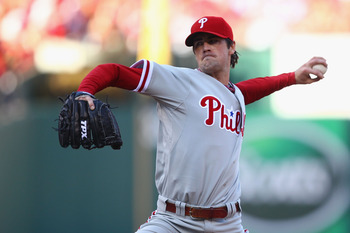 Dilip Vishwanat/Getty Images
Why it's on the table
Hamels, who was eligible as a Super Two player for arbitration after winning the World Series MVP in 2008, signed a three-year contract that winter that carried him to within a season of free agency.
He will now matriculate arbitration itself for the first (and last) time this winter, barring signing a longer-term pact. He's been elite in two of the last three years since signing that deal.
What it would take
Hamels has much better leverage than anyone else on the list thus far, simply because he is only one year from hitting a free-market jackpot. He can easily demand $15 million for 2012, which he would easily attain via arbitration.
Beyond that, the Phillies would likely need to commit five more years to Hamels at something close to Roy Halladay's (bargain) rate of $20 million per year.
In total, it's a nine-figure proposition for Ruben Amaro to sew up Hamels long-term, though he could give Hamels an extra year in exchange for some monetary relief and the ability to pay less through the luxury tax based on annual average value.
Will it happen?
The Phillies need to address their aging core of position players this winter, and it's fair to wonder how much they can afford to keep widening the wallet and scraping its bottom.
Hamels is a key cog, though, and it feels more likely that Amaro would let Roy Oswalt go rather than risk losing Hamels.
Verdict: Yes
4. Jacoby Ellsbury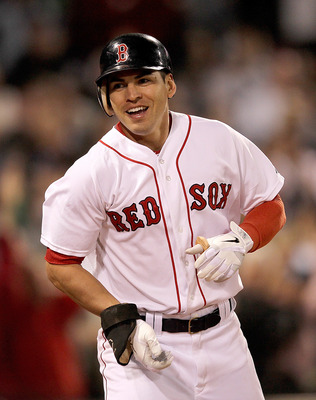 Jim Rogash/Getty Images
Why it's on the table
Being a reigning MVP is a position of great leverage from which to work for Ellsbury. He will probably win that award in the American League this season, and if so, it will be well-deserved.
He enters his second year of arbitration eligibility with the chance to make a ton of money by any avenue. Boston, meanwhile, wants to lock down its superstar center fielder.
What it would take
Ellsbury is two years from free agency, so for part of any deal, his salary is at least moderately controlled. He could make a solid $21 million in the standard course of events over that span.
The Red Sox would then try to buy out three more, wherein Ellsbury would figure to be an $18 million-per-year guy. Add those figures together, and you have a good starting point: The Red Sox should take a five-year, $75-million pact to the table.
Will it happen?
Well, Scott Boras is Ellsbury's agent, so the money is stacked pretty high on the "no" side of the table. The Red Sox might be able to get a deal done if they shorten the deal, but at a certain point, the organization would lose interest.
The Joey Votto deal is not a model most front offices like much.
Verdict: No
3. Clayton Kershaw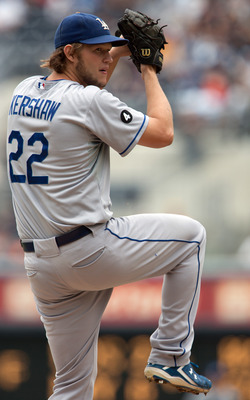 Kent Horner/Getty Images
Why it's on the table
It really shouldn't be. It's too early.
Kershaw is an elite pitcher, a true left-handed ace. Justin Verlander and Felix Hernandez signed huge extensions with their teams after the first year of arbitration salary. Yovani Gallardo, Ricky Romero and Jon Lester signed lesser deals at or before the start of their arbitration processes.
Kershaw is a hot topic as an extension candidate this winter, but realistically, he's a cut above those latter pitchers. He's a Hernandez/Verlander type. He should wait another winter to make his play.
What it would take
To sign now, Kershaw would have to get Verlander or Hernandez money, but with one more year, because he is that one more year from free agency. The numbers start to get very, very crooked. Hernandez got five years and $78 million. Verlander got $80 million.
For six seasons, Kershaw could easily command $90 million or more. The Dodgers would have to pay that huge sum, and would get the same amount of control beyond the free-agency barrier as did the Mariners and Tigers.
Will it happen?
How can it? If the timing of the deal is tenuous in a vacuum, it is utterly untenable in light of the Dodgers' ownership situation.
With Frank McCourt selling a team still technically in bankruptcy, adding a contract—it's just a liability to the actuaries, not least because it's going to a pitcher—in excess of $90 million would probably damage the value of the franchise and could even hold up the sale.
Verdict: No
2. Tim Lincecum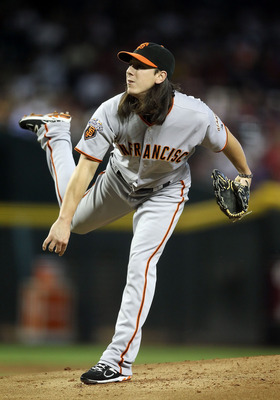 Christian Petersen/Getty Images
Why it's on the table
Lincecum's two-year deal, the one that covered his second Cy Young season and this still-solid 2011 campaign, is now up. He made $23 million in that process. He now has a chance to truly hit the jackpot.
The Giants need to get cost certainty here in order to know what they can spend to add offense, which they desperately need.
What it would take
Start throwing out numbers—you might not get high enough.
Besides being almost unprecedentedly successful in his first five big-league seasons, Lincecum is uniquely confident. He's a single, care-free person with little personal incentive to give away potential cash by letting Brian Sabean buy him out of anything.
The final two years of arbitration would net Lincecum a cool $35-40 million. Five more free-agent years will cost $22 million per year. It would cost the Giants $150 million to do the kind of deal they would like. Even a shorter, more Lincecum-friendly contract would be an $80-million investment.
Will it happen?
To objectively and intelligently decide on the available funds with which they can pursue Jose Reyes or some other form of help, Sabean would need to dive in and make Lincecum the offer he wants.
Sabean, though, is more of a patchwork builder.
He does not want to sacrifice his prized pitchers; he does not have the chops to attack the problem on a systematic, big-picture level. Sabean will let Lincecum string him along.
Verdict: No
1. Matt Kemp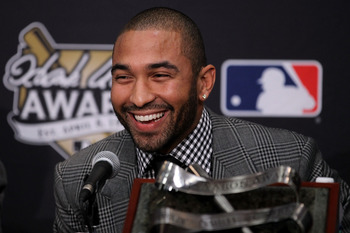 Ezra Shaw/Getty Images
Why it's on the table
Like Hamels, Kemp is a year from free agency. He is in line for a mega-deal no non-free agent has ever sniffed, save perhaps Joe Mauer. He should (and likely will) capitalize on an MVP-caliber season and extract from the Dodgers a completely obscene amount of money.
The McCourt caveats mentioned in dismissing a Kershaw deal apply, but GM Ned Colletti has already said a Kemp extension is a top priority.
What it would take
In his final year of arbitration eligibility, Kemp would normally get something like $18 million. After that, he would be in line for a very sturdy seven-year deal. He is only 27, and then just barely.
He is an up-the-middle guy. He has every tool, though some of them are mitigated by his swing-and-miss proclivity and his poor instincts.
He seems like an awfully good comp for Joe Mauer circa 2009-10, when the Twins gave their hometown hero and catcher an eight-year, $184-million deal. Kemp is not as good a defender, but otherwise, he's very comparable.
An eight-year deal at $1 million less per year, and with the first season at that $18 million number he would make this year anyway, would add up to $172 million.
Will it happen?
The Dodgers aren't players for a single non-incumbent impact free agent. A guy like Prince Fielder would only be a massive liability for the next owner to assume.
With Kemp already in the fold, though, and understanding he would get no raise in the short term, this deal is a bit more salable than Kershaw's.
Verdict: Yes
Keep Reading

Los Angeles Dodgers: Like this team?