New England Patriots: Can Defense Rest on Laurels of Red-Zone Defense?
November 6, 2011
Elsa/Getty Images
The doom and gloom of the Patriots defense tends to swallow all hope and devour any reason for optimism. It's easy to see why their red-zone defense has gotten lost in the shuffle.
The Patriots allow conversions on 51.72 percent of red zone possessions and rank 17th in the league—not bad, not great, but better than they rank in a majority of other areas on the defensive side of the ball.
And they'll need to continue to be at least "not bad, not great" if they want to hold serve at home for the 31st consecutive time with Tom Brady under center—a record that's as hard to say as it is to defend, with two home playoff losses in that span.
This week, even just making the red-zone stops will be easier said than done—on top of a lot of passing categories in which Eli is having a career year, the Giants are the league's fifth-most efficient red-zone scoring offense at a rate of 63.64 percent.
Overall, the Patriots have a middle-of-the-road red-zone defense by the numbers, allowing opponents to convert on 15 of their 29 trips inside the 20. A closer look at the numbers, however, is very revealing.
Here's a graphical look at the Patriots red-zone defense by week.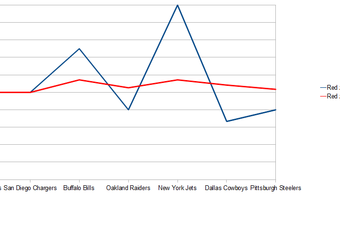 The Patriots defense has been bad in a lot of ways this season, but their red-zone defense has been at least a faint, mediocre glimmer of hope. 
Though the numbers may say otherwise, in context, it's obvious to see that the Patriots boast an above-average red-zone defense this season.
Only two points in the line are above their season average—against the Bills and the Jets.
As you'll remember, both teams were set up with scoring opportunities in the red zone due to turnovers and special teams plays. Two that immediately come to mind are the first of Brady's four interceptions against the Bills, and Joe McKnight's 88-yard kickoff return.
You can't put the defense at fault for being put in a terrible position to start with.
Going forward, red-zone defense is imperative to the success of the defense because right now, nothing else is working, and nothing else boosts confidence for a defense quite like getting a stop when they need it most—in the red zone, with their back up against the line.
For the most part, the Patriots defense has stood up to the challenge, and as long as the offense doesn't put them in unfavorable positions, they should continue to do so.
Erik Frenz is the co-host of the PatsPropaganda and Frenz podcast. Follow Erik on Twitter @ErikFrenz.