Philadelphia Eagles Football: Where Philly Still Exists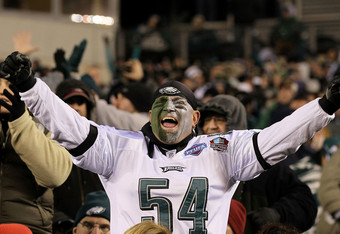 Jim McIsaac/Getty Images
If I ever go to war, I want to go with Philadelphia Eagles fans. In the past twenty years, Philadelphia has grown into their dream of being a world-class city. With a vibrant downtown, growing population and crime falling each year, the tough armor reputation is evaporating quicker than union cards. Unless, that is, you decide to go see the Eagles play on a Sunday night against the Dallas Cowboys.
I have never been to an Eastern Division game. The pressure and anxiety was palpable four hours before the game as people fired their grills and drank in large pockets of green. It was a tailgate without fun in direct contrast to college games, concerts or baseball games. The tailgate was not the reason the fans came this night, nor was it the camaraderie in their fellow fans. There was only one reason for the beer and food: energy to watch the Eagles beat Dallas.
This passion eliminated any of the good natured ridicule as fans walked by in Dallas jerseys. The mordant remarks cut through the air like daggers waiting for any response to pounce on them with violent gestures. This was territory marked with clear rules of battle and decorum.
The fans huddled together in drinking like people waiting outside for a wedding to start. There was an urgency to their drinking and a purpose for their presence that would not be undermined by sophomoric behavior. The crowd had come to watch the Eagles, and this was their time of week for Sunday service.
Rob Carr/Getty Images
As game time came close, the hordes appeared and walked in quiet reverence to the stadium, which appeared to float on the horizon. It was like walking into a ship's hull. The darkness had already fallen, and the only significant light brought the fans in mesmerizing trances. They wore their jerseys in the thousands and not because they loved this jersey, but it was the expected uniform.
Dallas fans were among those walking, causing only sounds of disgust and explicative.
The fans formed a huge mass waiting for security to check every part of their body and clothes. There the Dallas fans stood nervous. They were brave souls swimming in a pool of hatred. If they talked, they were told to shut up. If they turned around, they were asked what they were looking at.
The only other sound was the constant chanting of "Asshole, Asshole" that followed the blue and white in. You waited and did not talk. You were at the game.
The tension never stopped. The taunts never subsided. The Eagles won big, and yet the Eagles fans continued to want more and more. They were an ornery bunch who followed esoteric rules for sitting and standing and speaking. If an outsider violated them, they were told in unison to sit down and shut up.
Here in the stands were my uncles and grandfathers still existing in their caustic and bitter existence. Here in the stadium held the heart of that blue-collar town that had to fight for everything while risking the little they had. Here was the tradition of the city in the toughness that Philadelphia is famous for having. It is ugly and cruel and proud and ours. This was the Eagles game; this was our night; this was Philadelphia.
Years from now, my son will go to watch the Eagles play. It will still be my uncles and neighbors in the stadium. He will keep his eyes focused on the game and cheer only for a victory. I hope it will not mean what it did once for my uncles and the fans, or even for me. But I think it will.
Philadelphia might change, but there in South Philly, while the Eagles are playing, my family and history are preserved.
This article is
What is the duplicate article?
Why is this article offensive?
Where is this article plagiarized from?
Why is this article poorly edited?

Philadelphia Eagles: Like this team?