The Career of Michelle Wie
November 5, 2011
Stanley Chou/Getty Images
Tiger Woods wasn't the only kid swinging clubs at a young age for anyone who would watch for a better reason than, "it looks cute." At age 10, a young American girl with South Korean roots was doing the same thing becoming the youngest player to qualify for a USGA amateur championship and declaring to the world: "I'm Michelle Wie!"
This was no publicity stunt in the name of youth in sports or women's golf, as Michelle later became the youngest winner of the U.S. Women's Amateur Public Links.
She then made her 16th birthday so sweet when she turned pro with Nike and hype all joining the party. Twelve years, two major tour wins, some battles with the boys and a graduation from the prestigious Stanford University later, and it's hard to believe that despite all she's achieved, Michelle is still only 22. This young lady still has a bright, potential-filled future ahead of her.
The 2004 "Laureus World Newcomer of the Year" has now firmly planted her spiked golf shoes into this game of 18 holes. Despite great competition from fellow American Paula Creamer, great friend Christina Kim and a lot of talent in the name of Choi coming from her roots in South Korea, Wie still can be put with the best of the best, driving for success and respect as ladies golf is treated more seriously these days with the high praise it deserves.
This same praise should be offered towards Wie, who has been a pioneer in the popularity of this sport. Some may have criticized Michelle when she entered tournaments with men, but still, this young girl more than proved her worth and eligibility in brave efforts in what many ignorant people consider a man's game.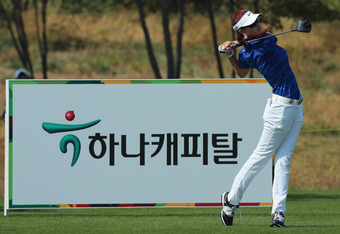 Stanley Chou/Getty Images
Golf does not stand for "Gentleman only ladies forbidden;" it stands for so much more these days. Wie may have brought criticism and what some see as a lack of respect, but she also brought more attention to the wonderful game of women's golf. Michelle Wie has brought change and belief to the sport, inspiring and influencing nations of young girls from America to Asia and beyond to put down the dolls and pick up a set of clubs.
She's received ringing endorsements from the men of the game too. Arnold Palmer said it best in 2003: "She's probably going to influence the golfing scene as much as Tiger, or more. She's going to attract people that even Tiger didn't attract, young people, both boys and girls, and families."
While legend Fred Couples admired the beauty and seriousness in the young woman's approach to the game stating: "When you see her hit a golf ball…there's nothing that prepares you for it. It's just the scariest thing you've ever seen."
"The Big Wiesy" has even been given high praise from her idol Ernie Els. "The Big Easy" said of young Michelle, "Give her another couple years to get stronger, she can play on the PGA Tour." What more can be said about a young woman who's competed with men and shown her worth?
These are the types of comments from iron and wood purists that say it all about Michelle Wie and what she deserves. Even with her critics, there's only going to be more talk and applause as this girl overcomes bunker lows and those trying to throw sand in her face to make it onto the greenest playing fields. Who knows, one day she may get her wish and beat Tiger in more than the overall popularity ranks.
Her Champions Gate home in Florida is so fitting, she resides with the best. She's done so much, from winning the Hawaii State Open Women's Division (an adult-sanctioned tournament) by 13 shots before her 13th birthday to making the cut for the US Women's Open by that birthday, being the youngest ever player to do so.
Sure like any player or young person, she's had her growing pains over the years, but she's really matured into a great golfer and young woman under immense pressure, critical doubt and a young star's public life which is hard to keep private. Through it all, she has remained a professional when most people her age still act like kids.
Throughout the years over the course of her career, she's broken more records and set more milestones whilst accepting more invitations than the most popular girl in school. She's made golf her education and graduated with honours.
Expect more from Nike's first lady of the links over the next few decades, however, as she will just do better and better. She may have already done the impossible at such a young age, but she's got the rest of her life to do everything she can with this sport. Now that's something you really can call a career.