WWE: IWC Criticism of Dwayne "The Rock" Johnson Is Hypocritical
November 9, 2011
Before I begin, I want to say I am not addressing the fans who never wanted Rock back in the first place.
I am also not addressing the people who believe that no legend should return and take the spotlight away from current wrestlers.
I am addressing these people who hate Rock because he came back and stole the spotlight. I am addressing these people who think Rock does not deserve to headline WrestleMania because of his alleged lack of commitment or people who actually work in the WWE deserve it.
This article is going to come off as an incoherent rant towards the IWC's undue hatred of the Rock. Don't expect any semblance of organization or logic in my article. Expect an impassioned rant from the heart.
Why the IWC Is Hypocritical for Bashing Rock
Recently, I have noticed the Internet Wrestling Community's apparent dislike of The Rock. The IWC says they don't like the Rock for these particular reasons.
"You said 'I am back and I am never leaving.' Where are you? How many times have you appeared?"
They bemoan his supposed inability to appear live, criticizing his "via satellite" promos. They run their mouth about how Rock is somehow wrong for actually cutting the promo in the first place.
It burns me up when I see stuff on Twitter saying, "Rock should show up or shut up" or "I want Cena to win because Rock just can't show up whenever he wants."
Idiots.
First and foremost, how do you know that Rock can appear on Raw when he wants? He doesn't work in the WWE. Vince McMahon may very well be ordering him to stay off TV until Survivor Series time.
Remember, Dwayne Johnson is an actor. He had to film for GI Joe from August to November. He was doing his job.
He could not have appeared on WWE TV until November because he was working. It would be like my inability to write Bleacher Report articles because of my schoolwork.
Rock has to be criticized for doing his job. Just like Cena is applauded for doing his, albeit not very well.
Remember your hero, CM Punk, was legitimately leaving before WWE gave him the lucrative contract he thought he deserved.
Punk sure as hell didn't come back for the fans. He came back for the money.
That's right. The money.
Not too many people actually have the guts to say CM Punk re-signed for the money. But this article is not about Punk. It's about Rock.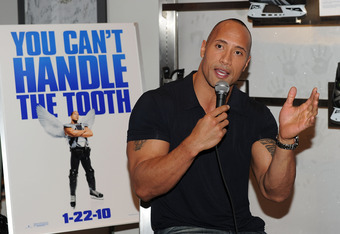 Stephen Lovekin/Getty Images
I guarantee you that people who criticize Rock for not being on WWE TV all summer will pay to see GI Joe in theaters.
Phonies. 
The same people who beg for Mick Foley or Chris Jericho to come back to WWE TV complain when a Raw is devoted to the Rock's birthday.
Of course these are the same people who don't understand economics.
If something that you do makes you money, you keep doing it. In other words, if Rock continues to be a huge draw, then he deserves the spotlight, because Vince McMahon wants to make money.
The IWC bemoans the fact that Rock chooses to cut his promos via satellite. First of all, talk to Vincent Kennedy McMahon about why he allows Rock to cut promos from his house.
Why wouldn't the Rock appear via satellite if he is allowed to?
Why in the blue hell does he have to interrupt his job (in this case filming for GI Joe) just to fly to Raw to cut a promo when he can just cut a promo via satellite?
What's wrong with that anyway?
(I will admit the Rocky Maivia Satellite nickname is hilarious. Give the Cenation credit for that.)
Of course, they run their mouth about how Rock hogs the spotlight when he is there in person.
Rock really can't win either way with these stupid fans.
NEWSFLASH: JOHN CENA HAS HOGGED THE SPOTLIGHT FOR SIX YEARS NOW!!!
Yet the IWC compliments John Cena for his alleged hard work. I respect him for his charity work and his contributions to the wrestling business.
With that said, had Cena's acting career been as successful as Rock's career, then he would be in Hollywood, not in the WWE.
That two-faced piece of monkey crap has managed to con the fans into thinking that he busts his butt in the WWE for the fans.
Wrong. John Cena is in the WWE for the money.
Shifting gears here, why won't they want to see Rock vs. Cena, a dream match in the making? WrestleMania 28 has had record ticket sales so far due to the magnitude of Rock vs. Cena.
Honestly, a theoretical Punk vs. Jericho match will be better in the ring. However, the truth is Punk vs. Jericho would be a Raw main event at best a couple of years ago.
Rock vs. Cena is a once-in-a-generation battle of megastars. At no point (maybe except back in 2002 or 2003) would this match ever be on free TV.
Punk vs. Austin would also be an epic match between two different lifestyles.
However, Austin is far more unlikely to wrestle than most people think.
Besides, Austin is 46. His last match was in 2003. He may not even be cleared to wrestle since he has the same neck condition Edge has.
Besides, the Punk-Austin match would not be a five-star match. Austin has a bad neck and bad knees.
Don't get me wrong, I'd love to see Punk-Austin just for the mic wars alone. But Rock-Cena would be a much bigger draw.
Punk just isn't as famous as Rock or Cena right now. He'll eventually get to megastar status. 
Deal with it.
I understand why Punk-Austin would be a better overall feud than Rock-Cena. But to say Rock doesn't deserve the WrestleMania main event is insane.
He was the main reason why WrestleMania 27 amassed over a million buys. He was the main reason why ratings shot up during the run to WrestleMania.
Remember WrestleMania 27 was a show with Miz vs. John Cena as the main event, a match seen on Raw several times before and after WrestleMania.
Did anyone in the WWF complain when Mr. T headlined WrestleMania over other deserving wrestlers?
Wait a minute, where is Stone Cold Steve Austin? He disappeared since the end of Tough Enough. Why isn't anyone criticizing him for disappearing?
Better yet, why does nobody have a problem with Austin headlining WrestleMania against Punk?
We finally get the dream match we wanted. Yet you morons keep whining. "Oh my God! Punk isn't in the main event at WrestleMania? Bump Rock off."
SHUT UP!!!
John Cena vs. CM Punk has been seen a million times already. The only match that might be better than Cena vs. Rock is Brock Lesnar vs. Undertaker.
Now I want to address the allegations that the Rock somehow became stale.
You people should be aware that Rock's trademark mannerisms made him famous. Why would he abandon his trademark poses—like the eyebrow—just to placate fans who don't like him anyway?
That's right. He shouldn't.
Is Rock stale? Perhaps. But he's still the most electrifying man in entertainment.
Hasn't John Cena been stale for the last five years now?
Stone Cold Steve Austin's act was stale 10 years ago. But he's still extremely popular.
What? What? What?
Going off topic for a bit, where has Chris Jericho been the past year? Wasn't there rampant speculation that he would be back by now? He keeps running his mouth about how CM Punk and other wrestlers blatantly rip him off. Should Jericho show up or shut up?
Whoops. I forgot. Jericho is beyond criticism in the Internet Wrestling Community.
Not to mention that Undertaker has seemingly disappeared for several months at a time for the past few years. Yet no one complains when Taker takes the spotlight from the younger wrestlers.
You people need to stop making double standards when it comes to legends making returns.
The same people who want Mick Foley and Steve Austin to headline WrestleMania—although they should be long-retired by now—want Rock to give up his spot.
Hypocrites.
Conclusion
The Internet Wrestling Community is hypocritical because they do not want Rock to headline WrestleMania. This is while clamoring for other legends such as Mick Foley or Steve Austin to come back and headline that same event.
Most wrestling fans lack intelligence. I understand that. I have my dumb moments occasionally.
Here's the deal. Rock did NOT have to come back to the WWE.
Hollywood pays far more than Vince, although Vince is likely paying eight figures to get Rock to wrestle. He does not need to promote a movie. In reality, he doesn't need WWE for anything.
Why did Rock come back then? Simple: He did it for his fans.
What's wrong with that?
When Rock said he was "coming back and never leaving again," he didn't mean he'd quit acting to wrestle full time. Rock would be insane to give up acting for wrestling full time. Rock didn't mean that he would appear on every single wrestling show.
What he meant by "never leaving again" is he will never forget his WWE roots. The Rock will never die to Dwayne Johnson.
Remember, Dwayne Johnson made a conscious effort to distance himself from the Rock at one point. His return was a big step in reintroducing himself to the modern-day WWE. Remember, not everyone watched or remembered the Attitude Era.
Sadly, the IWC will continue to put down Rock. They obviously don't understand basic economics or what the "90 percenters" want.
Eric Bischoff was so true in his analysis of the IWC. The "10 percenters" don't want what the "90 percenters" want. These same "10 percenters" will watch wrestling no matter what. It is precisely these "90 percenters" the WWE must target.
I apologize for putting down my fellow Internet Wrestling Community members. Not because of my article, but because I suggested Eric Bischoff was right in anything.
Here is my last thing I recommend you do when you cry when your hero, CM Punk, is overshadowed by "Dwayne" at next year's WrestleMania.
Know your role and shut your mouth!
Follow me on twitter.
Thanks for reading!