Have the San Diego Chargers Diminished Their Talent Pool Since 2006?
November 5, 2011
Lisa Blumenfeld/Getty Images
Ryan Matthews has proven he is no L.T.
This is not news, much the same as Philip Rivers has proven he is not Tom Brady. The NFL's most talented team of five seasons ago has been filled with stand-ins, look-a-likes and injury plagues.
The most glaring position of change is the running backs for San Diego. LaDainian Tomlinson was the most stellar running back in the NFL, setting a single season touchdown record at 31 total and 28 rushing.
Since L.T. set the record, only Randy Moss (23) and DeAngelo Williams (20) have had 20 touchdowns in a season.
Backup running back Michael Turner signed with the Falcons in 2008 and has posted double digit touchdowns in his first three seasons with Atlanta. In 2005, Turner raced 83 yards for a touchdown to clinch a victory for the Chargers against the undefeated 13-0 Colts.
Third down back Darren Sproles has signed with the New Orleans Saints in July and has flourished this season.
Having nearly as many touches in the first half of 2011 as he had in all of 2010, Sproles already has five touchdowns and is on pace to easily surpass his best season for yards from scrimmage.
Fullback Lorenzo Neal played in back-to-back Pro Bowls in 2006 and 2007, but was released after 2007 at 37. Neal was the lead blocker for 11 straight 1,000 yard rushers.
In 2011, Jacob Hester is the fullback. Hester has not been the starting fullback for a 1,000 yard rusher since LT in 2008. Although, Mike Tolbert started more games at fullback than Hester did that season.
Peter Aiken/Getty Images
Ryan Matthews was drafted to be the heir apparent to L.T. The best part for Matthews is he doesn't have to be L.T.
Matthews is not a player that put the team on his back while the Chargers were building. His biggest question mark upon being drafted was his health.
L.T. didn't miss a regular season game with an injury until his ninth season. Matthews missed four games last season as well as missing time in a few games this year due to a nagging ankle.
According to footballoutsiders.com, Ryan Matthews ranks No. 8 in the NFL according to their innovative stat DYAR (Defense-adjusted Yards Above Replacement).
When healthy, Matthews has been good at running the ball aside from his two costly fumbles. However, Matthews will likely miss  Sunday's game, and he has only carried the ball 13 times in the last two games due to injuries.
Matthews is also a liability in pass protection. L.T. was, and even is still, a very good pass protector, which allowed him to be on the field every down.
Mike Tolbert is hardly a starter on any other team in the NFL. The former Coastal Carolina undrafted running back is a very good story for being a long shot to make the NFL. He's also a reflection of A.J. Smith's inadequacies to keep the team's talent level up.
Tolbert has best served as a receiver out of the backfield. His carrying the ball has been so-so. Tolbert never looked worse than he did playing the Patriots. Being stopped on a fourth-and-goal at the one yard line, Tolbert simply ran into his own blocker.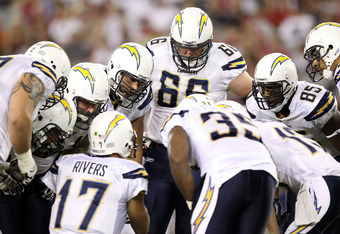 Christian Petersen/Getty Images
Good running backs would have scored easily. In the fourth quarter, the Chargers were trailing by six points. Tolbert appeared to think he was Barry Sanders and attempted to reverse field and run the other way. After losing what would have been five yards, Tolbert was stripped of the ball and the Patriots recovered.
Wide receivers appeared much improved in 2011. There was 36-year-old Keenan McCardell, Eric Parker and a young Vince Jackson starting in 2006. In 2011, an older Vincent Jackson has shaken the "Stone-Hands Jackson" nickname.
Malcom Floyd is an excellent complement as the other receiver. Gates remains one of the best tight ends.  Five years prior, Gates was young, smooth, fast and his toe nails were clipped. If ever healthy, the 2011 Chargers would have one of the top receiving corps in the NFL, but they're not.
On the defense in 2006, Shaun Phillips had 11.5 sacks and Shawne Merriman had 17. Inside linebackers were 33-year-old Donnie Edwards and 27-year-old Stephen Cooper.
In 2011, there is 35-year-old Takeo Spikes. He's accompanied by 23-year-old Donald Butler, marking his first season in the NFL as a starter after spending 2010 as inactive.
Phillips is now 30 and feeling the injury bug. 2009 first round draft pick, Larry English, will not play another down this season due to injury. English was drafted to replace a 'roided, broken down Merriman, but has gathered only seven sacks in his three injury-plagued seasons.
Sure, hindsight is 20/20, but what if the Chargers drafted All-American Clay Matthews instead of All-MAC English? Matthews has posted double digit sacks in each of his first two seasons. Do the Packers still win the Super Bowl last year without Matthews?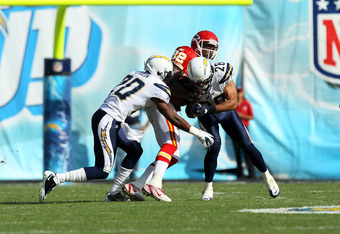 Stephen Dunn/Getty Images
What if the Chargers drafted All-American and inspiration of "The Blind Side," offensive tackle Michael Oher? Would Philip Rivers be a better quarterback if he had more time to throw the ball?
Marcus McNeill has been very solid, despite getting called for six penalties in a Halloween night loss the Chiefs. Holding costs an offense 10 yards and a repeat of the down. Clary's failure to stop Tamba Hali from stripping the ball from Rivers in OT cost the Chargers 10 yards and a down.
It's easy to speculate on the Chargers not having Larry English. Since being drafted in '09 the Chargers have not had or seen much of him.
In the secondary, Antoine Cason gave up three touchdowns near the goal line against Plaxico Burress. Marcus Gilchrist allowed Jon Baldwin to catch his first touchdown of his career on a 39-yard strike early last Monday night.
In OT, Gilchrist allowed Steve Breaston a 17-yard catch on third-and-14. Quentin Jammer is now 32 and may be playing his last season as a cornerback after battling through hamstring problems this season. He's missed significant time on the field the last few games.
How would the San Diego secondary look if the Chargers drafted Virginia Tech's Brandon Flowers instead of Arizona's Antoine Cason? Flowers was taken just eight picks later. Flowers was an All-American his sophomore and junior year at Va. Tech.
Flowers already has four interceptions on the season and on Monday night had four pass breakups against the Chargers. Flowers has started 50 games for the Chiefs, meanwhile Cason has started only 25 and has already been benched as a starter.
In 2006, Jammer was 27. Drayton Florence was 26 and a starter for the Buffalo Bills in 2011. Antonio Cromartie was among the fastest players in the NFL at age 22 and he currently starts for the New York Jets.
In 2007, Cromartie scored on a 109-yard return on a missed field goal attempt against the Minnesota Vikings.
To say the Chargers have declined at cornerback is an understatement. At safety, on the other hand, Eric Weddle is a very bright spot compared to Marlon McCree.
Leading by eight in the fourth quarter, McCree infamously intercepted a fourth down pass from Tom Brady in the 2007 playoffs. Patriots' Troy Brown would strip the ball on McCree's return and the Pats would eventually win by three points.
Steve Gregory is not good. Neither was Clinton Hart or Terrence Kiel, or any Charger strong safety since the release of Rodney Harrison in 2002. Look for a 33-year-old Jammer to play strong safety in 2012.
The Chargers have very little chance against the Packers this Sunday. The Chargers have no pass rush and they cover as well as Kim Kardashian's thong covers her backside.
San Diego's best chance is if Aaron Rodgers stays too late at his own bar in Pacific Beach all night. This once talented team has groaned to become the most banged up team week in and week out.