Grady Sizemore Free Agent News: 5 Reasons He's a Horrible Fit for Boston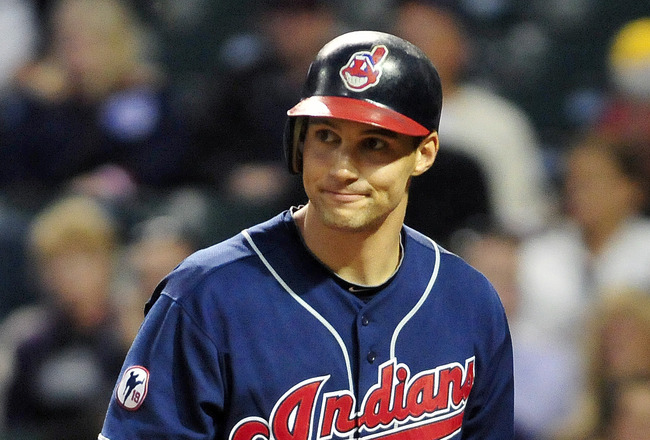 Jason Miller/Getty Images
Bob Hohler of the Boston Globe said it best when he stated, "How a team that was on pace in late August to win 100 games and contend for its third World Series title in seven years self-destructed is a story of disunity, disloyalty, and dysfunction like few others in franchise history."
With the Boston Red Sox coming off of perhaps the worst collapse in recent baseball history, there is no doubt that new general manager Ben Cherington is ready to make some changes in order to return his beloved franchise to a form that brought them the World Series championship in 2007.
While there is no questioning the Red Sox fans' love for their home team, many of those fans will be looking for some big changes to be made before the 2012 season.
It has been rumored that Grady Sizemore may have attracted the Red Sox' brass and that they may have an interest at playing him at a corner outfield position.
This would be an incredibly bad idea.
Here are five reasons why the Red Sox should turn and run away from Grady Sizemore.
5. Reddick and Kalish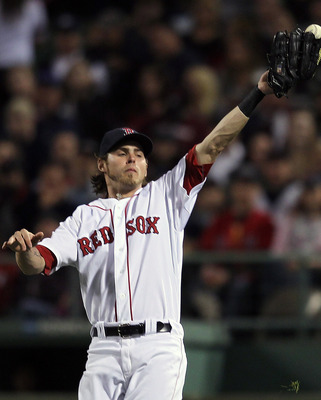 Jim Rogash/Getty Images
One of the more pressing needs for the Red Sox is to solve the problem in right field. With Carl Crawford in left, who undoubtedly will improve upon his numbers from 2011, and Jacoby Ellsbury in center, the Red Sox feel as if they need to find an answer for the other corner outfield position.
But, is this really necessary?
Josh Reddick had a breakout season during 2011. He hit .280 with a .320 OBP in 87 games; he struck out once for every 5.08 at bats. One necessary improvement needed for Reddick to realistically contend for this spot would be his fielding ability. Reddick's worst fielding percentage of the 2011 season came in the worst possible spot for his chances—right field. However, based upon his improvement at the plate, there is no reason to assume he cannot improve his defense as well.
While these are not eye-popping stats, they could very well be a sign of more good things to come out of this 24-year-old with a very high ceiling.
Ryan Kalish is another young player with a great deal of promise. He was given an opportunity to play with Boston during the 2010 season and did rather well, and he has shown flashes of brilliance throughout his time in the minor leagues.
Kalish has all of the tools that any club is looking for in a utility outfielder. He plays all outfield positions, has good speed, swings a bat well, and most importantly, plays the game the best way possible each and every night. His love and commitment to the game make him an asset to the Boston franchise.
Even though it is clear that Boston will search for another outfielder in free agency, there is no reason to bring in Grady Sizemore, when there are players already within the franchise who can provide results just as good or better than what Sizemore can currently bring.
4. Declining Numbers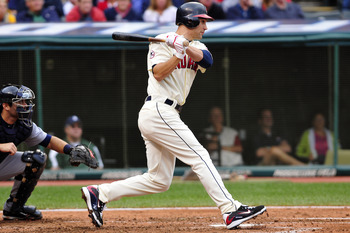 Jason Miller/Getty Images
While it is hard to ignore the impressive numbers from his past, it is safe to assume that his best days may well be behind him.
Over the past three seasons, Sizemore has a .228 AVG, 17 stolen bases (38 in 2008), .300 OBP, 109 RBI, 28 home runs and 212 strike outs.
Not only have his batting numbers decreased, but his fielding ability has declined as well. His past two seasons have resulted in the worst fielding percentage he has had in his career. Even though his fielding numbers have not declined as dramatically as his numbers at the plate, it could very well be a sign of more decline coming in his future.
With better options available in free agency and younger, more impressive players already in the organization, there is no reason for the Red Sox to even consider Sizemore as an option.
3. Better Options Available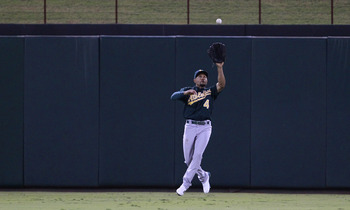 Rick Yeatts/Getty Images
While Grady Sizemore has put together some impressive seasons throughout his eight year career, there are other more attractive options on the market.
Names like Coco Crisp, Josh Willingham, Jason Kubel and David DeJesus have put together more impressive recent seasons and could truly provide a spark to a Boston Red Sox team desperate for some fire.
In 2011, Sizemore played in 71 games and hit .224 with a .285 OBP. He also struck out 85 times. This is one strikeout for every 3.15 at bats.
Other free agent outfielders are posting better overall numbers and should be looked at well before taking a giant risk on an aging, often injured player.
Crisp: 136 games- .264 AVG, .314 OBP
Willingham: 136 games- .246 AVG, .332 OBP
Kubel: 99 games - .273 AVG, .332 OBP
DeJesus: 131 games - .240 AVG, .323 OBP (career .284 AVG)
There are names on this list that could definitely be attracted to Boston, and each of these players would not require a great deal of money or a long-term contract.
At one point, Sizemore was a player to build a team around; he has provided some incredible seasons in his past, but now he has become a huge question mark. These free agents are much less of a risk and may provide more reward in the long run.
2. Injury Prone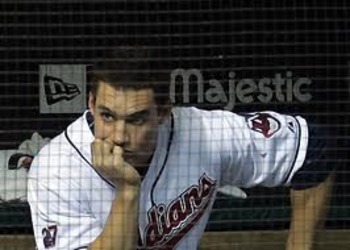 sports.yahoo.com
Many fans often tag any professional athlete as "injury prone" after they have injured the same part of their body once or twice.
Sizemore goes above and beyond this basic label. Here is a year by year rundown of the former Indians outfielder:
2008- sprained ankle
2009- left groin injury (spring training), left elbow surgery
2010- micro-fracture surgery on left knee
2011- May: right knee contusion; July: injures right knee again; August: sports hernia
While he gave the Indians and their fans some memorable plays and incredible memories, it is hard to argue his medical history. Some believe that Sizemore possesses the ability to return his former self; however, there is absolutely no reason for Boston to take this risk.
Any team who picks up Sizemore better have an incredible insurance policy.
1.Take No Chances in 2012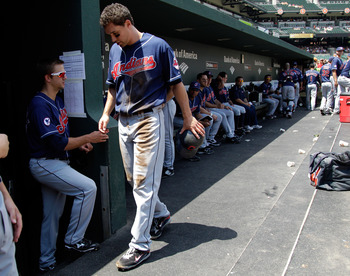 Rob Carr/Getty Images
After all of the dust and debris of the winter meetings and free agency has settled, one thing remains absolutely clear: The Boston Red Sox cannot afford to take any chances during the 2012 season.
With all of the issues that were recently surrounding the team, including the clubhouse incident with fried chicken and beer and ex-skipper Francona being accused of taking excessive pain killers due to lingering effects of various knee surgeries, the Red Sox need to have something go their way.
The infamous September collapse could be something that helps right the ship of the Boston Red Sox. Because of this, the Sox have no room to fail. They cannot afford to make any mistakes or get anything wrong this time around.
Grady Sizemore is a player that has put together some great major league seasons; however, his best years are behind him. The Red Sox should not allow the name of the back of his jersey to blind them to his recent history.
Sizemore is one large question mark, and he is definitely not the answer to the Red Sox' question in right field.
Keep Reading

Boston Red Sox: Like this team?