Mitch McGary: All Duke Big Men Do Is Set Screens and Rebound
November 4, 2011
Mitch McGary, the top forward in the 2012 recruiting class, revealed his college choice as Michigan yesterday.
According to ESPN, McGary chose Michigan over Duke and Florida because it is less established than either of these perennial contenders.
McGary, who seems as media savvy as a young LeBron James, felt that he could be a part of the reason the Wolverines return to prominence (he will probably need more than a year to do that), plus he has already formed a relationship with most of the current players.
However, what's worrying for Duke is a comment he made in his blog, published the day before announcing the decision, highlighting the pros and cons of attending the three college choices:
The con for Duke would be the perception that all their big men do is set screens and rebound and that they don't get a lot of touches.
Is this an unfair assumption? Maybe not. Perhaps Duke has not had the type of big man that deserves a lot of touches since Shelden Williams graduated in 2006.
McGary went on to say the Duke coaches had shown him how they would include him in the offense a lot, but the damage is already done. You have to wonder if young forwards and centers are avoiding Duke because they feel they will only be expected to rebound and set screens.
That can be a favorable assumption of Lance Thomas and Brian Zoubek, who rebounded the ball at a high rate while leading Duke to a championship. Though Zoubek did take a more active role in the offense the latter part of his senior season.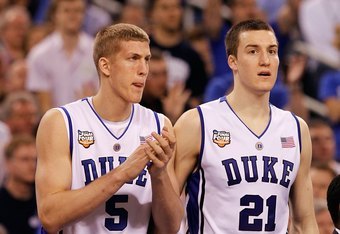 Jonathan Daniel/Getty Images
Before them was Josh McRoberts, a forward in the mold of McGary (not just for the last names). McRoberts was also 6'10" and the top forward in his class. McRoberts spent two years at Duke.
After a freshman year spent in the shadow of Williams and J.J. Redick, the next season he was meant to be the star. That 2006-2007 season saw McRoberts post numbers of 13 points, 8 rebounds, 3.5 assists and 2.5 blocks per game.
McRoberts came from a generation of power forwards that preferred to take jump shots rather than post up. Hence, if he did not have an open shot or easy dunk he seemed more interested in passing the ball, which resulted in the high assist rate.
Then he turned professional after that season.
Before McRoberts, Shelden Williams was the first player in the Mike Krzyzewski era to average a double-double in a season, a feat he repeated in his senior year.
Shavlik Randolph came to Duke with Williams and was an effective post up player (remember him going 6-for-6 in that 2004 Final Four showdown with UConn and Emeka Okafor?), but he was a liability on defense.
Yesterday I highlighted the development of Olek Czyz, a power forward who transferred from Duke and is expected to contribute heavily at Nevada for this season. Nevada's coach had simply said that Czyz had visibly grown as a player while at Duke.
I then made a rational assumption that Duke coach Steve "Wojo" Wojciechowski, in his role as big man coach, should be credited for this. Many have thought that Wojo doesn't make a great big man coach because he was a guard.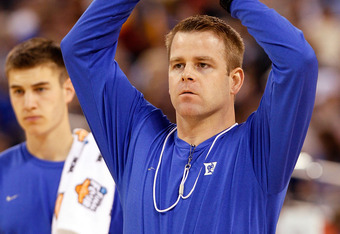 Kevin C. Cox/Getty Images
That's like saying a Mike Krzyzewski would not be a basketball coach because he wasn't a great basketball player.
With that logic, Michael Jordan should be the best coach in the world right now. You can't give the man carrots and expect a pumpkin pie. One simple coach cannot turn 6'10" jump shooters into bangers. It is a state of mind that cannot be acquired overnight.
There is hope for Duke in the form of a pair of Plumlee brothers, Miles and Mason. Mike Krzyzewski has gone on record to say they are the strength of the current team and there seems to be more shots available to them.
If they can have a great season scoring wise, that should go a long way of eradicating the stereotypical Duke forward that only sets screens and rebounds.
Duke still has one more recruit to hear from in Tony Parker.