NFL: A Mid-Season All-Pro Roster Full of Surprises
November 4, 2011
Nick Laham/Getty Images
With everything shaping up and playoff picture starting to become clear, it's about time to predict the All-Pro roster.  So, without further ado, here's my list:
Offense
Quarter Back: Aaron Rodgers.  Who else could it be?  Leading his team to an undefeated record, leading the league in touchdowns, quarterback rating and ESPN's new total QBR.  He's also only thrown three picks, good for second fewest among starting quarterbacks.  This was a no-brainer.
Running Back: Adrian Peterson.  Another no-brainer.  The best running back of the generation is leading the league in yards, touchdowns, carries and is averaging 4.8 yards per carry.  Need I say more?
Running Back: Matt Forte.  He may not have the 700 rushing yards that a few other backs have, but he's leading the entire NFL in yards from scrimmage and is literally half of the Chicago Bears offense.
Wide Receiver: Steve Smith (CAR).  He leads the league in yards by almost 100, leads all receivers with at least 20 catches in yards per catch and leads the league in yards per game.  He's on pace for 1800 yards.
Wide Receiver: Calvin Johnson.  It was tough to justify not putting Welker here, but he's only 20 yards behind Welker and has 5 more touchdowns, has a lot more pressure on him and comes down with catches in triple coverage.
Tight End: Jimmy Graham.  Leading all tight ends in yards and second in touchdowns.  Not much argument here.
Tackles: D'Brickashaw Ferguson, Joe Thomas
Guards: Jahri Evans, Logan Mankins
Center: Nick Mangold.  This is the first offensive line I'm explaining, but look at the difference in the Jets' line with him on and off the field, it's like a college line compared to a top 5 NFL offensive line.
Defense
Defensive End: Jared Allen.  12.5 sacks in 8 games, he's on pace for 23 sacks.  That's just unbelievable and he's an easy pick.
Defensive End: Jason Pierre-Paul.  He's 5th in sacks and leads all defensive ends in tackles, a clear impact player and physical freak.
Defensive Tackle: Haloti Ngata.  A physical freak of nature and arguably the best defensive lineman in the NFL.
Defensive Tackle: Ndamukong Suh.  His season hasn't lived up to last year's incredible season, however; he will pick it up.  Now that refs have been made aware of his playing within the rules look for him to not get penalized as much and increase his numbers.
Outside Linebacker: DeMarcus Ware.  No one can argue this pick, 12 sacks, and two forced fumbles.  Enough said.
Outside Linebacker: LaMarr Woodley.  Nine sacks and a pick, and arguably the best player on theSteelers' defense.  A defense that contains Troy Polamalu, James Farrior and James Harrison.
Inside Linebacker: Pat Angerer.  90 tackles half way through the season is just absurd.  He's on pace for 180 tackles and that alone is enough to merit All-Pro status.
Inside Linebacker: Patrick Willis.  He's quietly having a very solid season and his reputation will get him in.  He's putting up good numbers while facing double teams every play and is still the best inside linebacker in the league.
Corner Back: Darrelle Revis.  He's second in the league in picks, third in passes defensed and is the best shutdown corner since Neon Deion.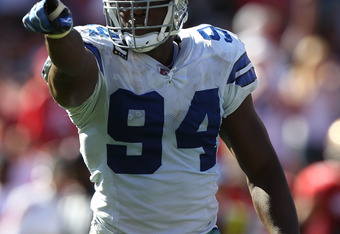 Jed Jacobsohn/Getty Images
Cornerback: Charles Woodson.  Leading the league in picks, but might be the most versatile corner in the league.  He lines up at safety, in the slot and even rushes the passer.
Safety: George Wilson.  As many picks as some guy named Darrelle Revis and third in the league in tackles.  He is a true impact player having a remarkable season.
Safety: Eric Weddle.  Leading the league in interceptions and is clearly the leader of the Chargers' secondary.  He will be a great safety in this league for years to come.
Special Teams
Kicker:  Sebastian Janikowski.  100% on field goals for the year AND he hit a 63 yarder.  
Punter: Shane Lechler.  Averaging a ridiculous 52 yards per punt.  He's finally on a good team and he's helping out the defense by pinning the other offense deep in their own territory.
Returner: Devin Hester.  Best return man of all time.