Carolina Hurricanes Team Report: Grading Their First Month of the '11-'12 Season
November 4, 2011
Jim McIsaac/Getty Images
The Carolina Hurricanes have taken the rough road through the first month of the season.
Despite wins in two of their last three games—against Chicago and Tampa Bay, no less—they've struggled to find the consistency needed to rise above their everlasting home: the playoff bubble.
Captain Eric Staal's struggles have translated into a month of instability up front, as many a line combination have been broken up just moments after their creation. Back on defense, an imbalance between the under and over-achievers has made teamwork difficult, and even new backup goalie Brian Boucher's problems have cost the squad dearly.
So, without further ado, let's get to grading how the first month of the season has gone unit by unit, and what the 'Canes can do better in November to fix these issues.
Offense: B+
Considering that the Hurricanes remain 12th in the NHL in goals-per-game even without much of a contribution from Eric Staal's end shines the Carolina offense in a fairly good light.
But Staal's troubles sure have been...well, troublesome.
The 27-year-old star center has just five points in 12 games to date, and has yet to score a goal during even-strength hockey. Further worsening those abysmal statistics are his ongoing three-game streak without a point and six-game streak without a goal.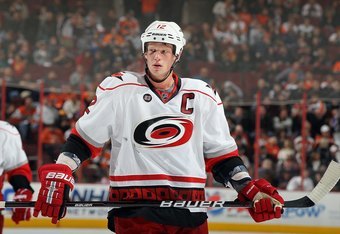 Jim McIsaac/Getty Images
Even more depressing is the fact that Staal's horrid minus-12 rating currently ranks near the worst in the NHL. Furthermore, seven of those 12 minuses have come from just two games—a minus-three rating against Buffalo on Oct. 12 and a minus-four rating against Philadelphia last Saturday.
Given that Staal is a former second overall pick, 100-point scorer and Stanley Cup Champion, this kind of play is simply unacceptable. Troubles with chemistry among his ever-changing linemates has been a bit of a hindrance, but Staal's slump is severely hurting the Hurricanes' otherwise strong-scoring attack.
On a brighter note, teenage phenom Jeff Skinner has picked up exactly where he left off last season. The 19-year-old has six goals, including two on the powerplay and two game-winners, and six assists to lead the team with 12 points. Throw in this beautiful goal to the résumé, and there's obviously nothing hurting Skinner's play.
Last-second re-signing Jussi Jokinen has also had a fair go of it in '11-'12. His nine points (three strikes, six helpers) rank second on the club, and he's also posted an impressive plus-four rating despite being a part of the team's eternal smoothie of a depth chart.
Chad LaRose, criticized early on for his unjustified placement on the first line, has responded nicely to the additional playing time with three scores and five assists. His two-goal effort on Tuesday against Tampa Bay boosted those numbers significantly, but he deserved every bit of it with the work ethic he demonstrated throughout all 60 minutes.
As we noted late last month, the solidified third line of top defensive forward Brandon Sutter centering Jiri Tlusty and Patrick Dwyer has been arguably the best trio of all in Raleigh. The three forwards have combined for 13 points and a plus-six rating already; Tlusty (six points) has already halved his entire total from last year while Sutter's simple shoot-and-score breakaway skills have amounted to all three of his goals to date.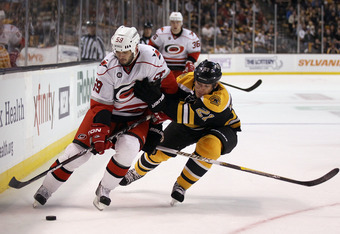 Elsa/Getty Images
Defense: C-
The Hurricanes' defense, which ranked last in the NHL in shots against last season, has returned to their old ways. Their 32.4 average shots allowed per contest fits in at 26th, and has become a major road bump in Carolina's fight to eliminate the rebound goals that killed them so often in October.
Chemistry is a crucial connection that defensive partners need to have, but the hot-vs.-cold comparison between Carolina's good and bad 'D'-men has broken a lot of that chemistry.
Both in-residence defensive defensemen—Tim Gleason and Bryan Allen—have performed spectacularly. The duo has accumulated a plus-nine rating together and both rank among the top three 'Canes defensemen in hits (first and second), blocked shots (first and third) and takeaways (first and second). Plus, although neither one has found the back of the net yet, they have combined for seven assists in four weeks.
Up on the blue line, Joni Pitkanen, perhaps the most offensively-inclined defensemen in the NHL, has actually managed to stay relatively reliable and productive, for once. Pitkanen, still just 28, leads all team blueliners with seven points, five of which are assists, and seems to have turned his decision-making skills a full 180 degrees from where they've been in the past.
On the other hand, new arrival Tomas Kaberle has collapsed yet again in an unfamiliar environment, as his inconsistency has become painful to watch. Many of his attempted passes are utterly stupid ideas, and, while his shooting in the offensive zone has been somewhat decent, Kaberle's well-documented problems in his own zone are quite costly.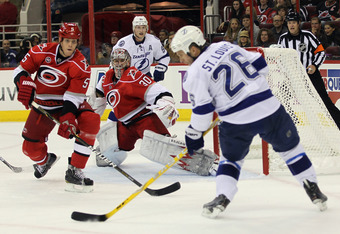 Bruce Bennett/Getty Images
Once-promising youngster Jamie McBain has experienced a rollercoaster beginning of his campaign, too. McBain wasn't even dressed for the club's first three games. Since returning to the roster, the 23-year-old has just three assists and a minus-one rating in nine appearances and has failed to register a measly hit.
Meanwhile, Derek Joslin continues to sit idly in the press box, a healthy scratch for all 12 matches so far. Joslin was surprisingly good after his arrival in Carolina last spring, albeit in a limited role, so we're concerned at the lack of consideration he's received, especially given the defense's difficulties with their current group of six.
Goaltending: B
On one end of the stick, there is Cam Ward. On the other end, there sits Brian Boucher. They were supposed to be the perfect combination for each other, so superstar netminder Ward could get his rest while the team maintained goaltending solidity.
Not so.
Ward has been, as usual, a game-changer. He's 5-2-2 on the year with a more-than-respectable 2.30 goals-against average (GAA) and a remarkable .929 save percentage. His saves have ranged from eye-opening to jaw-dropping, especially later in October when the Hurricanes saw a bit more success.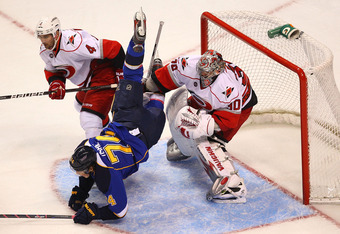 Dilip Vishwanat/Getty Images
Boucher has been, conversely, pathetic. His on-ice directing and puck-handling are welcome additions, but he's been far too slow when making his actual saves. As a result, the numbers are miles off from what was anticipated—an 0-2-1 record, 4.64 GAA and .851 save percentage.
Do those stats sound like those of a trustworthy netminder? Yeah, not to us, either. 
Special Teams: B
Although it doesn't show too prominently in the league rankings, Carolina's penalty kill has been steadily improving into a decent unit.
They began to make some strides late in the '10-'11 season and haven't dropped that pace this autumn. The Carolina 'PK' stands tied for 18th with an 81.6 kill percentage—nine goals allowed on 49 opportunities.
But that's not truly reflective of the vitality they've given the 'Canes when they needed to, most recently during a full, two-minute, five-on-three against the Lightning this week which was fended off with brilliant desperation and determined.
The power play has been below average, as expected, but not so dismal as to be labeled a key problem yet. The Hurricanes have enjoyed the third-most man-advantage opportunities of any team so far, scoring eight powerplay goals already as a result, but they, nonetheless, remain close to the cellar with a 14.3 percent conversion rate (ranked 22nd).
Physicality: C
In the past, Carolina has always been among the best in the league when it came to hitting. Crushers such as Tuomo Ruutu and Tim Gleason keep the lineup well supplied in regards to physicality, and the rest of the squad builds on that aggression.
That trend hasn't emerged this year, however. The Hurricanes rank 20th in the NHL in hits with a mere 222, equating to an average of 18.5 each game. In '10-'11, they averaged close to 26 hits per game (ranked fifth), by comparison.
The team's struggles rest in a large part on Ruutu, who, after accumulating the second-most hits in the league last year, is only tied for 27th at the moment. He's had a surprisingly quiet beginning to the season in all facets of his play, though, so perhaps a little time is all that he needs.
Other Intangibles: D-
Ever since Rod Brind'Amour's career began its decline, the term "faceoffs" became synonymous with a number of curses, at least within the confines of the RBC Center.
The Hurricanes were second-to-last in the league in that regard last season, and guess where they are this year, as well?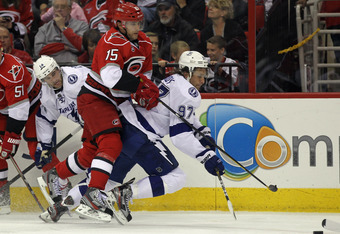 Bruce Bennett/Getty Images
Second-to-last, yet again.
The 'Canes have a dismal 44.6 faceoff winning percentage, a number only Anaheim can't insult. Brandon Sutter, who started the year fantastically in the circle, is back to a dead-even 50 percent, and Eric Staal's improved efforts on draws of late have been in vain, considering his current win percentage stands at just 48.6 percent.
Elsewhere, the takeaway-giveaway ratio continues to be an underlying dilemma. It's gotten a bit better since our last check-in on that statistic, but the current matchup of 594 takeaways vs. 705 giveaways provides only a tip-of-the-iceberg glimpse at the Hurricanes' dismal passing that was exemplified throughout October. 
Coaching: B-
This isn't going to be another Paul Maurice bashing.
He's taken too much of the hate. Of course, a good number of his decisions raise some eyebrows, and. of course, a good number of those turn out poorly, but at least Maurice has managed to keep this salary-floor team in contention.
Could they be better? Certainly. But could they also be worse? Most definitely.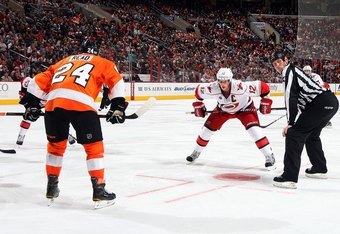 Jim McIsaac/Getty Images
He deserves some praise for sticking with Chad LaRose—good ol' Rosey is now on pace for a career year. He deserves some praise for sticking with Joni Pitkanen, too—perhaps the world's craziest player actually can play a well-rounded game sometimes. And he deserves some praise for keeping that Sutter-Tlusty-Dwyer line together—they've outperformed expectations beyond all doubt.
So, in looking back on October as a whole, the "could've been better, could've been worse" attitude might just be the best one to take.
The Hurricanes let plenty of chances slip away, but have had their finer moments, too. It's a month early, but they do have their fair share of things to be thankful for; just take a look at Jeff Skinner.
They had a tough schedule, that's undeniable. But the time for excuses like this has come and gone—October was about getting settled in the new year, and that the Hurricanes did.
Have they formed an identity yet? Perhaps not. However, many of the questions that were circling this team as they took the ice back on October 7th have since been resolved, and that could be one of the biggest virtues for the long, tedious and always exciting season to come.
Mark Jones is currently Bleacher Report's featured columnist and community leader for the NHL's Carolina Hurricanes. In his 37 months so far with the site, he has written over 320 articles and received more than 365,000 total reads.