Colt McCoy: Why Cleveland Browns Fans Should Be Praising the Quarterback
November 3, 2011
Thearon W. Henderson/Getty Images
Colt McCoy has taken quite a bit of heat from his critics this season while the Cleveland Browns offense has struggled to get off the ground in seemingly every game. The media and even some of the fan base have started to turn their backs on McCoy, and even Mike Holmgren failed to show confidence in his young quarterback when he was questioned a few weeks ago.
What the Browns fan base and front office are failing to realize is that while McCoy may not be the best quarterback in the NFL, he is becoming one of the most reliable quarterbacks the Browns have had in the last 10 years.
McCoy started off his career with the Browns in 2010 with a promising first start against the Pittsburgh Steelers. Even though Cleveland lost that first game, McCoy's strong performance helped lay the groundwork for two impressive victories over the New Orleans Saints and New England Patriots over the next two weeks.
This season, the Browns have moved into the Pat Shurmur era and have welcomed the West Coast offense to the shores of Lake Erie. McCoy has looked like he is getting better every week under his new offensive tutelage and has already boasted numbers that would make most Browns fans look twice.
McCoy has played in only seven games so far this season and has compiled nine touchdown passes for 1,618 yards while throwing only six interceptions. Those numbers indicate that McCoy is on pace to throw for 3,700 yards, 21 touchdowns and 14 interceptions for the 2011 season.
Now, those numbers are really not anything that will impress football writers around the nation, but the Browns have only had the pleasure of one quarterback in the last 10 years that has beaten those statistics in a single season. Derek Anderson threw for 29 touchdowns during the Browns' improbable 10-win season of 2007, but declined considerably in 2008 as he threw only nine touchdowns while splitting time with Brady Quinn.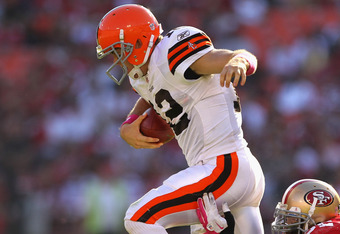 Ezra Shaw/Getty Images
Now, if those numbers aren't enough to get Browns fans back on the McCoy bandwagon, there is one other number that should get fans thinking.
In 2010, Cleveland's leading wide receiver was Chansi Stuckey with 41 receptions for 346 yards and zero touchdowns. In fact, no player on the Browns' receiving corps caught more than three touchdowns throughout the entire season (Brian Robiskie had three TDs).
This season, there are three receivers on the current roster on pace to break that standard, and there are already four players with two touchdown receptions. Meanwhile, the Browns rushing attack has taken a complete turnaround from last season and has opposing defenses playing the pass more than ever before.
It is understandable that Browns fans want someone to point the finger at when it comes to Cleveland's offensive troubles, but McCoy is not the player they should be thinking about when they are criticizing the team as a whole. It is time for Cleveland to finally get behind its quarterback and have faith in the ability that he brings to the table.