MLB Trade Rumors: Toronto Blue Jays To Chase Jair Jurrjens and Martin Prado?
November 3, 2011
Mike Zarrilli/Getty Images
After Derek Lowe was dealt to the Cleveland Indians earlier this week, the Atlanta Braves gained some financial flexibility with the move. In fact, the club is looking to get more flexibility and according to a source, are exploring the idea of trading both starting pitcher Jair Jurrjens and second baseman/left fielder Martin Prado.
Both players are arbitration-eligible and will likely see a rise in their salaries from the $3 million range, to around the $5-6 million range. Not pricing the Braves out of it, just adding more salary to a team looking to shed the salary rather than add it.
Jurrjens last season was 13-6 last season with a 2.50 ERA and a 1.22 WHIP after beginning the season on the disabled list.
Prado, on the other hand, had a down year playing at a new position for him, left field. He batted only .260 last season with 13 home runs and 57 RBI, along with a poor .302 OBP. The batting average and on-base percentage were both far below his career averages of .290 and .341 respectively.
Talk is that Prado will move to third base this season, replacing Braves legend Chipper Jones. If this comes to fruition, the Braves will likely be on the lookout for an outfielder with pop. If they deal Prado, they'll be on the lookout for a third baseman with pop. It's a catch-22 of sorts.
The Braves are looking to add a reliable shortstop and add some power to an outfield that has lost Prado to third base and Nate McLouth to free agency, and have added Michael Bourn, who is all speed and no pop. Right now at short, Tyler Pastornicky, a former Jays farm player, could be the club's shortstop if they don't bring one in.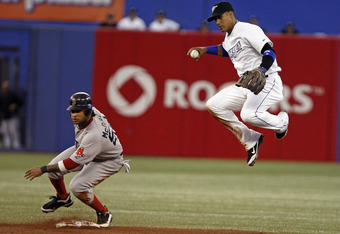 Abelimages/Getty Images
Anyways, this to me is a move the Jays should jump on while they can. I don't know how much GM Frank Wren wants to trade with the Blue Jays after the club robbed them of Yunel Excobar, but maybe there's a way around that by offering them a deal they can't refuse.
Taking the Braves' needs into account, the Jays could put forth quite an offer to a team that desperately could use a shortstop.
The offer to the Braves will include a shortstop, a power outfielder and of course a starting pitcher, along with another prospect.
The Jays could look to offer up a package that includes Adeiny Hechavarria, Travis Snider, Kyle Drabek and Brett Cecil in an attempt to land both players.
Prado, 28, is coming off an off year and there are some concerns if the league has figured him out, and as for Jurrjens, question marks are always raised about the health of his right knee.
Going back to the offer, with Dustin McGowan on the mend and looking like a starter again, he may have usurped Drabek in the rotation for the 2011-12 season. With Ricky Romero, Brandon Morrow, Henderson Alvarez and McGowan in the rotation, Drabek's likelihood of being in the rotation next year is pretty slim if he doesn't gain control of all four of his pitches.
Adding Jurrjens to that rotation would likely result in the Jays having one of the best rotations in all of baseball if they all pitch to their capabilities.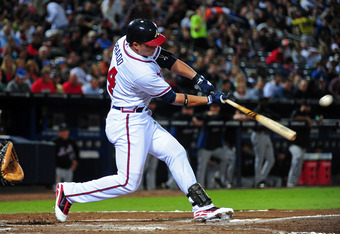 Scott Cunningham/Getty Images
As for Prado, his versatility would fit into the John Farrell concept very nicely, likely seeing him land to start at least at second base. He would be slotted batting second, ahead of the likes of Jose Bautista, Brett Lawrie, Colby Rasmus, Edwin Encarnacion and Adam Lind, hopefully giving them a great chance to put runs up on the board.
Ultimately, the Jays will likely not make that offer. Anthopolous will likely opt to re-sign Kelly Johnson and either trade for a reliable No. 4 or 5 starter. Or who knows—maybe he'll sign Yu Darvish and cross his fingers he can make the transition to the American game so he doesn't have to give up all that talent on the farm.
Feel free to comment on this article.
Thanks for reading.